For Massachusetts-native Dean Snell, it was a confluence of life events—an alignment of circumstance and timing—that opened the door to pursuing a business venture that had been simmering within him for years.
Previously, Snell had spent 25 years designing golf balls for Titleist and TaylorMade, two of the most venerable companies in the golf world.  During that time, he had created custom-made balls for some the PGA's marquee players, including Tiger Woods, Phil Mickelson, Sergio Garcia, Dustin Johnson and Jason Day to name a few.  By 2015, having finished putting his three children through college, he decided the time was ripe to make a move.
The business plan for Snell Golf was straightforward and noble in its intent: to take the skills he learned designing golf balls for the top players in the game and offer similar products to consumers at a cheaper price.
"I wanted to give back," Snell said in a telephone interview. "I was fortunate to have worked with two of the best companies and some of the best players in the world."
In 2015, the golf industry, on the corporate end, was struggling. Courses were closing, memberships were being cancelled and interest in corporate products seemed to be declining—unfortunate for the bottom lines, yet serendipitous for Snell.
"I wanted to take a chance and see if I could touch consumers in a different way," said the 54-year-old business owner. "I was trying to educate people about the right products. I wanted to keep the prices down and the performance up."
A plastics engineer with a degree from The University of Massachusetts-Lowell—one of the premier engineering schools in the country—Snell had the technical skills and the copious experience to design his products; the question was whether he could handle the business end of things.
For example, how to market the golf balls?
Years ago, Snell had an epiphany while shopping for Christmas gifts on-line with his wife, Paula. He noticed that e-commerce seemed to be an untapped well in the golf industry. So, Snell launched a website and a direct-to-consumer on-line business model, using tools like social media to circumvent the corporate shelves and keep the prices of the products low.
Pragmatic about the game of golf, Snell said he realizes that consumers still have to pay for rounds and carts and, perhaps, some dinner and libations at the 19th holes, but now "maybe they can afford two dozen balls instead of one."
Snell Golf embraces a grassroots approach, counting on word-of-mouth, a website and social media as the primary means of advertising. But there were other odds and ends about the business world that the engineer attributes to a "learning curve."
Take inventory, for example. Snell said that the first season, as the product took off, they came perilously close to running out of inventory.
"It was a struggle the first couple of years," Snell said. "We're in a better place now than we were a few years ago, and we're comfortable with inventory."
A "better place" leans toward understatement. Snell Golf grew 400 percent its second year, which Snell describes as "ridiculous" growth. Then the business grew 35 percent last year and 67 percent this year.
"Word of mouth is happening," Snell said.
Clearly, it is.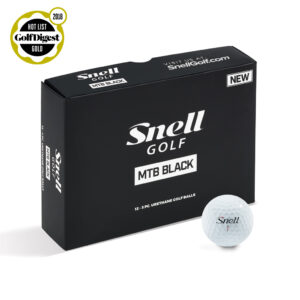 If you were to tell the adolescent Dean Snell—skating center on the first line for New Bedford High School—that he'd one day own a golf ball company, you might be dismissed with a laugh or knocked on your ass by a cross-check.
"I didn't play golf and didn't like the sport," said Snell, who didn't start playing regularly until his second year working for Titleist. "I was a hockey player and thought it would be boring. Hockey was my life when I was growing up."
And his dedication to the sport, paired with natural athletic ability, paid off. Snell earned himself a full-scholarship to the University of Massachusetts-Lowell to play for the River Hawks while studying engineering.
Meanwhile, he was also playing professional junior hockey in the off-seasons for the Lowell Chiefs, where he was named captain. The team went to compete in the finals of the USA Junior Hockey League National Championships in Flint, Mich., but lost.
"I really enjoyed [playing junior hockey]. It was a lot of traveling, but it was a good time," Snell recalled. "We really had a good time."
While playing for the Chiefs, Snell was roommates with John Torchetti, who went on to become the head coach for the Minnesota Wild and is currently employed as an assistant coach for the Detroit Red Wings.
After graduating with a B.S. in Plastics Engineering and a minor in Chemistry, Snell decided to take some time to follow his dream of playing professional hockey. He moved to Pennsylvania and played in minor leagues affiliated with the American Hockey League's (AHL) Hershey Bears, which were part of the Philadelphia Flyers' organization.
Snell skated in different leagues in Hershey for one year before deciding to put his education to good use. "I told myself, 'Okay, I'm an engineer with a degree. What can I do now while I still have all of my teeth?'"
After hanging up his professional skates, Snell took his first engineering job working for BF Goodrich Aerospace and Defense Division, where he worked in military contracting designing composite parts for the F14, F16 and Blackhawk helicopters. He stayed a year before taking the job at Titleist that would change the course of his life.
Snell worked at Titleist for seven years, during which time he co-designed several golf balls including the ProV1, Tour Prestige, HP2 Tour and HP2 Distance. And, it was in his second year at Titleist that his life took another interesting twist—the hockey player started golfing.
"I had to learn the sport," said Snell, who remains an avid golfer to this day.
Snell moved on from Titleist to a position at TaylorMade Golf where he described himself as "Employee #1." It was here that Snell began to learn some of the ins-and-outs of the business as—with the help of Snell's engineering expertise—TaylorMade grew into a multi-million-dollar business.
For the next 18 years, Snell would stay at TaylorMade Golf. During his career designing golf balls, Snell would be granted over 40 patents, and after 25 years working for other businesses, Snell would decide to "go out on [his] own."
Enter Snell Golf.
These days, during the golfing season—before the brutal New England winters pistol-whip its residents—one can find Dean Snell at the golf course on Wednesdays and Fridays. The former hockey forward now boasts a handicap somewhere "in an index range" of a six or seven (full disclosure: I'm not a golfer and know very little about the intricacies of the game so I will take Dean, an incredibly affable guy to interview, at his word). He's also racked up some tournament victories along the way.
And the game of golf seems to suit Snell now. "In hockey when you miss a check and a guy beats you, there are still four guys and a goalie to cover you. But in golf, when you hit a ball out of bounds, there's no one to help you," he said.
The lion's share of Snell's time, however, is now spent on Snell Golf where he is constantly trying to improve his product to meet the consumer's needs. Snell said he keeps a piece of paper on his desk where he reads all of the reviews on-line, writing down everything that's said about the performance of the golf balls. "I make products based on the feedback from consumers," said Snell.
And the reviewers have responded with glowing accolades.
A writer for the website Golfballed writes, while recommending the product, that the Snell Golf balls are "easily one of the biggest no-brainers in golf" and "you will not find a better ball in terms of performance and value." And Independent Golf Review says, "The Snell 'My Tour Ball' is as good as it gets in this category."
Snell Golf—which employs roughly 15-20 people, mostly part-time—is unique in the sense that they sell solely through word-of-mouth and on-line, cutting out the middle man and passing the savings on to the consumer. And with each order, Dean Snell writes the customer a personal "thank you" note.
"Other companies on-line do a nice business, but they buy their products off the shelf. We don't do that," Snell said, rightfully citing one of the company's gleaming assets. "But I think there's room for everyone," he added.
However, the most endearing part of Dean Snell's business model is the fact that he's made it a family affair. Dean and his wife Paula, each of whom have three children—"We're like the real life Brady Bunch," Snell joked—remain a closely-knit clan; Paula works for the company and Dean's daughter-in-law is the office manager.
"One of the best parts about it, for me, is that my family is involved," Snell said.
He described their Monday afternoons when they all chip-in at work, packing orders and ordering out for lunch at the office. "We've made it into a family and friends thing," Snell said. "We have fun."
And after a long and successful career as an athlete and an engineer, what could be better?
To learn more about Snell Golf and their award- winning golf balls visit SnellGolf.com