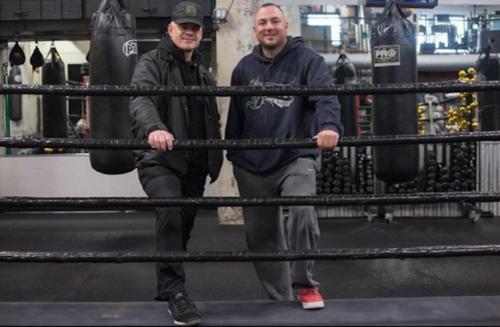 South Boston. America's most beloved neighborhood. Affectionately, and, more appropriately, known as simply "Southie" to both residents and outsiders alike.
I was raised in Southie, and I can't imagine having it any other way. Southie has many unique qualities other neighborhoods simply don't have. The neighborhood may not be what it once was, but it remains more than what any other neighborhood is today.
If Boston is the heart and soul of our great country, then Southie is the heart and soul of Boston. Literally. Everyone knows our St. Patrick's Day Parade, the most historic in America. Also known as the Evacuation Day Parade. In early 1776, General Henry Knox brought 55 cannons captured from Fort Ticonderoga over to Dorchester Heights.On March 17, orders were given that, if you wished to pass through the Continental lines, the password was "St. Patrick". The British saw all the cannons on the Heights and left Boston. Southie literally kicked the British out of our neighborhood, our city and our country.
There was nothing like growing up in this neighborhood. Every family had 4-5 kids. Let me tell you, it was a blast being around all those kids. Everyone played sports. Sports mattered.
It was a healthy place. We went to church on Sunday, school all week, and any free time in between we played sports. For me, my love was boxing.
I first started boxing at the age of nine to better equip myself to defend and handle situations -if needed- in some of the tougher areas of the neighborhood. I was an only child, so I needed to be able to look after myself. Especially growing up in the Old Colony Housing Development.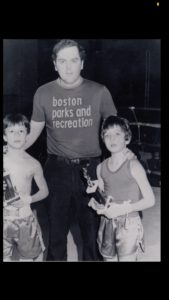 There is something very empowering about getting in the ring. The "power of the fight". My first bout was in 1980 at the St. Paddy's Day Boxing Show. This is one of the oldest continuous running boxing shows in our country, 70 years strong now. It's put on by the South Boston Citizens' Association, which is America's oldest run civic association. How's that for tradition?
There are typically about 20 bouts at the show, and 75-100 kids would tryout and compete for the chance to fight in one of those coveted bouts. All matches were set up by the "Three Wisemen" who called all the shots.
What the "Three Wisemen" said, went. No questions. Eddie Kelley was an old Southie guy who had fought in the very first St. Paddy's show in 1948. Mikey Larkin refereed a famous bout between locals Freddie Roach and Stevie McDonald. And Tommy Connor, to this day, still has the fastest KO in Boston/TD Garden history at 13 seconds (1stround). The Wiseman paired me up with Tom Flaherty, a lifelong Southie resident and now Boston Firefighter, for my first fight. What a rush! I loved it immediately!
Eventually, I got up the courage to ask "Irish" Danny Long to train me. Danny wasn't training anyone really at the time, but –a decorated pro- he was the best in the neighborhood. He was the guy to get me to the next level, and I am still honored to this day that he agreed to take me under his wing. I would go on to win my Southern New England Gold Gloves (152 lbs), and, eventually, launch a pro career that saw me finish at 5-0.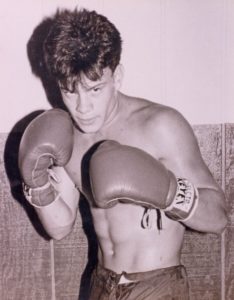 In '93, I started training others for the first time. These days it is not uncommon for executives and white-collar workers to train in a boxing gym, but back then it wasn't as popular. I saw an opportunity with it, though, and began working with a group from Fidelity a few times a week. They loved it.  And I had a vision for the future.
In 2007 I opened my first gym. I've had everyone from professionals looking for their big break, to MMA fighters looking to sharpen their skills in the "Sweet Science," to the weekend warrior who just needs a better outlet to stay in shape, walk through these doors and train with me.
Whoever they are and wherever they are with their skillset and regime, I always work with them. I try not to strip away whatever it is that they do naturally. That's important. And that speaks to the heartbeat of this neighborhood. There is a lot of raw talent here, both mental and physical. I try to work with and enhance that talent wherever it lies and with whomever it is I am training.
It's also important to remember who came before us. Those that laid down the concrete to help build the foundation we have today.  Neighborhood guys like: Jim Maloney, Tommy Nee, Honeyboy Finnegan, Tommy Sullivan, Hambone Kelley, "The Fighting Attardos,"  Rich Torsney,  Tommy Conners, and, of course, my trainer and friend, "Irish" Danny Long. They've all left their footprint on our beloved Southie grounds.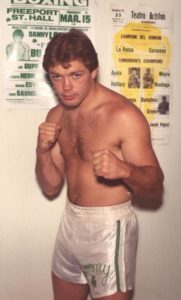 In fact, the lineage from Danny Long to the "Boston Strongboy" John L Sullivan –first ever heavyweight champion, and the man that bridged bare knuckle fighting in the late 1800's to modern day boxing- is only fifteen fighters removed!
Danny fought Bobby Czyz. Czyz fought Evander Holyfield. Holyfield fought George Foreman. Foreman fought Muhammad Ali. Ali fought Archie Moore. Moore fought Rocky Marciano (great Boston heavyweight champion). Marciano fought Joe Louis. Louis fought Jack Sharkey. Sharkey fought Jack Dempsey. Dempsey fought Jess Willard. Willard fought Jack Johnson. Johnson fought Jim Jefferies. Jefferies fought Jim Corbett. And Corbett fought Sullivan.  Over 130 years of prizefighting tied in directly to my trainer and Southie's own, Danny Long!
Today, my focus is to continue to build and strengthen the community in our neighborhood any way I can. I see the strength of this in my gym every day. We have tremendous members and athletes here, who take pride in being part of this community. Good all-around people.
We're seeing a ton of new faces come into our neighborhood, which is okay, but I just hope they continue to see and respect this neighborhood for the rich tradition and brotherhood that it is. We're a tribe here in Southie. I will always pay homage to those who came before me, and do my best to pave the way and create a path for those coming after me.
But hey, you don't have to take my word for it. I'm just another bozo on the bus. And mine is just another story from Southie.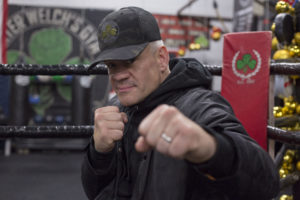 Peter Welch is a former Gold Gloves and Professional Boxer, who is one of the most respected and sought after trainers in the sport. Peter teaches the "Sweet Science" in both traditional boxing and boxing for MMA. Recently he has worked with UFC fighters Conor McGregor and Brock Lesnar, among many others, to help hone their skills. Peter had an appearance in the movie "The Departed," sharing a scene with Leonardo DiCaprio, and has been a lifelong Southie resident. He is happily married with three kids.
For more information on Peter Welch's gym please visit: peterwelchsgym.com