BostonMan September 2021 Legacy Club Event Sizzler x PREMIERE on Broadway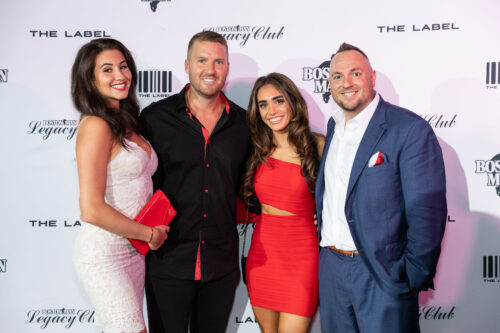 It's safe to say the venue (PREMIERE on Broadway) + event were as good as advertised!
I want to thank all of you for being part of the evening with us. I know I sound like a broken record saying this, but we truly do not exist as a magazine without our Legacy Club community!
The Fall '21 magazine is going to be here before we know it (October 28th!) We still have a few premium ad spots open, so if you are interested in having an enhanced presence in this historic 3-year anniversary issue, please get in touch with me ASAP!
A lot happened at our Legacy Club event at Premiere! First thank you, to Koryn Zammuto and her entire team. Your establishment is absolutely breathtaking, and it was a pleasure hosting with you!
Let it not be lost in the shuffle that this event was also the 2nd celebration of our Summer '21 magazine. Thank you to Bob Menery for flying in to be part of the evening with us. Bob is literally in a different city now each day of the week, and his FULLSEND Podcast is officially number one on all podcast charts. If you haven't read our Summer '21 cover story on Bob yet, be sure to check it out!
Thank you to Matt Turner for coming out for the Cover Reveal (and for taking red carpet pics with all of our members!). Thank you to our amazing team for turning all of this around in 72 hours! We shot the cover on Monday 9/13 (Alicia Tardugno), edited and designed it on Tuesday 9/14 (Joe Lyons) and produced this amazing cover reveal video on Wednesday 9/15 (Balazs Busznyak) that we played at the event that evening!
A special thank you also goes out to Zoe Bucuvalas, Ashley Herron, and Andrea Cadigan for helping to compile the images and footage used for the Tracy Sormanti tribute in the video. Andrea's compilation of memories on Tracy from the entire NEPC sisterhood is going to be a beautiful tribute in the Fall magazine!
You can find the entire album from the evening captured by Alicia Tardugno here, as well as the pics from the super fun Magic Mirror of NE here.
Thank you, as always, to Jimmie Espo and the 617 Event Group for providing our awesome soundtrack to the evening, and EVERYONE on the BostonMan set-up team that helped put this together!
For those of you that attended this past event as a guest and are looking to officially become a Legacy Club member, please get in touch with me ASAP! There is still time to have you included in the Fall release, and listed on our community members page in the magazine.
A reminder: Our exclusive events are private experiences for our Legacy Club Members, Sponsors, Advertisers, and their guests. Typically, we allow guests of members two free looks at our events. For those of you that are not yet members, we would love to have you considered for our community!