In his decade in New England, Julian Edelman's work ethic -on and off the field- has endeared him to Boston fans. The Patriots star, who's been building businesses while winning championships, says the love is mutual.
"I feel so lucky to have landed in New England," says Julian Edelman, now in his 11th season — and with three Super Bowl championships — with the Patriots. "Not only because of the great organization I get to play for, but also because of the people. These people are the most passionate sports fans I have ever been around. They feel a real, personal connection to the team."
 Edelman, who capped off New England's most recent championship with a Super Bowl MVP-winning performance, has become a favorite son among favorite sons during his decade with the Patriots. Perhaps the love affair started with his undersized, underdog background — he was the 27th pick in the seventh and final round of the 2009 NFL Draft as a dual-threat quarterback from Kent State — but it's been years of hustle, fortitude, attitude, and production that have made him one of the Patriot dynasty's most indelible figures.
It's no surprise, then, that Edelman — a native Northern Californian — has gained a lot of love in return for Boston and the entire six-state region. He's become a fixture at local events, has supported local charities, and has built a number of businesses during his time in town, including his JE11 clothing line and Coast Productions, the company behind this summer's acclaimed Showtime documentary 100%: Julian Edelman.
But though Edelman has enjoyed his expanding opportunities, he knows that the powerful connection he's built to the area starts and ends with his role in the Patriots' ongoing success.
"They Knew I Could Play"
"Getting drafted was surreal for me. It was the moment I had been working toward ever since I put on the pads in Pop Warner," Edelman says. "It was everything my father and I had trained so hard for. After I was picked, Coach (Bill Belichick) called and told me that they didn't know where I was going to play, but they knew I could play. I knew from then on that I couldn't spend one more minute reflecting on what I had accomplished. I had the biggest challenge of my life ahead of me."
 After that late seventh-round selection, Edelman impressed from the get-go, and then made a splash play during the preseason with a 75-yard punt return against Philadelphia. He made the Patriots' roster and surprised with 37 catches during the regular season, even though he missed five games with a broken arm.
The next three seasons were up-and-down for Edelman. After seeing his playing time diminish in 2010, Edelman's versatility played a big role in 2011. Injuries in the New England secondary made Edelman a three-way player: receiver, returner, and defensive back. Though he only caught four passes all season, his work elsewhere helped the Patriots reach the Super Bowl: in the AFC title game against Baltimore, Edelman played 27 snaps each on offense and defense.
He played in just nine games in 2012 (a broken foot sidelined him for the final month of the season) but caught 21 passes — the most since his rookie campaign, and a sign of things to come.
Edelman entered 2013 on a one-year deal and with just 69 career receptions and four receiving TDs. Looking back, it was likely a make or break season for his time in Foxborough. Make it, Edelman did: 105 receptions (becoming only the third Patriot to snag 100 passes in a season), 1,056 yards, and six TDs — followed up by 16 catches for 173 yards in two postseason games. The reward: a four-year, $17 million deal.
One might think that was the moment Edelman finally felt secure as a Patriot. One would be wrong — and that's a big part of Edelman's makeup. "You never feel fully comfortable in an organization like the Patriots," he says. "For me, that's the way I like it so much here. It mirrored how my dad Frank approached work and how he coached me to be. Never get complacent. You can always improve on a part of your game. Make sure your fundamentals are there and make yourself better at something every day. That's the way I have approached my career, and I think that's how I've been able to stick around the league for so long. I still feel like that guy that has to prove it every practice. It's just the way I'm wired."
The following season, Edelman followed up his breakout campaign with 92 more catches. His 51-yard TD pass to Danny Amendola in the Patriots' divisional round win over the Ravens is the longest touchdown pass thrown by a non-QB in NFL playoff history. And he turned in the first of his three stellar Super Bowl performances: his ninth catch of the game (with 2:02 to play) was the game-winning score in New England's 28-24 win over Seattle.
Foot surgery limited Edelman to nine games in 2015, but he returned with a vengeance a season later, catching 98 passes for a career-high 1,106 yards. Edelman's stunning fingertip catch on a ball that appeared destined to fall incomplete was the centerpiece play of the Patriots' shocking 31 unanswered points in a 34-28 overtime Super Bowl win over Atlanta.
A torn ACL ended Edelman's 2017 season before it started. Suffice it to say, he's had more than his share of injury battles.
"Injuries are tough, but they're just another obstacle to overcome," he says. "Just control what you can control in the moment. Work at improving your situation every second of every day. Whether it's on the field, in the training room, or on the recovery table: every second counts."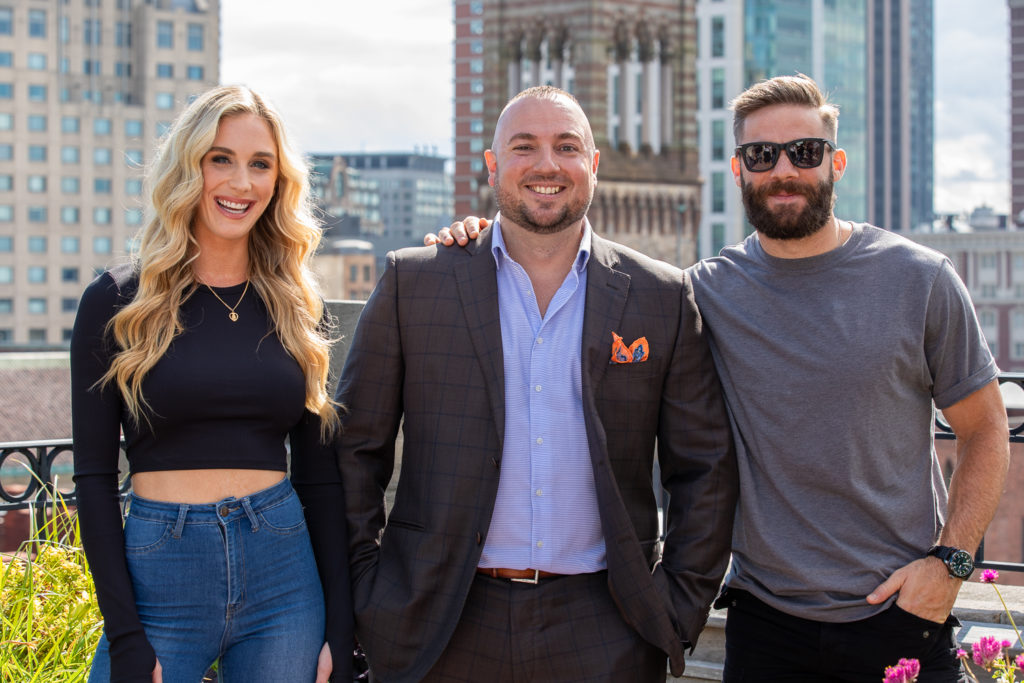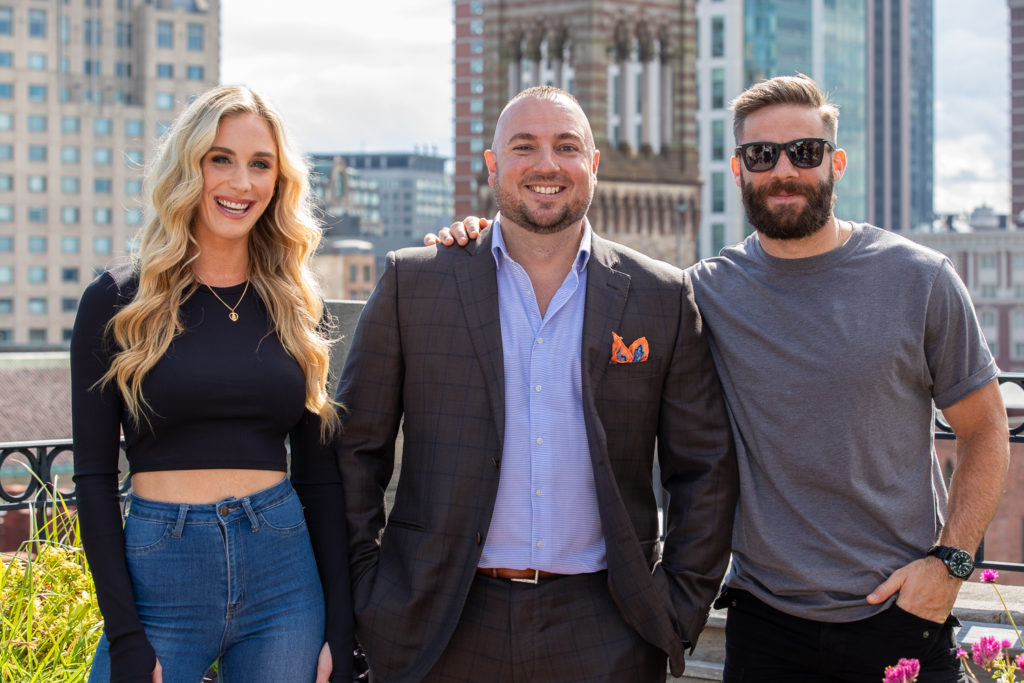 After serving a four-game suspension to start the 2018 campaign, Edelman returned again with an impressive run, finishing the regular season with 74 grabs and six touchdowns. And he ended the year with perhaps his greatest accolade: MVP of the Super Bowl, which the Patriots won, 13-3, over the Los Angeles Rams. Edelman had 10 catches for 141 yards and became the first Jewish player to win a Super Bowl MVP award.
"To be honest, I was just happy we won the game. It was a cool honor, but I was just so happy to get to celebrate with my teammates," Edelman says. "Our defense played an unbelievable game."
He adds, "The first Jewish MVP thing didn't hit me until the next morning. Then, a few months later, we took a trip with Mr. Kraft (Patriots' owner Robert Kraft) to Israel, and you could see the impact that it had on the community. I was happy to be able to bring a sense of pride to the Jewish community in a sport where they hadn't had much to talk about otherwise."
Flying High Off the Field
Edelman's team-first attitude spills over into the new businesses he's created, and charity work he's done in recent years. It's never just a "me" thing with Edelman.
"Back in 2013, I was coming off an injury and I met my now-business-partner, Assaf Swissa. He was also coming off of a failed business venture and asked me if I wanted to start messing around with some social media and branding," Edelman recalls.
Swissa, a marketing and social media expert, helped the wide receiver gain thousands of new followers with his social media work. "That month he made a logo, we started making t-shirts, and three months later we won the Super bowl," Edelman says, recalling the genesis of his JE11 brand. "It's really become a great way to interact with the fans. I love seeing them at events and even just around town wearing our gear. I really feel like they've embraced me, and it shows. We're nothing without our fanbase."
Three years later, the duo teamed with illustrator David Leonard to debut the first of Edelman's two children's books, Flying High. The story of a squirrel named Jules (Edelman's favorite nickname is The Squirrel) who — with the help of a goat named Tom (wink, wink) — overcomes obstacles through hard work. A sequel, Flying High 2, was published a year later.
"In 2016, I found out I was going to have a baby girl: Lily," Edelman says. "That really brought about the inspiration for the kids' books series. Using these woodland animals, we set out to teach kids about hard work and dedication. People have really grabbed onto the series in a special way. I love to see posts on social media, parents reading to their kids, teachers stocking the books in classrooms. It's really great. Keep an eye out for the next installment of Flying High!"
Edelman is also deeply involved — with many of his teammates ­— in Best Buddies International, a not-for-profit organization that works to enhance the lives of people with intellectual and developmental disabilities.
"For me it's all about the cause," he says. "I've been working with Best Buddies since I got here in 2009. The buddies are such amazing people and getting to see these kids grow up in front of your eyes is the real reward."
And he's also been active with Combined Jewish Philanthropies (CJP), which works to mobilize the Boston Jewish community to engage in building communities of learning and action that strengthen Jewish life and improve the world.
"We've done a lot of work with CJP to help bring awareness to the state of Israel. I like working with causes I believe in, and I'm always on the lookout for more that we can do to help the community," Edelman says.
"No Better Place to Play"
In perhaps his biggest off-the-field venture yet, Edelman — with Swissa — launched Coast Productions, a Boston-based production house that has a number of projects in the works and has already made a splash with the Showtime documentary 100%: Julian Edelman, written by Swissa, Edelman, and Kyler Schelling. Narrated by actor Michael Rapaport, the documentary follows Edelman from his ACL injury through his suspension to his Super Bowl MVP performance.
"The idea for Coast came about a few years ago. We had been making these goofy, low-budget YouTube videos for a couple of years, and we decided that we should start making things a little more formal," Edelman says. "Then before the 2017 season, my injury happened and Assaf came to me and said, 'Hey Jules, we should really stick some cameras on you. Everyone wants to do a documentary about your recovery, so why don't we just do it ourselves?'"
Edelman adds, with a wink, that the documentary is currently available to stream from Showtime. He also says, "As far as what's next, we have some stuff in the pipeline for 2019/2020 — always grinding." Rumor has it that a romantic comedy film and a half-hour dramedy TV series may be in the works.
But, in the end, even with all of his business and philanthropic efforts around Boston and Greater New England and the physical and emotional ties they strengthen to a region he was new to just a decade ago, Edelman says the bond he feels to the city and its people remains strongest when he lines up every Sunday in the fall.
"They take every win and loss as a life-or-death situation, and they want their athletes to bring that same dedication," Edelman says of the fans who clearly inspire him. "I think they see that I care just as much as they do. I've said it for years: there is no better place to play … these fans are crazy!"