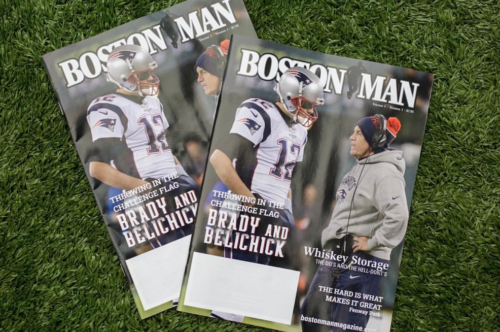 The New England Patriots have redefined the phrase "sports dynasty," winning at a clip over the past 17 years unmatched in the history of North American sports.
And quarterback Tom Brady, not head coach Bill Belichick, is the indispensable cog in that relentless victory machine.
If America's Pigskin Public needed any more proof that It's All About Brady, they found it in New England's 41-33 loss to the Philadelphia Eagles in Super Bowl LII back in February.
Brady was brilliant. Belichick was a bust.
And then after he was a bust, Belichick was a bore, refusing to explain, in his typically monotone-but-feisty fashion, why he dressed but refused to play his best defender, past Super Bowl hero Malcolm Butler, on a night in which his Patriots' defense was shredded like the ribeye on a Philly cheesesteak.
"I think right now there's not much question that Tom Brady is the key," said heavy hitter Boston sports media personality Mike Felger of 98.5 the Sports Hub and the Fancred social media app, where he hosts a weekly talk show with former Patriots' tight end Jermaine Wiggins each Wednesday.
Felger noted that Belichick was more important in the early years of the Patriots' dynasty. "But Belichick's defenses, not to mention some of his personnel decisions, have hardly been top notch over the past decade or so."
The most recent Super Bowl loss appears to be the tipping point in the eyes of many fans and analysts when it comes to the debate over who's played the biggest role in New England's success, if only because the dichotomy between the impact of quarterback and coach in that game was so obvious even to the most casual football fans.
There, on the one hand, that fateful February evening, was Brady in typical GOAT fashion, heroically carrying his offense of castoffs and misfits up and down the field, leading the team to 613 yards of total offense, a gaudy 505 yards through the air, and 33 points on the scoreboard.
The Patriots did not punt once and the statistical superlatives littered the box score:
most yards by a losing team in NFL history

most passing yards by a QB in NFL postseason history

most points scored in a Super Bowl loss
Before that game, teams that scored 33 or more points in the Super Bowl had gone 19-0. But 33 points were not good enough on a night when the Patriots' defense, especially its secondary, looked helpless.
Philadelphia quarterback Nick Foles – Philadelphia back-up quarterback Nick Foles – looked GOAT-ish himself in the face of New England's habitually porous defensive backfield. He completed 28 of 43 passes (65.1%) for 373 yards, 3 TDs, 1 INT and a 106.1 passer rating. He even caught a touchdown pass, too.
And there on the sideline, while Brady and the Patriots' offense trotted up and down the field with impunity – they never punted! – the coach watched stoically on the sidelines, unable to find a solution to his team's typical big-game defensive woes.
Meanwhile, the enduring image of Super Bowl LII, to many New Englanders, is that of Butler standing in tears on the sidelines, publicly humiliated before 100 million of his closest friends watching on TV across the country, learning that he was dressed-but-benched only minutes before kickoff.
It was the final piece of evidence for many observers in the debate over who's more essential to the Patriots' dynasty. Even die-hard Patriots' fans who long chanted "In Bill We Trust" now believe that Belichick cost the team yet another Super Bowl victory, both with the failure of the defense, and his personal failure to try to stem the bleeding by playing Butler on a night when one more tackle, one more batted ball, might have been enough.
"I think a lot of people are pissed off about (Belichick's decision to bench Butler) and they have every right do to be," said Dave Wedge, lifelong Patriots' season ticket holder and co-author with Casey Sherman of the new book, "12: The Inside Story of Tom Brady's Fight for Redemption.
Added Wedge: "Fans are invested in the team and this was a big game, a chance for Brady to win his sixth Super Bowl. They want to know what happened with Butler and they never got a good answer. It's hard to question Belichick, but he owes fans a better explanation."
But is it really that hard to question Belichick?
Now, there's no doubt Belichick is a great coach. His Patriots' teams are consistently the smartest, most well prepared, most efficient team in football, according to the stats we pioneered at Cold, Hard Football Facts.com. All three qualities are signs of great coaching.
But if the question is "who is more important to New England's success, the coach or the quarterback?" –  well, the answer is obvious.
First, let's get a bit of New England sacrilege out of the way. The reality is that Belichick, the former whiz-kid defensive coordinator with the Giants, did not become a great head coach until Sept. 30, 2001. That's the day Brady first trotted onto the field as a starter to replace the injured Drew Bledsoe.
With Brady under center, New England's scoring offense instantly skyrocketed by 50 percent. Belichick's team that struggled to go 5-13 behind Bledsoe suddenly went 14-3 and won a Super Bowl later that season behind Brady – with largely the same pool of talent around the quarterback, and largely the same pool of talent on the sidelines.
The Patriots were a bad team who instantly became a Super Bowl champion and a dynasty. Brady was the only difference in 2001.
Belichick had coached 100 games in his career up until Brady's first start. Belichick's record in those 100 games? Just 42-58 (including 1-1 in postseason). That's a .420 career winning percentage for those of you keeping score at home. And it's .420 over 100 games, a statistically significant sample of games. One hundred games make a complete career for most coaches.
Belichick was a great defensive coordinator who struggled as a head coach. Then Mo Lewis hit Bledsoe. Then Brady trotted on the field. Then Belichick became a great head coach.
Belichick lost 57 regular-season games in his first six-plus seasons as a head coach with the Browns and Patriots. He's lost only 55 regular-season games in the 16 seasons since with Tom Brady under center (entering the 2018 season). The difference in Belichick's career with and without Brady is startling. Both records below include postseason games.
Belichick's career record with Brady (entering 2018) – 223-65 (.774)
Belichick's career record without Brady – 53-63 (.457)
Who made whom? The numbers don't lie. Brady made Belichick.
Those who prefer to elevate the coach over the quarterback often note that the Patriots went 11-5 with Matt Cassel at quarterback after Brady went down with a knee injury in 2008. They forget that largely the same team won 18 games in 2007 before falling in the Super Bowl. The 2007 Patriots went 16-0 in the regular season and scored 589 points, the most in NFL history at the time. The 2008 Patriots won only 11 games and scored only 410 points.
In other words, the 2008 team without Brady was just a shadow of the 2007 team with Brady.
A potentially legendary Patriots team with perhaps a record-setting offense in 2008 proved to be merely above average and failed to reach the playoffs. The offensive output sputtered without Brady, on what was otherwise one of the most talented Patriots teams of their dynastic era.
But it's the performances in big games where we most often see the difference in importance between Brady and Belichick on the fortunes of the Patriots.
While Belichick was once known as a defensive genius, it's been the quarterback's late-game heroics that frequently bail out the Patriots from certain defeat, and/or the coach's personnel decisions and porous defenses that have cost the team one big game after another. Poor defense and decisions have prevented the organization from padding even further its unmatched resume of success.
Some of the big-game Brady highlights, and/or defensive lowlights, as the case may be: 
Super Bowl XXVI (New England 20, St. Louis 17) – Perhaps the defense's finest hour in the Belichick era, holding the Greatest Show on Turf to just 3 points through three quarters.
But when it mattered most, the defense collapsed and the Rams tied the game with two late touchdown drives. Only Brady's last-minute heroics, engineering, with no timeouts, the first walk-off scoring drive in Super Bowl history, saved the Patriots from certain failure. Brady was named Super Bowl MVP for the first time.
The pattern would prove to repeat itself year after year: Brady forced to overcome bad performances by the New England defense in big games.
Super Bowl XXXVIII (New England 32, Carolina 29) – The Patriots defense again collapsed in a Super Bowl fourth quarter, surrendering three late touchdowns to feisty Jake Delhomme and the Panthers. Carolina's late scores included a 33-yard touchdown jaunt by DeShaun Foster, and an 85-yard bomb to Muhsin Muhammad over the top of the defense, and a game-tying toss to Ricky Proehl with just 1:08 on the clock.
Again, it took a last-second drive engineered by Brady and a dead-on-balls accurate Adam Vinatieri field goal to save the Patriots from its defense. In his first two appearances, Brady engineered the two latest game-winning drives (to that point) in Super Bowl history.
2004 AFC championship game (New England 41, Pittsburgh 27) – Brady drops two touchdowns passes, including a 60-yarder to Deion Branch, and a 130.5 passer rating on the road against the league's top-rated defense, allowing the Patriots to hold on after the Steelers explode for 24 second-half points.
2006 AFC championship game (Indianapolis 38, New England 34) – The Patriots raced out to a 21-3 lead in the first half, only to watch their defense suffer the greatest second-half collapse in conference-title-game history. Brady's offense produced 34 points despite throwing to a collection of tackling dummies at wideout like Reche Caldwell and Jabar Gaffney. But it still wasn't good enough amid an historic defensive meltdown.
Super Bowl XLII (N.Y. Giants 17, New England 14) – Brady and the Patriots suffer one of the great offensive misfires in NFL history, scoring just 14 points in the Super Bowl after a record-setting 589-point regular season. But Brady scored late in the fourth, and trotted off the field with a lead the defense couldn't hold. Eli Manning and the Giants marched 83 yards in just over 2 minutes to steal the Super Bowl and end New England's dreams of perfection.
2010 divisional playoffs (N.Y. Jets 28, New England 21) – The Patriots squandered a dominant 14-2 season without a playoff win by allowing Jets quarterback Mark Sanchez to look like the second coming of Johnny Unitas.
The otherwise severely-limited Sanchez threw 3 touchdown passes and posted a 127.3 passer rating against the un-vaunted Belichick defense. Both numbers were the second best of his career.
Super Bowl XLIX (New England 28, Seattle 24) – Another "finest hour" moment by Belichick's defense, when Butler's late interception sealed a fourth Super Bowl victory by the Patriots.
But it took Brady's typical late-big-game heroics to make it possible. Against the "Legion of Boom" defense widely proclaimed as one of the best in modern history, Brady completed 13 of 15 passes (86.7%) for 124 yards, 2 TDs, 0 INT and a 140.7 passer rating in the fourth quarter alone. Brady's four TD passes on the day were the most against Seattle in more than four years.
Brady was named Super Bowl MVP for the third time while Belichick later spit on the legend of Butler by failing to play him in Super Bowl LII.
2015 AFC championship (Denver 20, New England 18) – Brady was battered all day by the league's top-ranked defense. But he still produced 310 passing yards under pressure – with no running game – to put the Patriots into winning position late in the fourth.
But hopes for another Super Bowl appearance were hijacked by two poor coaching decisions. Trailing 20-12 in the fourth quarter and needing two scores to win no matter what, Belichick twice chose to forego easy field goals – from distances of 33 and 31 yards. Both fourth-down attempts that followed failed.
Brady still rallied the Patriots for a touchdown with 12 seconds to play, but his two-point conversion pass to Julian Edelman fell incomplete. Belichick twice surrendered opportunities to score three points in a game in which only three points were needed to win, costing New England another Super Bowl appearance.
Super Bowl LI (New England 34, Atlanta 28) – The Patriots were gashed for 28 points in the first 37 minutes of play, while Atlanta quarterback Matt Ryan produced a 144.1 passer rating against the New England defense. It was one of the single-best performances of his career and normally a sure sign of victory.
But Brady rallied the Patriots to victory behind 62 pass attempts (most ever in a Super Bowl) and 466 passing yards (most ever in a Super Bowl until Brady broke his own record against Philly). It was the greatest comeback in Super Bowl history, and, perhaps more impressively, the fifth-greatest comeback in the entire history of the NFL.
So why do Patriots' defenses struggle so badly in big games, especially against the pass? The biggest issue for New England's defenses is a consistent lack of top-quality talent in the secondary. Belichick the GM has trouble harvesting big-time talent in the draft, and Belichick the coach has trouble developing big-time talent on the field – and all-important shutdown cornerbacks specifically.
All of this evidence doesn't mean Belichick's not a great coach. And it doesn't mean that each man hasn't made each other better. But it does prove that Brady, not Belichick, is the essential cog in the machine.
"Brady and Bill Belichick are the greatest marriage in sports history," said WAAF radio host Nick Stevens, better known by his celebrity fan alter ego Paul "Fitzy" Fitzgerald of TownieNews.com. "But there's no doubt Brady has bailed out Belichick and made him look like a genius on the field time and time again."