Take a peek through the windows at 113 Salem Street in the North End and experience true artistry at work.  The sign may say Boston Barber & Tattoo, but, in the words of owner and Master Barber Robert Dello Russo, this is not your father's corner barbershop.
Founded in 2007, Boston Barber & Tattoo is the realization of Russo's vision of a Barbershop that exuded class, dignity and "downright ruthless expert barbering", while it also captured the essence of the spirit that is the North End.  But, while Boston Barber & Tattoo is recognized as the heart and soul of the North End, it's reputation has spread beyond the boundaries of the neighborhood.  These days, when you venture in for a haircut, a tattoo or simply to enjoy some conversation and local color, you never know who you might encounter because Boston Barber has become the go-to place for many of Boston's top sports figures and A-list celebrities.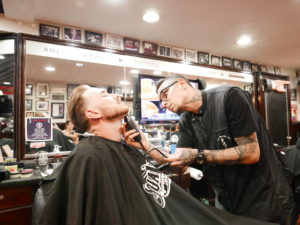 The North End neighborhood where Boston Barber & Tattoo is located is the oldest residential community in the city.  A tight-knit neighborhood where families have lived for generations, the notion of family, friendship and loyalty define the area.  Russo, more commonly known as Dello, or "The Boss," grew up there, and began cutting his neighbors' hair for free at the age of 14 in the basement of his home on Fleet Street.  After honing his skills throughout his teenage years, he took the next step and opened his own shop.  His goal was to create a barbershop that would appeal across the generations by incorporating those elements that were so memorable for him in his youth with the timeless experiences that have been enjoyed by all who have visited a local barbershop.  And he wanted his shop to embrace the spirit of the neighborhood that had been so much a part of his early life.   
Dello opened the shop with one chair, and has succeeded in adding another chair each year he's been open.  Five years in, he added a tattoo parlor and an espresso coffee bar.  Today, he oversees a two-floor, 10-chair shop with a six-artist tattoo shop and a full service coffee bar.  He and his team offer everything from more traditional executive-style cuts to the fades and lineups that are more popular today.  In addition, they feature the straight edge shaves that have been in vogue for over 100 years and that include hot towels, pre-shave oil, hot shaving cream and a smooth straight razor shave.  And with six of the most talented tattoo artists around, the selection of tattoos, and the quality of their results are unmatched.  According to Dello, what sets his shop apart is that there is no other business in New England that offers so much under one roof. 
What also sets Boston Barber & Tattoo apart is the atmosphere in the shop-in Dello's words, a little bit rich cigar bar/classy nightclub/hipster tattoo shop all combined with the feel of an old fashioned barbershop.  The result is a place that draws a diverse and uniquely interesting group of people spanning not only generations, but also social, ethnic and geographic groups, and including many of Boston's most noted celebrities and sports figures.  Among those who call Boston Barber & Tattoo home are several Boston Bruins stars.  David Pastrnak, Torey Krug, Brad Marchand and Noel Acciari wouldn't dare get in front of a camera without first stopping by the shop for an appointment, and former Bruins Milan Lucik and Andrew Ference always make a point of dropping in when they are in town.  In fact, ESPN Magazine shot their centerfold in the shop after the Bruins won the Stanley Cup.   
Similarly, New England Patriots Patrick Chung, Danny Shelton, and former Pats Danny Amendola and Wes Welker are frequent visitors to the shop.  Meanwhile, Aron Baynes from the Celtics makes his way down to the shop every few weeks to perfect his patented look, former Celtic Kelly Olynyk is a regular when he is in town, and Gordon Hayward's very first stop in Boston after signing with the Celtics was Boston Barber & Tattoo to get himself looking just right for his introductory press conference.  Finally, Red Sox relief pitcher Joe Kelly relies on Boston Barber for both his haircuts and his tattoos. Household names all, and heroes to many who live in the North End, but, like the neighborhood in which the shop is located, they all become family when they pass through the doors.   
As a result, in the minds of many customers and neighborhood residents, Boston Barber & Tattoo has become the heartbeat, or the cultural epicenter of the North End.  It is a social hub where neighborhood people old and new and from all very diverse backgrounds and experiences can come together to meet and talk about politics, sports, business and life in the community, where your neighbor and your sports hero can mix and mingle, and where everyone feels welcomed, appreciated and respected.  A little over ten years ago, Dello envisioned a barbershop that combined the best of the old and the new, that reflected the unique heart and grit of the North End neighborhood where he grew up and that boasted an environment where, in his words, people, young and old, from all walks of life could be sitting next to each other getting a haircut in a place classy enough for people to feel comfortable.  Not only did he succeed in bringing his vision to life, but he created a place where people from different backgrounds and experiences can come together as family.  In his own words, while Boston Barber & Tattoo is not your father's barbershop, he hopes it is a place that, like the family-run shops of old, opens its arms and welcomes you in.
So head on down to the North End and stop in—we assure you, you'll quickly become a part of the family, and, remember, there's no place like home.