Meet the New Queen of Accessories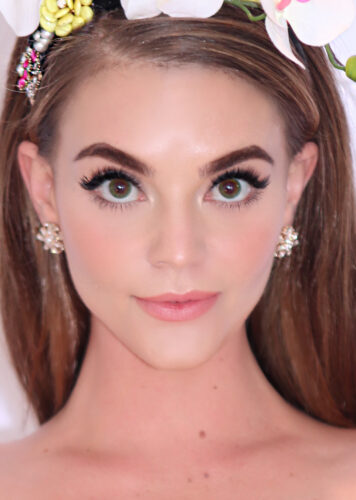 The stories of the great creatives always begin with a dream, a passion, and a relentless perseverance and determination to make that idea become a reality. It is not every day that a designer is able to break through the noise and pave the way for the trends, but when they do, fashion empires are built.  
In 1910, a millinery opened on Rue Cambon in Paris by an unknown 20-year-old named Coco Chanel. Coco was raised in an orphanage and it was there that she learned how to sew. She started out by designing hats, but she quickly launched into new ventures, opening clothing stores and creating her renowned Chanel No. 5 perfume. Coco Chanel was an innovator, breaking through conventional style at the time by borrowing aspects of men's wear and incorporating them into the design of her Chanel suit. Her legacy lives on today as a highly sought-after brand for classic yet trendsetting pieces.  
In 1921, a luxury leather goods store opened on the streets of Florence, Italy. Guccio Gucci quickly became recognized as an esteemed designer, initially in the horseback riding world as his designs incorporated aspects such as saddle straps and bits, but his influence grew rapidly. Soon new stores were opening around the world, and the company was branching out to release a wide array of iconic pieces that caught the attention of celebrities and royals alike. Today, Gucci is a name that is synonymous with high-class style.  
And, in 2016, Soigné was introduced to the world. From its inception, the company has taken the fashion world by storm. Its roots are in the niche market of Derby hats, but Soigné is rapidly diversifying. It is easy to draw comparisons to moguls such as Gucci and Chanel, which also began in single accessory markets, but now dominate the fashion industry with their style and influence. 
Ashley Clark was pursuing a dual degree in law and business at the University of Baltimore when her life took an abrupt turn. One night in a dream she saw herself making hats and ringing the bell at the New York Stock Exchange. The word soigné, French for 'dressed very elegantly,' also came to her in that dream. When she woke up, she suspended her schooling and spent the next forty-eight hours designing and creating her first line of couture hats. Her family was less than thrilled with her decision, but, as a former Miss Massachusetts and previous competitor in Miss Elite Earth America, Ashley knew a thing or two about fashion. Thus, this determined entrepreneur convinced her family to trust her gut feeling because she believed that she was going to launch a business that would not only succeed, but be widely coveted. This tenacity has led her to defeat all odds and make a place for herself in the fashion world. 
Having had no previous classical training, Ashley spent a year teaching herself the art of millinery. This included not only lessons in conceptualizing and sketching her designs, but also learning how to sew and assemble her products. "I think it served me well that I was not classically trained because now I am able to think more creatively," said Ashley.  
To this end, she actively seeks criticism in an effort to improve her designs, and is constantly looking for ways to make her products stand out. In an industry that has always been ostentatious, Ashley strives to create hats that go even a step beyond. Her designs are bold and meant to be worn by a confident woman who desires to have every eye in the room drawn to her.  
Ashley effortlessly combines the traditions of a classic milliner with a unique edge that redefines headwear. Each piece is grandiose yet exudes a meticulous attention to detail. Every part of each hat is handmade, and takes two to six weeks to complete. As if Ashley's designs were not extravagant enough, she further separates herself from the competition by making her hats multifunctional, with pieces that can be taken off and worn separately as broaches, necklaces and veils. In so doing, she has created a new market and hopes to alleviate buyer's remorse because women can be confident in the versatility of their purchases.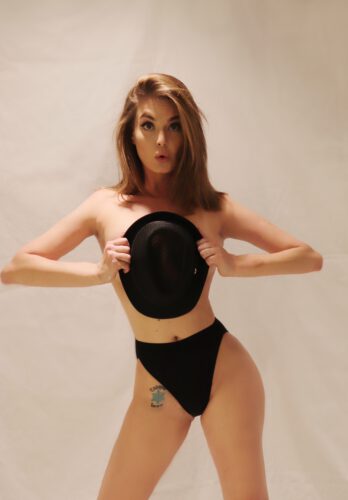 WHY HATS? Every year millions of people tune in to the Triple Crown horseraces. While the races themselves are fun to watch, the fashion statement that the women's hats make have become of equal importance. When Ashley used to attend races, such as the Preakness, she could never find a hat she liked, so she would make her own.  It was a proud achievement when she recently became the first independent designer to have her hats worn at each of the events of the Triple Crown races by the winning family. Additionally, her clients won Best Dressed Preakness Stakes for 2016, 2017, 2018.  As if those accolades weren't enough, the success of her derby hats directly led to the diversification of her product line.   
As a former Redskins and Ravens cheerleader, Ashley has many contacts among professional athletes, but has only recently seen the value of tapping into them and asking her friends for help. At her pop-up store at the Preakness this past year, a friend who dresses professional athletes for events came in and saw her designs. He realized that he needed someone who could add flair with accessories to the suits that the athletes were wearing, giving Ashley the perfect platform to launch her men's line, Soigné Monsieur.  
For the men's pieces, Ashley creates them to perfectly complement the womens' hats. The line includes accessories such as ties, lapel pins, pocket squares and, of course, hats. The silk pieces are hand dyed in studio and then hand painted to boast their bold and sophisticated patterns. It takes weeks to complete the process, but the end result is well worth the intensive labor. Although Soigné Monsieur will not launch publicly until next spring, it has already caught the eyes of many high-profile athletes who are eager to be dressed in Ashley's designs. Some of her current clients include Max Williams, Alex Lewis, and Joe Flacco from the Baltimore Ravens, and Spencer Long from the New York Jets. More and more NFL players, as well as other professional athletes from the NHL and MLB, are sporting Soigné, and are being recognized for their show-stopping looks. There is already a considerable buzz around the line, and the list of clients seeking to work with Ashley only continues to grow in anticipation of its official launch.  
What began as a single atelier is now looking to expand to flagship stores on Newbury Street in Boston and Rodeo Drive in Beverly Hills. While it all began with hats, Ashley has already begun to extend her hand into other areas, and hopes to later include lines of shoes and bags.  
"The best advice I have been given came from a friend who told me to just keep grinding and keep putting myself out there," she said. 
While the company has grown exponentially during the past two years, Ashley hopes to keep moving forward at a similarly rapid rate. Currently, she is creating, designing and assembling every piece by herself, but she has recently paired up with the Boston Design School to have interns help with production. She hopes that this partnership will allow her to grow her team overall and have a larger reach. Her five-year plan also includes getting her designs into luxury stores such as Barney's, Saks Fifth Avenue and Neiman Marcus.  
Beyond that, she is working to expand her clientele. She debuted her newest line, Sexual Aristocracy, at Yvonne's during Boston Fashion Week. This latest line is inspired by royals and notable women throughout history, both nationally and across the globe. Ashley's ultimate goal: to become the official hat milliner for the royal family across Europe.  
Ashley is truly living out her American dream. She has had opportunities that other designers only dream of, and this is only the beginning. "I feel so fortunate and sometimes still just have to pinch myself to see that this is real and this is happening," said Ashley, "I am so in love with this company and I am so in love with all of my clients."  
This is a designer to watch.  With her creations already in high demand, even before the official launch of her men's accessory line, it is hard to imagine the influence Soigné will have on the fashion world, but one thing is for sure: an empire is being built. Ashley does not plan to stop until she has taken her place as the queen of accessories, adding herself to the list of the legends.