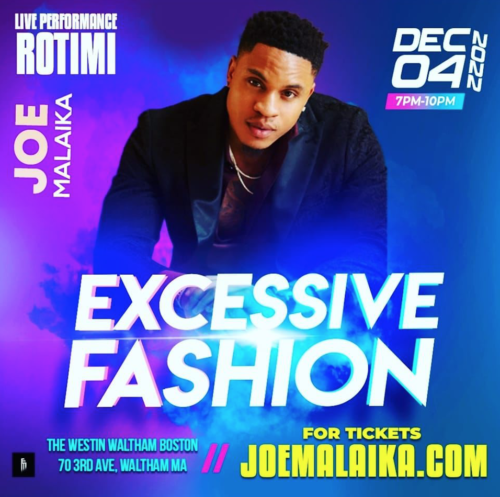 ON SUNDAY December 4th, Boston fashion icon Joe Malaika will be hosting his highly anticipated EXCESSIVE FASHION 2022 show at The Westin in Waltham from 7-10pm.
Malaika, who was recently crowned 'Designer of the Year' by Boston Magazine, has assembled an all star cast for this year's extravaganza including R&B recording artist and actor Rotimi, Bad Boy recording artist Christian 'King' Combs, Boston Celtics world champion and ESPN analyst Kendrick Perkins, socialite and philanthropist Sarajoy Bakanansa, Bogosplit founder Keyla Cineus, and BostonMan Magazine publisher Matt Ribaudo among many others. Rotimi will headline a host of entertainers performing throughout the evening.
"We're really excited for this year's show," Malaika says. "It's promised to be our biggest and best one yet."
On full display will be an array of the vibrant fashion collections Malaika has tirelessly perfected over the years. Known for his bold print and sequins with both his men and women lines he proudly shows classic inspirations from his native Uganda -blended with a modern American look- in his work.
"I consider myself a Ugandan designer," he notes. "The richness of the different cultures in Africa is something I always enjoy showing in my designs."
Malaika's introduction to fashion came as a young boy watching how his grandmother would sew clothing with care. He describes the preparation and attention to detail she would exhibit in each piece a 'superpower' that he greatly admired.
Led by his grandmother's counsel and his diligent research through various 'self-teach' platforms on-line, Malaika designed his first piece in college -a dress- for a young lady he had a crush on. She shared pictures of the dress on social media and before he knew it, he was receiving a plethora of messages from women asking him if he would make them dresses too.
"It seemed like everyone wanted one from me," he says laughing.
Since then, Malaika's dresses -and the rest of his work- have been sold globally and featured at Paris Fashion Week, London Fashion Week, Arab Fashion Week and all over the United States.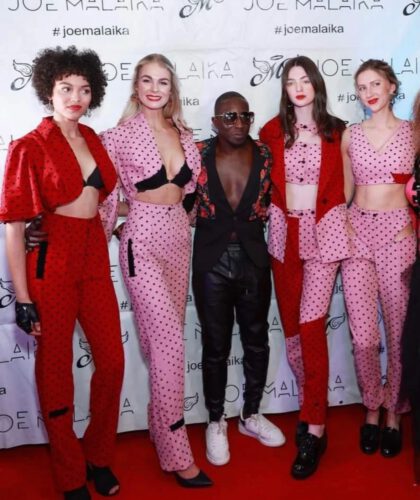 EXCESSIVE FASHION on December 4th will be a celebration of Malaika's journey and influence in the fashion world.
"It's special to be able to have so many people coming who have been meaningful to me in one way or another since I began designing," he says.
While fashion and entertainment will be naturally omnipresent, the most impactful highlight of any Joe Malaika show is the recognition it brings towards cancer research.
"I've lost many people close to me to cancer," he says. "So contributing efforts to end cancer is very important to me."
Malaika has partnered with various cancer treatment institutions over the years including Boston Medical Center, where he dressed survivors walking the runway for a show in celebration of beating cancer.
"That was a big career highlight for me both as a designer and as a person," he reflects. "The recognition I've gotten from my cancer charities is better than anything else I have achieved. It all goes back to making my grandmother proud because this is what she would want me to do with this gift."
Tickets for Joe Malaika's EXCESSIVE FASHION are available for purchase here. General admission is $80 in advance and $100 at the door. VIP access is $180 in advance and $200 at the door. The Westin is located at 70 3rd Avenue in Waltham. You can also donate to help the advancement of cancer treatment and research at Boston Medical Center here.