Nobody will ever tell stories of American history as well as David McCullough did. Shortly before passing away this summer, the Presidential Medal of Freedom and Pulitizer Prize recipient presented his Final Act to Derrick Zellmann. This one, through the lens.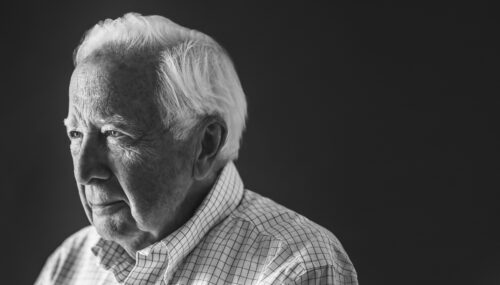 EACH TIME I am given an assignment to photograph an individual it sets off a chaotic journey of a thousand thoughts and ideas. However, my main objective has, and always will be, to capture a portrait that will tell a story for that individual. When I was contacted to photograph David McCullough back in the summer of 2019, the thought of telling a story about the man who was famous for telling the greatest stories was intimidating to say the least.
In hindsight, I am embarrassed to admit that I had not yet known of David McCullough. As an art major who didn't exactly excel in history, I had only recognized a cover image from one of his Pulitzer Prize winning books. Leave it to the photographer to remember only the pretty picture from the book that held some of the greatest words ever written. With that, I began my regular process of researching my subject.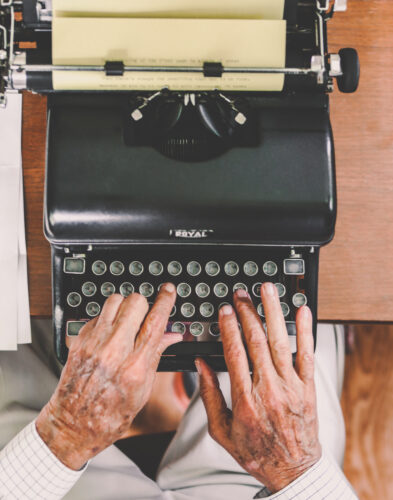 There are two key pillars to the structure of my preparation. The first is not unique: Google. It was no more than fifteen minutes into my search for "Who is David McCullough?" that I realized David was Goliath, an absolute giant whose work was not only regarded as some of our country's most important but also earned him the Presidential Medal of Freedom and the official title of "America's Historian." I had to focus on creating powerful images that honored his own place in American history. If the shoot wasn't just two days later, I may have started a new online search for pyrotechnics and "Bald Eagle handlers near me."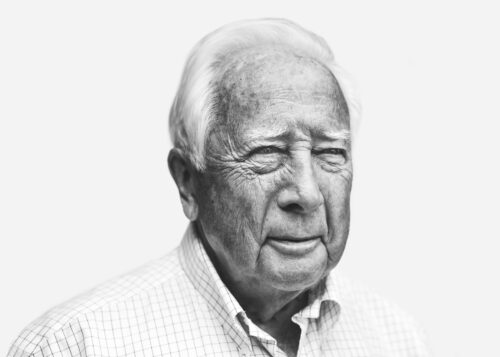 The next day I had finalized a plan with lighting diagrams for five different portraits along with a few additional detail images that would help tell the story. I was ready and excited. And then I received the email with information from David's publicist describing his incredibly busy schedule that week and a request to keep our timeline pretty brief. I had fifteen minutes. I was gutted. I understood his publicist was simply looking out for him as he was in the middle of his newest book release, The Pioneers, and was scheduled for numerous speaking engagements and interviews all over the country. But now the level of stress was elevated and the need to adapt was obvious. I was freaking out. How was I going to capture this colossal presence in just fifteen minutes?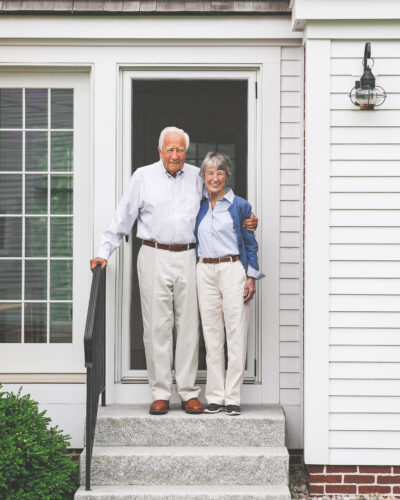 The second pillar of my preparation is finding inspiration. Like so many assignments before I turned to a book that has become a sort of Photography Bible for me written by one of my mentors, Gregory Heisler. Like Mr. McCullough, Greg is an absolute giant in his own profession. Greg's book, 50 Portraits, features some of the most iconic portraits ever captured and each is accompanied by behind-the-scene stories that are as uniquely candid as they are inspirational. On the eve of my shoot with David McCullough, I read through a few of those stories in an attempt to calm some nerves.  It was Greg's description of his portrait of yet another giant, Muhammad Ali, that illuminated the lightbulb I so desperately needed: "Sometimes the best you can do is to be a spectator to your own creative process as it winds itself out and wraps around an idea, a feeling." Greg's determination to capture the quiet power of The Champ was the advice I needed to trust myself, be present, and allow the shoot to evolve instead of force something that wouldn't fit.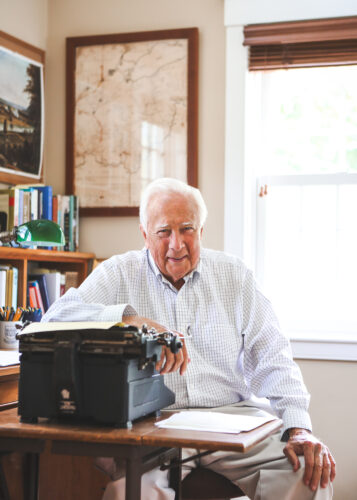 The next morning I arrived early to David's home in Hingham. My car door wasn't halfway open when I noticed Rosalee, David's wife, waiting on the porch to greet me with the warmest smile. David was inside taking a call about his new book so she made sure she was there to say hello and take me across the yard to David's writing studio. I thanked her and then immediately began setting up lights, taking test images, and frantically going through a revised plan that could be fit into a fifteen minute window. Thankfully, this assignment was for South Shore Home, Life & Style magazine which meant I had the help of Maria Allen, an editor turned friend of almost 8 years. After David had completed the interview portion of the morning with writer Dave Kindy, it was time. The starting gun had gone off and the clock was now ticking but even when I am given a short timeframe, I never start a portrait without a conversation and my camera out of sight.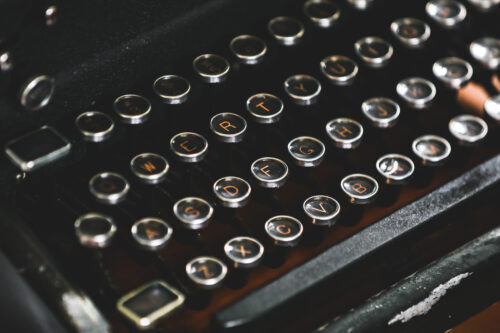 We started in his writing room. A quiet space with high ceilings and beautiful light pouring in on the modest setup that included a few bookshelves, a couple framed maps and a tiny desk that fit on a small doormat. It was the humble home to a typewriter that had lived a life twice as long as mine and should one day live in the Smithsonian. He noted that each of his twelve books had been written on that typewriter but I was more fascinated with how he spoke so fondly of the sounds the keys made as he hit each letter and the ding of the bell that let him know he had filled yet another line. This was no typical tool of the trade. He was describing an old friend, one he trusted completely and had spent decades with sharing his most personal thoughts. So, I asked if he would type something for me and without a word he snatched a long yellow sheet of paper, loaded it like it was second nature, sat down and began filling the room with the punching sound of the keys. He was in the zone, completely comfortable and relaxed, which meant it was time for me to grab my own tool and begin capturing some photographs. As focused as I was, it was still very easy to understand how cool this opportunity was. It was like seeing Babe Ruth take batting practice.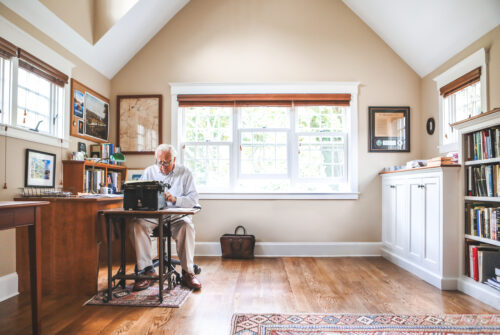 After a few more portraits in the writing room, I looked down at my watch to see that we had already hit the ten minute mark. I suggested moving to the second shot outside on the steps of his studio where Rosalee would join him for a portrait of the two. We once again started with conversation, this time about the incredible gardens that were the centerpiece to their backyard. It was obvious the same care that Rosalee had extended in her welcome that morning was given to the growth of their gardens. Our conversation transitioned into a tour of the gardens, talks about family and where I had grown up. I was touched by his genuine curiosity. This iconic gentleman was so eager to learn about me, my camera, my life. The conversation was effortless. Then, I noticed another ten minutes had passed and I was in overtime. I suggested we photograph them in their gardens and began capturing the two laughing and looking at each other. And then a sudden burst of excitement filled David to which he said "give me one minute I will be right back" and briskly marched to the garage. Rosalee just smiled and warned me that "this should be interesting." David returned with a garden rake, a huge smile and the request that we recreate Grant Wood's famous piece, American Gothic. Laughter filled the gardens. And now time was truly flying by amidst our fun. I apologized that we had already taken a half hour and politely asked if I could make just one more portrait of David.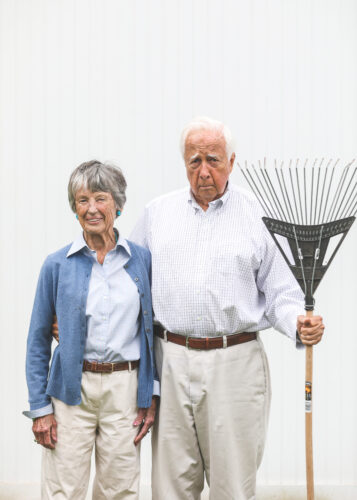 Thankfully, his response was, "There is no rush, this has been so much fun."
As we walked back into the writing studio for the final shot, the conversation transitioned to his family. At this point I realized David reminded me of someone in my own family, my grandfather. The similarities could no longer be ignored: The dedication to their craft; The importance of committing to something with hard work; Their eagerness to make everyone around them feel welcome and important; Their humble voices and modest outlook on their achievements; And family, the most important aspect in their lives and where their core values were held. This was when I was reminded of that excerpt from Greg's book; I had to capture this idea, this feeling for the final portrait. Years before, when I was preparing my final portfolio while studying at Hallmark Institute of Photography, I photographed my grandfather in the studio using one carefully placed light. A quiet black and white character portrait of a man with a profound history of work and love. I decided this was how I was going to capture the character of David McCullough. So I took down all of those lights I had frantically set up earlier upon my arrival. I asked David to sit, look off to his right and take a few moments to quietly think about his life, his family, and the work he had created. His shoulders relaxed, he took a deep breath, and a few frames later I had captured the shot I had hoped to create that day; one that might tell his story.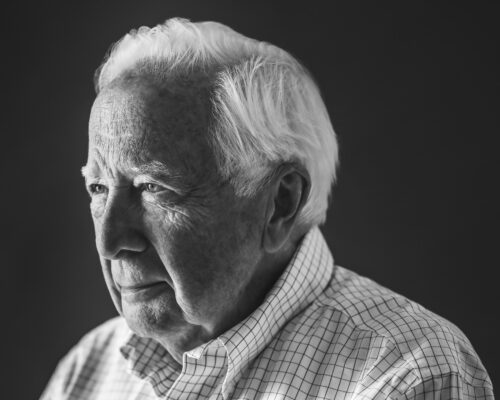 A few months later and shortly after the issue of South Shore Home Life & Style magazine was published, I got a phone call from David. He said he had just received his copy, sat down to read the article, and wanted to call me immediately upon finishing it. He thanked me for "taking great care of him with my camera," and that he especially loved the black and white portrait used for the two-page opener, the photo inspired by my grandfather. And then asked if he could purchase some prints of that photograph, noting, "I would love for my children to have that photograph of me."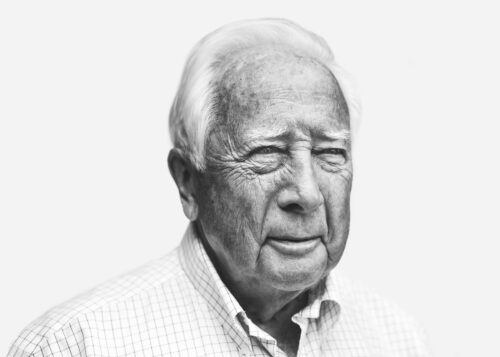 For me, there's no bigger compliment. I told him that no purchase was necessary and that it would be an honor. We talked a few minutes more and I told him I would drop the prints off later that week. When that Friday came I made a small detour to the Barnes & Noble on the way to their home. When I walked in to ask if they had a copy of Mr. McCullough's new book, the gentlemen replied, "oh yea, David's section is right over there. We love him." The story of this gentle giant was growing with each person I spoke about him to. When I arrived at his home, I expected to deliver the prints, exchange pleasantries at the door, and be on my way. I was way off. He and Rosalee were waiting for me at the door to invite me inside. There were three glasses of iced tea waiting at their dining room table where we would sit and talk for over an hour. We looked through each photograph in the magazine and I answered questions about how and why I chose to capture certain details. Their kind words and appreciation were so genuine and thoughtful to say the least. Our conversation continued on to family, local places we like to eat, and our shared love of gardening. We even discussed where each of us had hoped to further pursue our careers. (Yes, he was almost ninety years old with multiple Pulitzer Prize awards and a recent best-seller and was excitedly planning future career endeavors).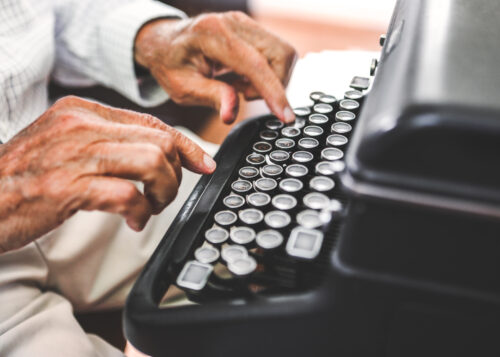 Before I left, I asked David if he would sign a book for my grandfather. I revealed how my grandfather played a part in the inspiration for the black and white portrait and attempted to describe the important bond we shared. My grandfather was one of my heroes and I don't believe it was coincidence that he played such a vital part in capturing another iconic figure. I also shared that he had been diagnosed with cancer and I would look forward to bringing him this gift as a little pick me up. In David's humble voice, so similar to that of my grandfather's, he replied "it would be my honor." I told him how I had just picked up a copy from Barnes & Noble and that I would go and retrieve it from my car. This was the first and only time I saw an expression on David that was anything but happy. He said he had plenty of copies and would have been happy to gift my grandfather one, but I insisted that I would grab the one I had just bought.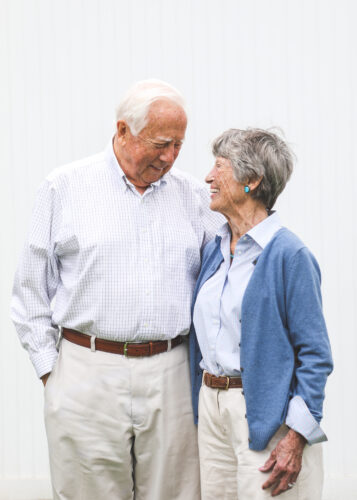 By the time I had returned to the kitchen table he had retrieved a copy of the book from his library. With a pen in his hand he said, "I will make you a deal, I will sign that book for your grandfather if I can gift this book to you." I believe this is what many would consider an offer I couldn't refuse. David signed both books at the kitchen table while telling me how much he admired my work. My work? At this moment I was questioning if this afternoon was actually real. A man so decorated, accomplished and respected all over the world had made me feel like I was his equal. I didn't think this visit could get any more surreal until I took a quick glance at what he had penned in the book he had handed me: "For Derrick, with great admiration and in friendship. – David."
As David opened the door for my exit he sent me off saying he would love to work together again on another portrait, even expressing a few ideas he had. While we never got that opportunity, I will forever appreciate the photographs and the friendship we were able to create.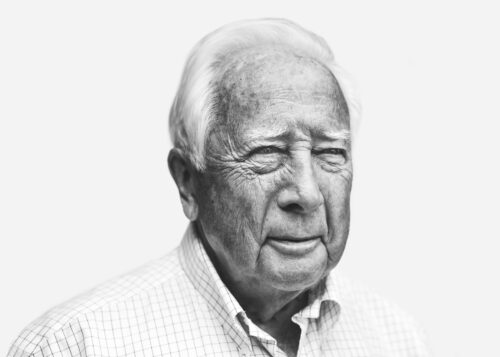 All portraits by Derrick Zellmann