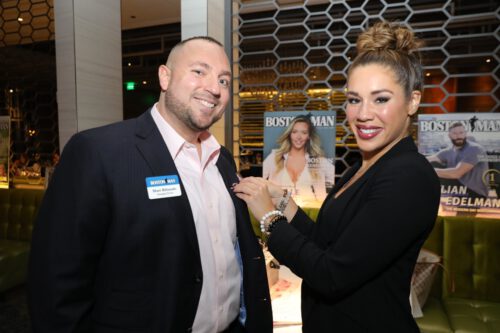 On Sunday, October 28th (2018), I had the opportunity and pleasure to spend the afternoon with a group of courageous women known as the Miss Pink Organization.
Having lived in and around Boston for the last 18 years, I had loosely heard of Miss Pink, which is to say I had seen it here and there in my social media feeds; came across it perhaps while perusing groups and events in Boston; or maybe even had a conversation or two with friends and colleagues while discussing noble charities in Boston.
I knew it was an organization that raised money and brought awareness to breast cancer survivors and research. I was pretty sure it had originated out on the North Shore (I lived for years in Salem and before that Beverly), and I believed that they held some sort of pageant each year as they're signature event. But beyond that, I was going in blind.
Breast cancer is a battle that has touched my family and is very near and dear to my heart. My mother is a ten-year survivor. My grandmother succumbed after bravely fighting long enough to witness the birth of her first great-grandchild. And just days before I was meeting Miss Pink my sister-in-law was wrapping up her final rounds of chemotherapy.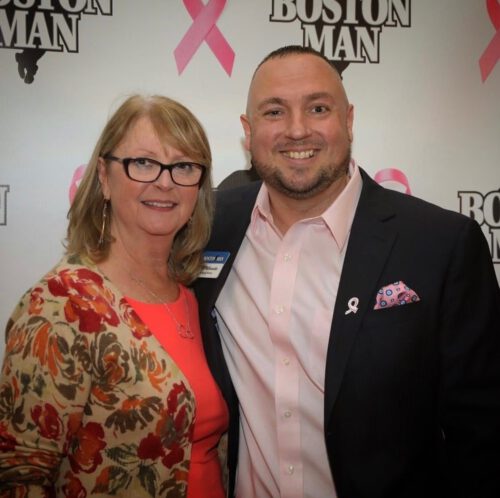 What I encountered that afternoon at Envoy Lookout Rooftop in the Boston Seaport for the Miss Pink Meets Boston event was far more than I could have ever imagined. The Miss Pink Organization above "what they do" is a movement filled with love, positive energy and some of the most genuine people you will ever meet in your life.
Within minutes of my arrival I was overcome by the beauty, feeling of fulfillment and overall power from the whole-hearted goodness of what The Miss Pink Organization is.
Started in 2009 by Ashley Herron in Beverly, the Miss Pink Organization commenced after Ashley witnessed her grandmother becoming stripped of the things that made her feel feminine and beautiful during her bout with breast cancer. Ashley felt no one should ever feel that way and was determined to create something that would inspire and empower women.
That year Ashley and a group of friends from college hosted the first ever "Miss Pink Pageant" where survivors were encouraged to share their journey while simultaneously helping to raise money for research.
This now annual fundraising gala -where breast cancer survivors "compete for a cause and fight for a cure" -is what makes the Miss Pink Organization so unique.
Participants spend the day getting pampered and receive everything from massages, limo rides, champagne toasts, hair up-dos, makeup applications, and dress and jewelry fittings in their preparation to walk a runway and feel as beautiful and empowered on the outside as they are on the inside.
"The courage, tenacity, and strength these women possess to undergo breast cancer treatment while at the same time taking care of their families, raising children, working, and meeting the day to day needs of life is extraordinary," said Miss Pink Vice President Kate Arnold.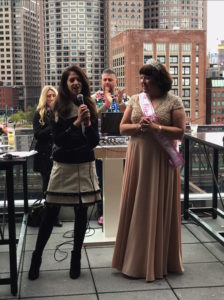 "The day of The Miss Pink Pageant they are given the opportunity to see themselves in the same way their loved ones see them every day: as incredibly beautiful and tenacious women," continued Kate. "Sadly, as women, we know we can be our own worst critics, so our objective is to hold up a mirror so our Pink Warriors see reflected back to them what everyone else sees: true beauty."
Each year the Miss Pink "winner" represents the organization as its ambassador helping to raise money to go straight back into the community to provide financial assistance to families impacted by breast cancer covering everything from meal deliveries to utility and rent payments, medical assistance, transportation to appointments, etc.
With the Pageant gaining more and more popularity the Miss Pink concept eventually morphed into the Organization it is today expanding its efforts and growth into what it currently looks like.
"We are on a mission to redefine beauty and support families until breast cancer is no longer a thief to families," said Kate. "Today we have partnerships with hospitals throughout New England and are busy building relationships there with patient navigators and social workers to support more families, and almost daily are managing the requests for assistance that come in."
This evolution now sees the Miss Pink Organization hosting events, fundraisers, meetings, and classes throughout the year accomplishing a fourfold vision: 1) to provide financial support to families, 2) educate the community with emphasis on early detection and regular breast exams, 3) partner with medical organizations to further research and 4) foster healthy habits through fitness and wellness care.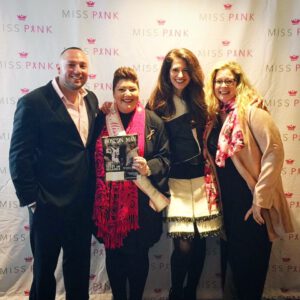 **
I cannot over-emphasize the power and positive energy I felt from all of the women (and men!) involved with the Miss Pink Organization. From Ashley Herron to Kate Arnold to 2017 and 2018 Miss Pink winners Fabianna Marie (Shanna Pinet) and Helene Palmer respectively; to Tina Celona, a survivor who I met through BostonMan and graciously introduced me to the Miss Pink family –everyone I engaged was amazing with their own unique story.
They say 93% of communication is kinesics, something we feel. This truly is what the Miss Pink Organization is. What I saw or can say about Miss Pink pales in comparison to what I felt spending the day with them.
Knowing how breast cancer can impact a family first hand I many times saw and heard the words of encouragement offered to these women: "You are so strong.. You are a warrior.. A solider.. A gladiator.. Your strength is motivating."
While all of this is absolutely true, we sometimes forget to remind our loved ones going through this battle how truly beautiful they are as well -not only on the inside but the outside too. On Sunday October 28th at Miss Pink Meets Boston I was reminded that this is equally as important.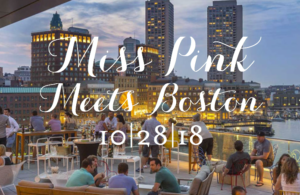 "I do hope Miss Pink will be a household name and that our partnerships with hospitals and health care centers will grow nationally," added Kate. "When women (or men!) are diagnosed, they need to know there is a resource which provides mentorships, financial and tangible assistance, and a community where they can find support and friendship."
And with that I want you to know, Miss Pink, that BostonMan Magazine is proud to stand right beside you and help anyway we can. Thank you for allowing me to spend an afternoon with you.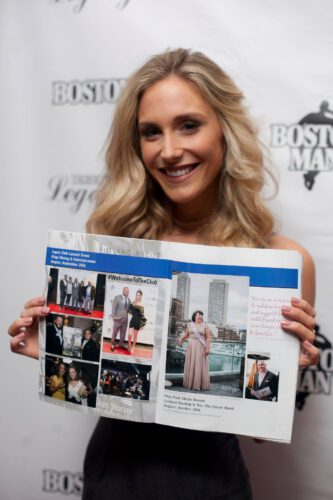 If you wish to make a donation to help support the Miss Pink Organization, please click here. Every little bit is greatly appreciated and helps immensely.
***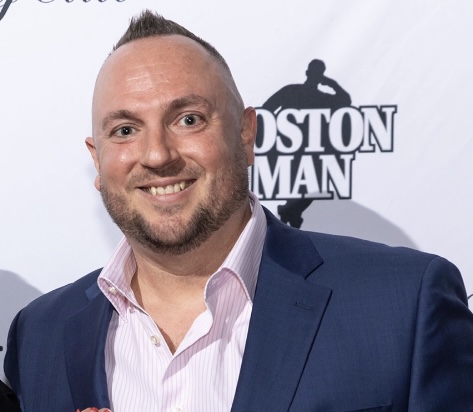 Matt Ribaudo is the Owner and Publisher of BostonMan Magazine. To reach Matt, please message him on Instagram or email at: matt@bostonmanmagazine.com