Matt Ribaudo sits with Anthem Founder Chris Sinclair to discuss the state of Boston Leadership and its New Generation of Innovation and Influence
***
Boston is a town synonymous for iconic moments, historic landmarks and legendary personas. The city is home to fabled sports heroes, world-renown academics, the Founding Fathers of the Country and many others with near mythological levels of achievement. An undeniable catalyst of the city's distinct aura are Boston's business titans that helped continuously shaped the city's greatness.
Boston has always been on the cutting edge of evolution, pushing new boundaries and setting a pace for staying ahead. Gone are the days of Boston's business, philanthropic and social worlds operating in elitist towers of closed and tightly guarded communities. There is a new generation of movers and shakers that are stepping into the limelight and helping to recreate and carve their spots in the cities hisotry. The Boston Brahmins are making room and passing the torch to this new class of self-made leaders.
These innovative newcomers are welcoming the historical influence that Boston has to offer, while understanding what it means to truly create a successful empire from the ground-up. They leverage resources for more than the bottom line and they do not just welcome change and a seat at the table: they demand it.
Chris Sinclair, founder of The Anthem Group, is at the forefront of Boston's incredible transition, leading a new class of self-starters and emerging business giants. As an entrepreneur and leader, Sinclair embodies ingenuity, passion for one's work, and creates new and collaborative projects that Boston needs to maintain and enhance its stature.  Sinclair utilizes his expansive experiences and knowledge as a face of the new breed of innovators, to do good while doing well and to fuel ideation for Anthem's continued, and seemingly unstoppable, development.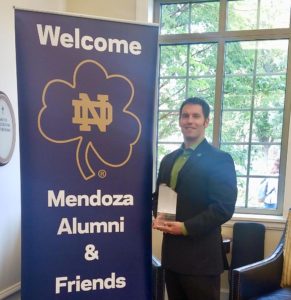 Humble Beginnings
The driver of America's free-market spirit has always been entrepreneurial at its core. "The American Dream"- the belief that regardless of who you are, one can improve their life in a society where upward mobility is possible for everyone.
Although once a revolutionary concept, the definition has evolved. While the notion of building oneself up still holds true – society has learned the challenges involved with breaking predisposed disadvantages that have been generationally passed down.
"When someone can be the outlier and achieve their version of greatness, it carries inspiration for others," Sinclair told BostonMan Magazine.
 Growing up in and immediately around Boston, Sinclair was able to overcome the barriers of financial hardship, low expectations and protect himself from the pitfalls that derail so many young person's dreams. With no money to his name, no experience, no business mentors and still a student, Sinclair launched his fledging venture.
Through determination, sacrifice, risk-taking and tireless work ethic, Sinclair has established himself as one of Boston's most disciplined and innovative multi-industry businessmen.  He has turned a student's side hustle into global company and one that exemplifies self-creation.
A true BostonMan, Sinclair first heard his entrepreneurial calling in middle school as a way to generate money for lunch. But it was while in high school that he took his ambitions to another level, all while being a fulltime student, a baseball and track athlete and prepping for college – his brother and he are the first traditional college graduates in the family.
"I knew that I needed a way to support myself in order to achieve my goals," said Sinclair.  "My family worked so very hard, supplied as much as they could but it wasn't enough for higher education expenses."
That is when Sinclair had the idea for his first event: a self-organized laser tag night that would be open to anyone and everyone that wanted to buy a ticket.  Sinclair created two "packages" for his would-be patrons. The first was a standard general admission and other was an all-inclusive "VIP" tier, which included "hospitality" (copious amounts of Wendy's and McDonalds), "chauffer transportation" (he paid upperclassmen to drive younger students without licenses or cars), and a keepsake (he organized action photos during the games).
Sinclair also negotiated a steep discount with the venue and intuitively understood both what his audience wanted but also how to create a healthy profit margin delivering it.  Several thousand dollars and multiple similar events later, Sinclair learned the art of sales, marketing and hospitality. Albeit in its most elementary of forms, these events would become a foundation and foreshadowing of greater opportunities to come.
 After an initial taste of success, Sinclair took another leap forward and built his first experiential marketing agency as a freshman in college.
"I took a flexible summer gig as a brand ambassador, and quickly found myself managing the program's budget, calendar, hiring of all the other field staff, product warehousing and inventory control," Sinclair reflected. "It was a whirlwind, moving from a summer gig in between baseball games and summer school to being a boss and then to full-on self-employment."
Soon there would be an entire team surrounding him, multiple clients and no turning back.
As both his academic career and modest marketing agency expanded rapidly, Sinclair and his team began to set the industry standard while simultaneously locking in more projects. With the aspiration of playing in a large piece of the market and a desire to set a footprint onto a national platform, Sinclair propelled his company into a new industry and began producing its own events.
"The initial events were tiny and basic local music nights.  It was literally event planning 101. However, within just 18 months I found myself collaborating on the construction of a 20,000-attendee fundraising concert," Sinclair said.
This was the beginning of what is now known as The Anthem Group.
As Sinclair found himself exploring opportunities in both event creation and event marketing, he created two different entities – Anthem Entertainment and Anthem Production – to keep from blurring the lines of the two services and to help him continue expanding his rapidly growing portfolio of clientele.
As he continued to field requests for services, The Anthem Group continued to expand.
"In a matter of a few short years, Anthem moved into catering, concessions and then also full-service restaurant, bar and beer-garden ownership," Sinclair explained. "The event portfolio exploded into activity across five continents and a myriad of genres, including non-profit galas, corporate events, live performances of all types, media events and outdoor festivals and celebrations."
Today The Anthem Group's experiential verticals focuses on live entertainment, large-scale event production, experiential marketing, hospitality, tourism, and placemaking. However, Sinclair utilizes his entrepreneurial journey to build businesses across any industry. Anthem's strategy arm works with start-ups and mid-sized ventures on organizational structure, funding strategy, and other fundamental business needs.  Anthem has some level of activity in over 70 markets across the globe.
Once just a kid from around Boston, who had no business pedigree, Sinclair created his own path. He now finds himself as one of Boston's trailblazers of business, innovation and influence. His simple pursuit of his passion from modest beginnings has led to global success across multiple industries, contributing to Boston's reputation as a leading city in innovation and the hometown for entrepreneurs.
Yet there is more to this homegrown story – Sinclair personifies how to leverage an existing platform of influence to create a community impact through meaningful and social-minded change.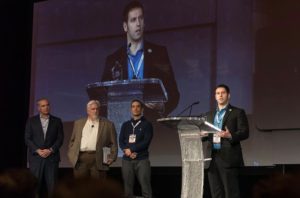 Supporting Boston and its Communities
Similar to previous eras of businesses and older institutions, Boston's new generation of innovators are using their resources, scope and influence to enact social change and community building in truly impactful ways.
Sinclair and Anthem are no different, and in fact are widely recognized as a significant leader in creating social impact.
"At its core, The Anthem Group stands on a strong belief that a business that does well, should use its visibility, success and reach to do good in its community," Sinclair stated.  "I believe that Anthem's platform is not just an opportunity to positively impact a lot of people, but rather it is an obligation too."
The Anthem Group institutionally supports over 100 different charitable causes, non-profits, community organizations and academic institutions. Personally, Sinclair currently or previously served on over two dozen boards. The support extends to a variety of missions, ranging from the Boys & Girls Club, to Cradles-to-Crayons, to Big Brothers Big Sisters. Internally, Anthem spearheads its own three-tier jobs program which provides employment and job training to at-risk youth, individuals in recovery, and adults transitioning from homelessness back into the workforce.
In collaboration with community partners, Sinclair and his team regularly coordinate youth outings with many local organizations that have provided over 7,000 at-risk preteen and teenagers with the opportunity to be exposed to new people, places, and ideas. These outings provide youth likely to engage in risky behaviors with the opportunity to leave their immediate neighborhoods and have experiences and interactions that they otherwise would not have.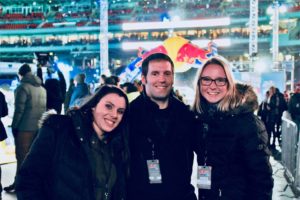 Leading the Way for a New Generation
Sinclair recognizes that there is room at the top, but for most people, no one is going to escort them there. People have to earn their stature and create their own path. Finding and surrounding oneself with likeminded people and collaborating with other leaders is the optimal way to build a business – or an entire generation of businesses.
Leveraging all of the lessons learned during his own groundbreaking journey, Sinclair and his team work hard to pave the way for the new era of risk-takers, business owners and entrepreneurs. As someone who had to earn his own seat at the table – Sinclair is able to provide this new wave of talent with insights into how to form, build, and maintain valuable connections while simultaneously relying on one's own talents as the guiding force for growth.
Innovation, boundary pushing and change are the critical components of a vibrant business community. There are many that do not allow for change, and simply state "because this is the way it was always done".  Boston is fortunate that so many new age entrepreneurs are penetrating their industries. Sinclair plays his part both in Anthem's work but in the teachings that he shares.
Sinclair has proven the unconventional model for starting a business can work. He also has proven to not pigeonhole an entrepreneur into their first industry – having moved Anthem into a wide breadth of initiatives.
"Just because something has never been done before, is not reason enough why it should not be," Sinclair philosophies. "This mentality resonates more soundly with today's innovators."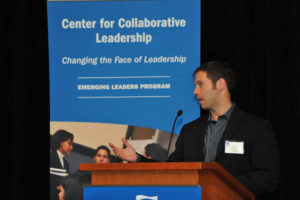 What's Next for The Anthem Group?
Sinclair candidly states that the continued evolution of Anthem particularly energizes and excites him.
"With so many new and varied initiatives, it is hard to pinpoint one," emphasized Sinclair. "But in true Anthem spirit, there is a public-private partnership underway that makes Anthem well positioned to leave a lasting imprint on Boston through a pioneering placemaking initiative in an untapped corner of the city's waterfront.  Our Anthem team not only loves, but are renown for, working with open spaces and influencing and improving the public realm."
The new breed of businessperson, utilizes innovation and self-started determination to launch their own venture, but then to change the entire way Boston does business, to impact the community in meaningful and social-minded ways and also continuously change the internal face of their own organization.
As we continue to follow the journey of Sinclair, there is little doubt that Anthem will continue to evolve, help others be defiant in the face of obstacles, shape industry itself and build its portfolio all at the same time. As we learned, there is no reason to pick just one or the other.