For its ninth annual event, Toast to St. Jude is set to surpass $1 million in funds raised. This year, they celebrate the fight to end childhood cancer with their most extravagant gala yet: at the STATE Room in Boston.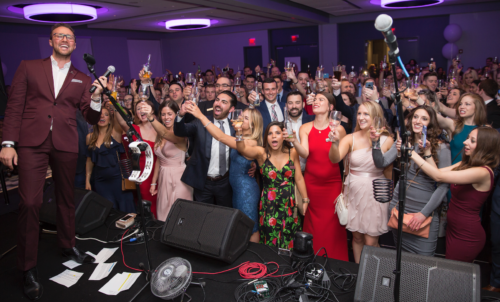 ST. JUDE Children's Research Hospital has been described as one of the most impressive, happy, and vibrant care facilities in the world. From its Memphis treatment center to the numerous charitable events across the globe, St. Jude's bursts with courage, determination, and hope as it fights for the ultimate mission of one day ending childhood cancer.
Whether running alongside 25,000 at the St. Jude Memphis Marathon, attending the annual Leadership Summit, or participating in a sponsored fundraiser it is truly touching and amazing to see the passion and love the organization shows towards children. 
Recently, a man who is among the thousands of regular volunteers at St. Jude Children's Research Hospital shared his personal story of loss. 
"There is no love quite like the love a father has for his daughter and there is no greater loss than the loss of a daughter," he says.  
He volunteers to help make sure no child loses their battle with cancer, he explains, like his own daughter did. He aims to paint a picture of hope and strength; showing why St. Jude's is a cause so near and dear to the hearts of many. 
Here in Boston, the annual Toast to St. Jude gala is a story to tell. Regarded as one of the most anticipated nights in the spring, the excitement and buzz around Toast to St. Jude continues to escalate.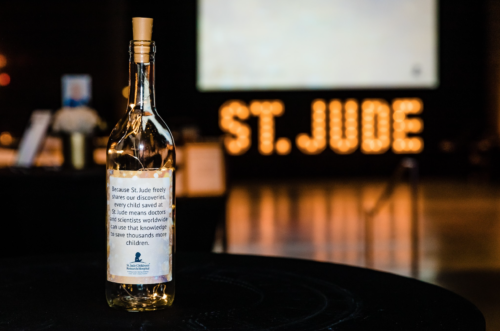 IN the fall of 2013, Anthony Nader and Samantha Curtin created Toast to St. Jude with a small committee of close friends. The goal was to fundraise for St. Jude Children's Research Hospital through an event for young professionals in the Boston area.  
"Toast to St. Jude was started to fill the gap between the great college events that St. Jude Children's Hospital runs, and the gala events targeted at older individuals. When I graduated college, there were not any St. Jude events to bridge the gap between a $500 ticketed evening gala and the Up til' Dawn college fundraiser," explains Co-Chair Anthony Nader. "There of course is the St. Jude Walk/Run, but I wanted to create an event specifically targeted at young professionals gathering socially at night. The idea was to continue to fundraise for St. Jude but also make it fun for the attendees and something that would be enjoyable for young professionals. We were able to pull together a group of friends and plan the first event held at a local bar."  
Nader shares his motivation for why he created this event: "I lost a cousin to cancer in my early teens (she was nearly the same age), and although she was not treated at St. Jude, it has had a lasting impact on me. My family had always fundraised for St. Jude growing up and it was easy to continue that legacy. Today I have two children of my own, and the charity hits home in a completely different way than it ever did before. I could not be happier to dedicate my time to fundraising for such a great cause. I am so proud of what the event has become."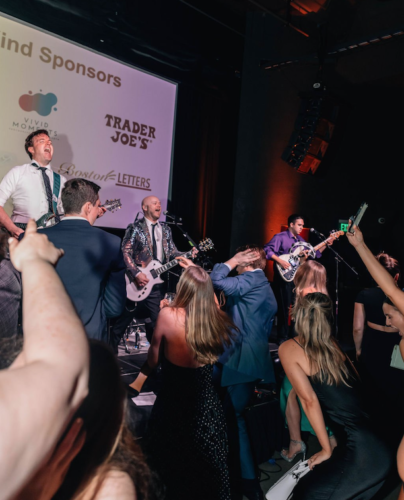 He adds: "It's not just a night of fundraising for the kids of St. Jude, it has also become a social event to keep many of us connected in our professional lives. There are several committee members whom I am sure I would have fallen out of touch with by now, but because of the event we are able to stay in touch." 
Ten years later, Toast to St. Jude continues to see healthy growth throughout Boston, is setting record breaking years of fundraising, and has become one of Boston's "must attend" annual events, expanding to professionals of all ages with people coming in all over the country to attend. 
And all of this is done in the spirit and mission of St. Jude: to find cures, and to save children.  
Consistent with the vision of founder Danny Thomas, the goal is to advance cures and means of prevention for pediatric catastrophic diseases through research and treatment. No child is denied treatment based on race, religion, or a family's ability to pay. At St. Jude Children's Research Hospital families never receive a bill for treatment, travel, housing, or food – so they can focus on helping their child live. Treatments developed at St. Jude have helped push the overall childhood cancer survival rate from 20% to more than 80% since the hospital opened in 1962.  
"And we won't stop until no child dies from cancer," Thomas famously said.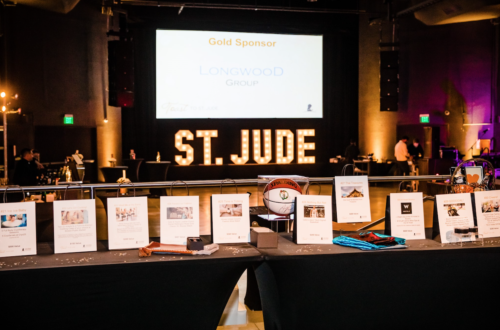 THE 2023 Toast to St. Jude will be held on April 28th at the stunning State Room on 60 State Street. This ninth annual gala will feature a lounge-style cocktail reception with hors d'oeuvres, open beer and wine bar, dancing, live entertainment, silent auction, and a premier raffle during the event. 
The committee continues to evolve, adding new faces each year to volunteer with the veteran members.  
Brittany Myers, Co-Chair of the Marketing & PR Committee, states her goal is to align with and bring awareness to the incredible work that occurs within this organization.  
She says: "I attended my first Toast to St. Jude event six years ago and was floored from the moment I arrived by the crowd, the patient stories, the silent auctions, the band—all of it. Most importantly, learning about the mission of St. Jude Children's Research Hospital. In starting my own family nearly three years ago, it put into perspective all the things I had so easily taken for granted."  
The amount raised to date by The Toast to St. Jude has surpassed $900,000 and this year, proclaims Nader, the committee hopes to add another $250-$300k to that number. Both tickets and sponsorship packages are currently available for purchase. Sponsors receive admission tickets, brand visibility on event signage, promotional materials and more. Ticket prices increase as event date nears, warns Nader, so he strongly encourages everyone to buy early. 
"Why wait?" he says. "You know you want to be part of this!"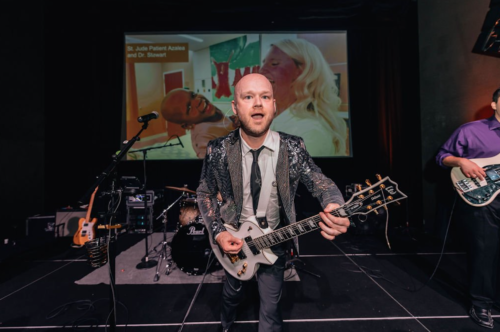 Perhaps Chris Mathison, Lead Singer & Founder of the band Beach Nights, who have performed at multiple Toast to St. Jude galas sums it up best: 
"This is something we look forward to as a band every single year. As tough as it is to choke back tears while we're performing, it's nothing compared to the strength and fight these kids show us every single day. To know we're making even the slightest difference in their lives is so special and meaningful to us, we can't wait for this year's event!" 
To make a donation or purchase a ticket, visit stjude.org/toasttostjude.  For additional information, please contact Siobhan Dunn at siobhan.dunn@alsac.stjude.org.