The Truffle Cheese Wheel
You ever hear of a "Truffle Cheese Wheel?"
Scroll through any of your friends Instagram stories and you're sure to see one while they dine at an upscale Italian restaurant. The popular table-side preparation pasta service is a centuries old tradition in Italy, and has surged recently in popularity here in the United States, thanks in no small part to social media.
Aged 24 Months Whole Wheel Parmigiano Reggiano is imported from Italy and made with the freshest milk from the famous Parma and Reggio Emilio provinces in Italy, Parmigiano Reggiano is the apex of Italian cheese making and a symbol of Italian culture and civilization. "Ristorantes" carve out the center of this 90 pound wheel and prepare fresh homemade pasta; heated, mixed, and marinated often times right in front of your table, adding to the overall dining experience!
Among the best "Truffle Cheese Wheels" in New England has to belong to Tuscan Kitchen.

With locations in Burlington, Salem, Portsmouth, Newburyport, and Seaport, Tuscan Kitchen offers a little something for everyone. With their towering cocktail trees at brunch to upscale dinners highlighting homemade pasta and bread, it's the perfect place for any occasion. They recently launched a new summer menu and I have to say it's a 10/10. Some of my favorite new menu items are their Lobster Carbonara, Mozzarella en Carozza, and their delicious Chilean Sea Bass, all of course paired with an Aperol Spritz because #IAmWhoIAm.
But, perhaps their most iconic menu item is indeed the Tagliatelle Al Tartufo, which features delicious homemade pasta served in -you guessed it- that 90 pound, 24-month aged Parmigiano Reggiano Brodo, topped with shaved truffle flakes.
When I first saw it, I knew I had to feature it in my next #BFJMealsonHeels photoshoot.  Turns out, balancing 90 pounds of cheese on a shoe is pretty tough.  But, with about four sets of hands, some creative strategizing, and a few hours' time, we did it. And not to be cheesy or anything, but I think we nailed it.
***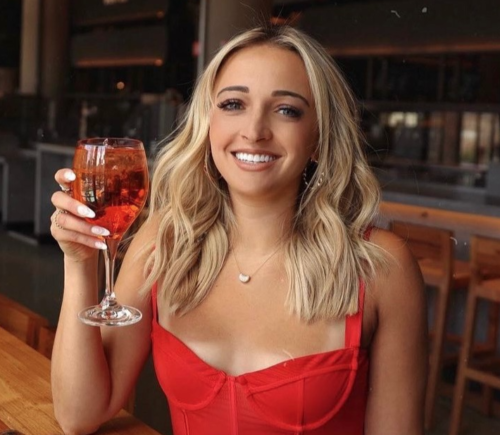 Brittany started The Boston Food Journal in late 2015. With a degree in biomedical engineering and a background in software management, she wanted to create a platform that combined her skills and experience in technology with her long-time love of food and art. Growing up, eating was always a symbol of love, family and togetherness. When she moved to Boston in 2014, she was enamored by the authentic food scene and on a complete whim started The Boston Food Journal. 
In late 2019, Brittany resigned from working her corporate 9-5 to pursue the Boston Food Journal full-time and launch her digital marketing agency, Eleven Seven Media. At Eleven Seven Media, Brittany and her team craft custom digital strategies for clients across multiple verticals, leveraging both creative expertise and analytical insights. Learn more →