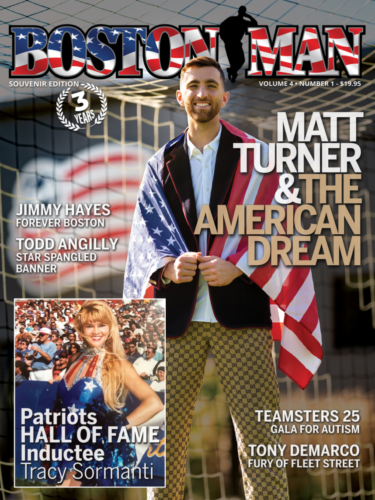 It's Sunday, August 1st, and Matt Turner has just made another brilliant save. The stage: the 2021 Gold Cup Final, where the United States Men's National Team is squaring off against their Mexican counterparts. The scene: a packed Allegiant Stadium, an onyx behemoth emerging from the Nevada desert that is more commonly known as the new home of the Las Vegas Raiders. Tonight, though, it's the center of the American soccer universe as the U.S. lock horns with their biggest and most storied rival in front of a home crowd that is "home" in name only.
The save: a Turner specialty (and his 20th of the tournament)—Quick twitch reflexes, diving to his left, full extension, in the nick of time to swat a curling header from Mexico's Rogelio Funes Mori wide of the net. It is a crucial moment in the early stages of a 0-0 match, a score that would remain unchanged for another 116 minutes until U.S. defender Miles Robinson headed home the winner in the waning moments of extra time.
The United States' victory was their second in an international final over Mexico in 2021, and Turner was awarded the tournament's Best Goalkeeper Award. It was another flashpoint moment in what has been an unconventional, remarkable career for the 27 year-old New Jersey native.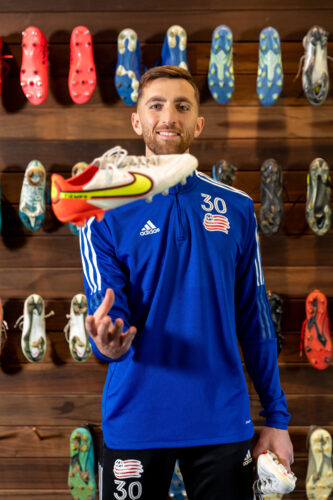 "I always, for some reason, wanted to be a goalkeeper"
Turner grew up in Park Ridge, a small north New Jersey town nestled between several other similarly sized towns in Bergen County. It's perhaps best known as the birthplace of late The Sopranos star James Gandolfini, and one-time home of former President Richard Nixon. For Turner, it was a home that taught him the importance of having a supportive, loving family.
"It's everything." Turner, the youngest of three children (he has two older sisters), says of his relationship with his family. "It helps me stay grounded in the good times, and also helps pick me back up during the bad times."
"It's never 100% perfect when you're a professional athlete. But always having that consistent presence in your life of your family to hold you accountable for little things, to put things into perspective massively about what's really important in this life."
Another thing that's always been important to Turner has, unsurprisingly, been sports. Early on, Turner played everything he could, from basketball to baseball and yes, even soccer. But Turner's youth soccer career was short lived. The sport didn't quite stick.
"I used to like soccer" Turner recalls, though one aspect of game rubbed him the wrong way.
"I didn't like running around that much," he says with a laugh. "So I remember asking [the coach] if I could play in goal."
Attempts to avoid too much running aside, Turner has always felt a magnetism to playing between the posts, even going back to his short youth league stint.
"I always, for some reason, wanted to be a goalkeeper," says Turner. "There's something about the position that attracted me. I think it was the challenge of keeping the ball out of the net vs everyone else wanting to score."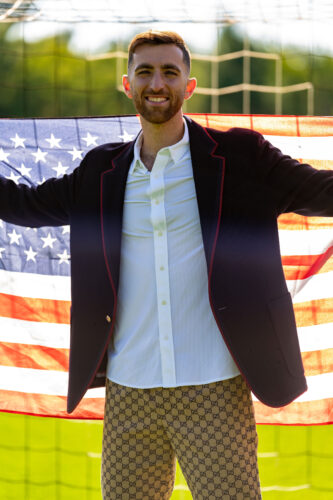 For The Love of The Game
Turner didn't come back to soccer until high school. He had enrolled in Saint Joseph Regional High School, a private school a few miles away in Montvale, New Jersey and was looking for something to do in the fall to stay in shape for baseball season. For a teenager entering a new school community, it was also an opportunity to make new friends.
Football, though, was not an option. St. Joe's is a perennial pigskin powerhouse and Turner, who at the time was only 5' 4" and 105 lbs. (far away from a college growth spurt that would give him his current long, lanky, figure), sensed joining that team would do more harm than good. So, soccer got a second chance.
"I didn't love football, and when I went to a new high school, I knew I couldn't survive playing on that football team [with] the size of the average player and all that", he says. "I didn't want to do nothing in the fall, so I just decided 'You know what, I have a background in soccer, I'm just going to go out for the team and see how it goes'."
Funnily enough, despite Turner's draw to goalkeeping during his brief time playing at the youth level, he didn't try out as a goalkeeper. He attended all the preseason captain's practices and the first day of tryouts as a field player. On the second day of tryouts, the team's incumbent keeper left with an injury, and Turner stepped up.
"The coach asked if anybody else wanted to jump in goal, and I was like 'Sure I'll try it.' It just came really naturally to me, and I ended up making the team," Turner says.
The rest, as they say, is history.
The Green Knights hovered around .500 during Turner's junior and senior seasons and struggled in league play. But more important than the result on the field, Turner learned how to appreciate the game alongside his teammates.
"All of my best friends were on that team, and all the guys were playing the game because we loved it", says Turner. "We watched the Premier League, we watched US soccer, and then we would try to recreate those things on the field."
"It was just a lot of fun, and it made it fun to be around the sport. That's what sort of drove my passion was the connections it made with other people and just the fun I had."
Turner saw and saved a lot of shots during that time. He was credited with 320 saves total across his high school career, including 205 as a senior. He also tallied nine shutouts.
"As a goalkeeper that allowed for me to be very busy in almost every game, facing 20-30 shots a game where most top-level goalkeepers probably went through their youth careers playing on the best teams, facing different kinds of scenarios," Turner notes. "Whereas I feel more comfortable facing a lot of shots."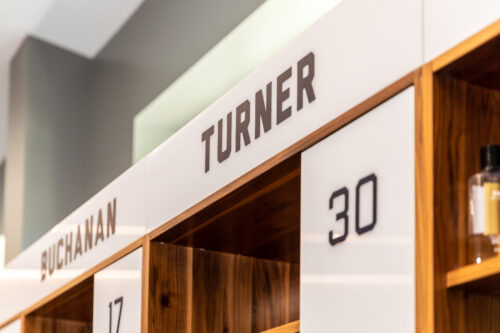 "Think Bigger"
Yet despite those gaudy save numbers, Turner didn't get much interest at the college level. In an effort to stick somewhere, Turner reached out to the coaching staff at Fairfield University (where he had recently been accepted to attend later that fall) to come see him at a tournament in Long Island. The Fairfield staff was planning to attend to see another player at that very tournament anyway, and Turner's play caught the eye of the Connecticut university's goalkeeping coach, Javier Decima.
"He's the one who took a chance on me," Turner says of Decima. "That felt really nice as an 18–19-year-old kid, when someone puts their trust in you and believes in you."
Turner attended a one-day camp at Fairfield in February, and a few days later was offered a spot on the team. It was another step on his path towards achieving his dream of playing soccer professionally, but Turner acknowledges he still had a long way to go at that point.
"I knew that I was going to a situation at Fairfield where I was going to try to learn," Turner says. "I had a lot of raw ability, but I wasn't consistent with my technique, or I didn't understand the game as well tactically [at that time], so I went in there with no ego."
Turner's biggest takeaway from that time? How to be patient and make the most of every opportunity. He also received some crucial lessons in goal setting from Decima, with whom he keeps in contact.
"He basically sat me down when I was a freshman and asked me what I wanted to get out of being on this team," recalls Turner. "He challenged me to write down a list of goals – mid range goals, long term goals, and just take the time to really map it all out. And I that's another thing I still do to this day."
"He really challenged me to think bigger picture rather than every single day by day," says Turner.
Some of the items on that list: Becoming a captain, maintaining a GPA above 3.7, becoming a starter, and making first team all-conference. If the rest of Turner's Fairfield career is any indication, Decima's practice was a rousing success.
Perhaps even more importantly, Turner learned how to bounce back from adversity. After spending time on the bench, he finally got the chance to play as a sophomore in the second half against conference rival Iona. During the run of play, an Iona player fired a shot that ricocheted straight up off the top crossbar, slipped right through the arms of a waiting Turner on its descent, and bounced into the net for a goal.
"The blunder", as Turner calls it now, was challenging in the moment. He was benched for the rest of the season, and the play ended up leading SportsCenter's Not Top 10 segment. In hindsight, it's become a testament to Turner's mental fortitude that he was able to shake it off and move forward. Rather than dwell on that moment, Turner chose to get better.
The summer following Turner's sophomore season for the Stags, he joined the Jersey Express, the local Premier Development League team. It was there that Turner's potential started to morph into results. Turner, training with and being coached by current and former professional players, saw his play make serious strides.
"That Jersey Express team, it was crazy," says Turner, recalling that season. "I was surrounded by guys for the first time in my life who had MLS experience. My coach had MLS experience, my goalkeeper coach had MLS experience, I played with players who had been drafted and let go by teams, I mean my team was a very good team with a lot of experience and talent."
Turner found himself rising to the challenge and increased competition, but it was a sit-down with his Jersey Express goalkeeper coach, former MLS and Puerto Rican national team goalie Bill Gaudette, that changed his outlook entirely.
"[Bill] basically told me that he thought I could play in MLS. He was like '100%, you could play in MLS'," reflects Turner. "Obviously playing on a team that was really successful in the summer was great, but then to hear that from somebody who had been there, and played in MLS, telling me you could definitely become a professional soccer player in your country, that gave me a lot of confidence going into my junior year."
Turner's third year at Fairfield opened eyes around the country. "It just had this magic sparkle on almost every game, our identity was to get clean sheets," says Turner of that season.
The Stags set an NCAA record with six 0-0 draws that season, en route to an 8-5-7 record and an appearance in the Metro Atlantic Athletic Conference championship game. Turner himself led the nation in save percentage, stopping 89 percent of shots faced, and posting a 0.50 goals against average.
"For me, that was the kind of year I needed to get on the radar," says Turner. "No one's going to look at a kid from Fairfield, without those types of statistics".
Yet even after a solid 2015 season (Turner was named second team all-conference), Turner still went undrafted in that winter's MLS SuperDraft. For Turner, who considers himself a "see it to believe it" type player, the result was disappointing but unsurprising.
"You need to get close to me, see me every day, see how I work, see what I put into it, and the results on the field after," says Turner, commenting on how his ability and work ethic doesn't always translate to spreadsheet scouting. "So, once I didn't get invited to the MLS Combine, I knew I wasn't going to get drafted. But I definitely still watched the entire draft, all four rounds of it, thinking maybe, maybe I'd sneak in somewhere."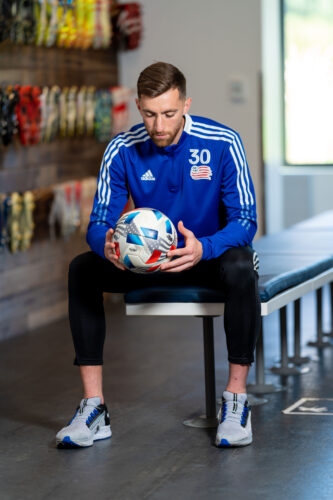 "Keep Moving Forward"
The call didn't come that night, or the next few nights. Turner was considering his options in Europe and had returned to Fairfield for the spring semester of his senior year to finish his studies for about a week before the New England Revolution finally reached out.
"It just felt right," says Turner of that day. "New England has that vibe about taking a chance on players, you think about the guys who have had tremendous success there over the years (and I'm not talking soccer) the Krafts love it."
"My story feels very New England," he adds.
Just as with that other one-time unheralded New England athlete Turner is alluding to, things took time to truly coalesce. The Revs, like Fairfield a few years earlier, were taking a flyer on Turner as a project, with no intentions of giving him minutes right away. While his teammates would often integrate and play together during training, the New England coaching staff would pull Turner aside to work on technique.
"My goalkeeper coach was really hard on me, mentally and physically", says Turner. "I would go home every day and drink pickle juice—because I lived in a house with no air conditioning—to stop the cramps, and then I would just sleep."
The work was challenging ("It was tough," Turner summarizes), and forced him to step outside his comfort zone. But it also taught Turner the level of focus and dedication required every single day to succeed at the pro level.
Turner also spent time on loan that season with the United Soccer League's Richmond Kickers, and he knew those games with the Virgina-based club would be crucial towards not only his development, but his ability to earn a contract the following season with the Revolution.
"Being ready for those opportunities when they come, being ready for when your name is called whether as a starter or coming off the bench, you need to always be prepared for those possibilities", says Turner.
"That's definitely what my first year in New England taught me. Just a mentality of every day and just being ready when your number is called."
Under Jay Heaps, Turner's first Revolution head coach, the young goalie learned the necessary mindset for a professional player to be successful. Under Brad Friedel, Heaps' successor who took New England's helm prior to the 2018 season, Turner was brought "into a new light".
"I needed a fresh pair of eyes," Turner admits. "[Friedel] doesn't care about your playing history, he just cares about right now… And that allowed me to have a big enough leash to play games and to get comfortable playing in MLS."
Turner was named a surprise starter before the first game of the season that year and started 26 games before a run of poor play landed him on the bench.
"I definitely learned under Brad what it means to go through tough times," says Turner. "I didn't know how to pick myself out of the slump I was in."
Though Turner did return to the starting lineup for the last game of the season, by the time training camp started up again ahead of the 2019 season he had slid all the way back to third on the depth chart.
"I felt very embarrassed about it," admits Turner. "At the end of the [2018] season I'm thinking all right, I'm going to be the starter next year. I turned down a contract offer in the offseason, and then I come back the next year and I'm the third string goalkeeper."
"But, when things aren't in your favor or things aren't going your way, you have to learn how to keep moving forward," he continues. "If this is something that you really want, how can you make it work?"
For Turner (and, perhaps, the New England Revolution franchise as a whole), one more regime change was needed. Enter Bruce Arena, the most decorated coach in MLS history. Arena took over as Sporting Director in May of 2019, after Friedel was fired mid-season. The Revs, very quickly, began to turn things around.
"When Bruce came in, I was ready for my opportunity to play and to stake my claim as the starter," says Turner.  "And I did so," he adds.
Arena's arrival coincided with goalkeeping coach Kevin Hitchcock's hiring at the end of April 2019. Hitchcock, who played for two decades in England, including 96 appearances for Chelsea F.C., was a godsend for Turner.
"Having a good coach makes a big difference, or having a coach that cares about you on and off the field makes a big difference" says Turner of Hitchcock. "With Kevin I felt like I was cared for, and he really wanted what was best for me. And that allowed me to feel more comfortable day in and day out."
With Arena and his staff providing direction, the Revolution have been rolling. New England finished the 2019 season going 9-7-10 after Friedel's dismissal (a massive turnaround considering they had lost the final two games of that era by a combined 11-1 score line), and in 2020 overcame injuries and a bizarre COVID-19 shuffled slate en route to a conference finals appearance.
Turner set a career high that season with six shutouts, helped New England post its lowest ever goals against average, and finished second in the MLS Goalkeeper of the Year voting. The highlight of his season came in the conference quarterfinals against Orlando, when Turner saved a penalty kick from former Portugal star Nani to preserve a late 2-1 lead in a match the Revs would eventually win 3-1.
That momentum has carried over to 2021, where the Revolution are flying high. New England clinched the Supporters' Shield—the trophy awarded to the MLS team with the most points over the course of the season—on October 23rd, while setting the record for most points in a single season in league history.
The Revolution, who will enter postseason play as the number one overall seed, is becoming known for their thrilling victories (they set another record earlier this year for most one-goal wins in league history) and displaying a never-say-die attitude.
"This whole year has been magical, honestly," describes Turner. "We have this mentality that just takes us all the way to the end of every game."
No match better exemplifies that attitude than late September's barnburner against Chicago. New England, resting nine of its usual starters, jumped out to an early lead. But the Fire battled back, equalizing in the 40thminute, then again in the 63rd minute, before the Revs eventually prevailed with a stoppage time goal from midfielder Carles Gil.
"We relied on our depth massively in that game," recalls Turner. "It was a challenging game, challenging conditions on the field, it was windy and dry, and things didn't exactly go our way the entire time."
"But then we were able to get that goal in stoppage time when it was starting to feel like the game might be over," he adds. "It was just like this magical feeling, like it didn't even feel real."
"It just shows how strong we are from top to bottom and that's the difference of this team than years past."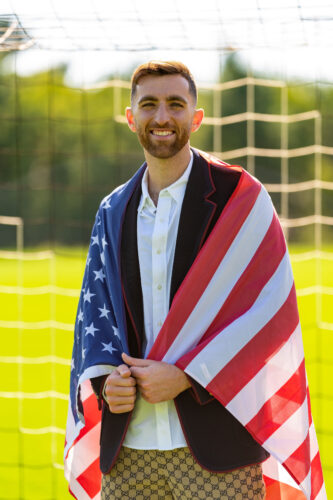 "The Stuff Dreams Are Made Of"
One other difference between this season and seasons past: Turner has been spent time donning both the Revolution and U.S. Men's National Team crest.
Turner made his first appearance for the USMNT in January, saving a penalty kick in a clean sheet performance against Trinidad and Tobago. He also led the team to victory in this summer's aforementioned Gold Cup competition and has started five of the USMNT's six World Cup qualifying matches this year.
Turner was initially invited to USMNT camp at the end of 2019, and again in January 2020. But, in his words, "didn't have the greatest camp".
"The difference in speed and intensity in the trainings was my biggest adjustment I needed to make," he says. "I needed to figure out how to reach the speed and match the mentality of everyone else."
"I was the 'happy to be there' guy," he adds. "I had a long time during quarantine to think about what I could do better."
Part of Turner's adaptation to this new challenge required calling on some of the principles and perspectives learned from his conversations with Decima during his college years.
"Touching back to my roots, I was like 'What do I want from the national team? Do I want to be just a passenger called up once in a while, or do I want to be someone that's part of the team?" Turner remembers. "I landed on that my goal is to be someone that's a part of the team, in whatever facet, but it's going to take a strong mentality and work ethic to get there."
"That was my biggest learning curve. Figuring out what that means to have that responsibility to wear the crest and then from there how am I going to do it?"
Once Turner figured out the how and the why, he was able to execute. By bringing the right frame of mind, he was able to channel the proper level of single-mindedness.
"I've never felt so amped up in my entire life. It just feels different," says Turner of his experiences playing for his country.
Two such moments stand out. First, the Gold Cup final against Mexico.
"Being in that environment was crazy," says Turner. "It was like this roller-coaster of emotion that you just figure out."
Eventually Turner solved the emotional riddle. After a dicey play early in the match, he settled in to make several nice saves to hold the line long enough for the U.S. to snatch a late victory.
"Playing in that game was the stuff dreams are made of," says Turner with a smile. "I don't think I ever would have pictured myself playing in a final against Mexico when I first had dreams of playing soccer, and now I'm sort of addicted to that feeling."
If the intensity of that Gold Cup final was one thing, playing on the road in the first World Cup qualifying game of his career was another. Turner, forced into action after starter Zack Steffen suffered back spasms during training, had to prove he was up to the task.
"World Cup qualifying is a whole other animal," says Turner of the different intensity levels between friendlies, Gold Cup matches, and games where the goal is making the World Cup. "It's everyone's dream and you're finally in an opportunity to achieve your dream and make it to the World Cup. And everybody has that desire – it's what drives a lot of soccer players."
The USMNT tied El Salvador 0-0, but Turner will never forget the electrified atmosphere before, during, and after the game, when both teams were mobbed by video-recording fans and had to be escorted around by soldiers.
"Going out there, the noise level, it was unlike anything I've experienced in my life, the way they sang the national anthem with passion," remembers Turner. "I literally said to myself 'I'm going to turn my brain on long-term memory mode' because this is going to be insane."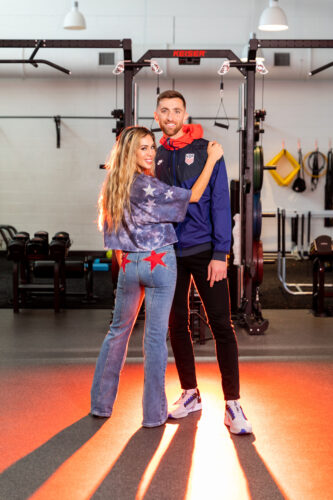 "It just feels like the place I'm supposed to be."
International successes aside, Turner has embraced being a New England athlete. He lives in Boston with his girlfriend (Ashley Herron, the founder Miss Pink Organization, a foundation dedicated to breast cancer awareness and funding), and their two dogs, a silky terrier and a Pomeranian. However, as Turner puts it, he's been in the area for almost a decade dating back to his time at Fairfield.
"It just sort of feels like the place I'm supposed to be," says Turner. "New England just feels like home."
"I definitely miss parts about being in New Jersey, like being with my family, but this city feels right for me," he adds.
The surest sign someone is a good fit for notoriously outsider-resistant Boston? They compliment the weather ("I love having four seasons" says Turner) and the sports.
"I love being in a town where they really care about the sports," Turner, who threw out the first pitch at a Red Sox game earlier this summer, says, adding that he's appreciated that the city respects his privacy even as he's grown into a larger part of the community.
"I rarely get picked out of a crowd, which is kind of a nice feeling," he says. "You can live your normal life, but also have that responsibility to carry what it means to be an athlete in New England and try to win for the people."
Turner has also taken the opportunity to ingrain himself in the community through his work with the Revolution's partnership with the Jessie Rees Foundation's Never Ever Give Up (NEGU) Crew . When former Revs (and now Seattle Sounders) midfielder Kelyn Rowe left the team in 2018, he passed off his NEGU chapter to Turner.
"It's been really great," says Turner. "I used to love going to Boston Children's Hospital and doing all the visits with the kids there, spending time with them. Halloween was usually the best time of year to be with the kids, you dress up in costumes and paint pumpkins, stuff like that."
"I'm looking forward to when that's a possibility again, but [NEGU Crew] really aligned with my core values and beliefs," he continues. "Giving those kids a day for the NEGU Crew, to give them an opportunity to forget about cancer for a day, and be pampered, be at the game, and to meet the team, it's really nice to see their smiles."
When Turner isn't representing New England or the United States on the soccer field, or working with the NEGU crew, he makes the most of his limited spare time. As the Revs locker room DJ, he must keep up to date on current music trends.
"I definitely have to do my music research, that's a big responsibility" he says.
He also goes toe-to-toe with teammates on Fortnite, usually Revs teammate and friend Andrew Farrell. He reads, and "takes care of the puppies".
Turner has even taken up cooking. "I just got an air fryer, so I've been whipping that thing up a little bit" he chuckles.
But, above all, Turner's main focus remains on moving forward, and taking the next step in this unusual soccer journey.  Just as he did at Fairfield, Turner continues to keep a list of goals. On that list currently? Winning the Supporters Shield, which can now officially be checked off, as well as qualifying for the World Cup and being on the plane to Qatar, and winning the MLS Cup.
If Turner's career to this point is any indication, it's not too far-fetched to imagine those dreams coming true, too.