Let's address the elephant in the room. Maybe the idea of traveling right now makes you sicker than a night drinking well tequila. If so, keep reading for a "shot" of mental relaxation.
But, if you're already planning your escape from the upcoming Nor'easters, here's how to do Mexico, three ways. My favorite recommendations in Playa del Carmen are all less than an hour from the Cancun airport, which has a direct flight from Logan International.
Mexico for Beach Bums
Andaz Mayakoba Riviera Maya is very spread out, as if it was built for social distancing. Staff there follows Hyatt's Global Care and Cleanliness commitment, along with certifications from the Mexican government, which currently includes operating at 30% occupancy.
Andaz Mayakoba is one of the trendiest resorts right on the beach. It's located in the private-gated Mayakoba complex and surrounded by lush mangroves and white powder beaches.
The resort is modern, yet relaxed; a luxury property, yet with a chill vibe. Upon arrival, you're greeted in the lobby modeled after a traditional Cenote (an underground waterhole), a spiritual part of the traditional Mayan culture and one of many Mayan touches throughout the resort. What I love most about Andaz Mayakoba is that the resort exudes local flavor and artistry. A local artist, Senoke, created vibrant murals on buildings that reflect the rich Mayan culture.
Mayakoba is located north of Playa del Carmen, an easy 30-minute drive from Cancun International Airport. The 620-acre property boasts pristine lagoons and is home to a variety of indigenous species of mammals, birds, fish and my favorite, monkeys. The easiest way to get around is by bike, foot or boat, and of course, there is a complimentary shuttle.
Of the five restaurants on site, currently three are open, including Sotavento, where you can enjoy Mediterranean-style cuisine with your toes in the sand, twinkle lights overhead, and the sound of the ocean. Andaz's newest food and beverage concept, VB (Vegan Bar) is an option. Plus, there's fantastic ceviche, tacos and tequila to be had.Their fish tacos are a favorite of mine.
While in Mayakoba, dinner at Casa Amate is definitely a "do not miss." The restaurant is named one of the top 100 restaurants in Mexico and offers fabulous Latin American cuisine in a space modeled after a private residence with separate rooms, such as The Bar, The Library and The Living Room.
After breakfast, I highly recommend relaxing by the Lagoon Side Pool for a bit of Zen. Around lunch time, either ride one of the resort's bikes or hop on the shuttle to the beach for an afternoon pool party at the Beachside Pool.
Spa Naum is the resort's spa and you can't go wrong with the Mayan stone massage, a perfect balance of spiritual and detoxification to improve circulation.
Last, but not least, is El Camaleon Mayakoba, a breathtaking 18-hole PGA championship golf course. It features three diverse ecosystems: the tropical Mayan jungle, mangrove wetlands and the beach. El Camaleon made golf history in 2007 when it became the host site of the Mayakoba Golf Classic, the first PGA tour event to be held outside of the US and Canada.
Mexico for Wellness Seekers and Spiritual Healing
Grand Velas Riviera Maya is an oceanfront sanctuary with a tranquil, laid-back ambiance. If you're seeking a wellness experience or a little spiritual healing, this is where I suggest you immerse yourself in a lush tropical jungle and relax surrounded by natural harmony.When you stay at the Grand Velas Riviera Maya, you really feel like you are experiencing Mexico.
The resort is less than an hour from Cancun airport and safety protocols are in place. On arrival, guests pass through a sanitization procedure (luggage, shoes, hand sanitizer, et cetera). Staff not only takes your temperature, but also checks your blood oxygen level using a pulse oximeter. They also perform a sniff test to check if you have your sense of smell. (Different scents each day!)  The entire staff wear masks and face shields during shifts, washing hands constantly.
My colleague and CIRE Travel COO, Amy Brueckner visited the Grand Velas Riviera Mayaand had two words for me when I asked her about her favorite moment from the trip: Bacal massage.
Bacal translates to "corn cob" in Mayan, and the treatment is based on the Mayan god of corn. The Bacal massage begins with plunging your feet into a bowl of dried corn kernels. Your eyes are covered with a heated mask and wonderful aromatherapy scents fill the room. Therapists use hot corn cobs to massage every stress point.
The kernels are still on the cobs, so it has a very soft, smooth feeling… much like hands, and not a corn cob. After the massage, there is a full body scrub made of ground corn and local honey. After a rinse, the massage continues with scented oils and lotions. By the time the treatment is over, your skin glows, muscles are as loose as gelatin, and your smile is ear-to-ear (pun intended).
Grand Velas has indoor and outdoor options for spa and wellness treatments that run the gamut from facials and massages to harmonizing therapies and Shamanic rituals. (The beachside cabanas are amazing.)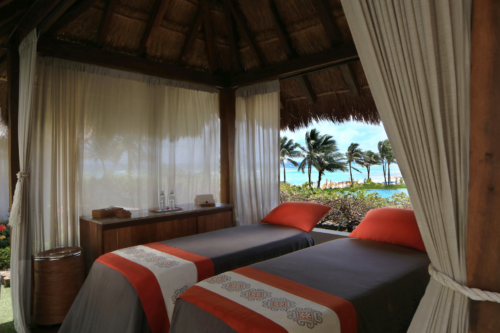 Mexico for Adventure Seekers
When you think of adventure parks you don't necessarily think of Mexico, but the Hotel Xcaret Mexico is the wicked awesome exception. Whether you're an adrenaline junkie or traveling with a group or a family, Xcaret is a great resort option that offers full access to all of the Xcaret parks.
There's the Xplor Park for extreme adventures, such as zip lining and underground river tours. Xel-Ha Park is great for hiking or biking through the lush jungle and swimming or snorkeling among tropical fish. At the Xavage Park, go off-roading or hang on for dear life in the tumultuous waters of Riviera Maya's only rapids.
Hotel Xcaret Mexico offers an all-inclusive concept, "ALL FUN INCLUSIVE" that includes round-trip ground transportation; access to all the Xcaret parks; tours of Xenotes, Xichén (Chichen Itzá), Cobá, and Tulum; food and beverages in nine restaurants and bars (plus room service and minibar), as well as kayaking and paddle boarding.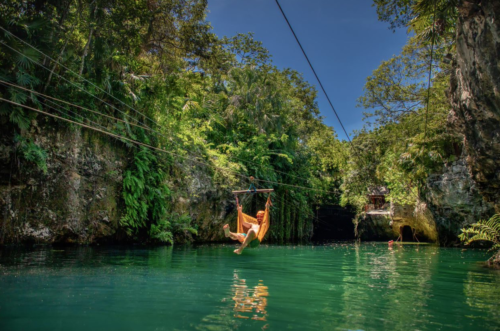 You're Welcome
There are health screening procedures in place at the airport upon arrival. Americans are allowed to travel to Mexico via air, even though land crossings are closed to non-essential travel. Don't forget face masks (and sun screen!). A negative COVID test is not required, but if you're sick, for the love of baked beans please stay home. As always, travel insurance is a good idea should you need to change your plans.
For more destination inspiration or travel tips, visit www.ciretravel.com or follow CIRE on Instagram @CIREtravel.
***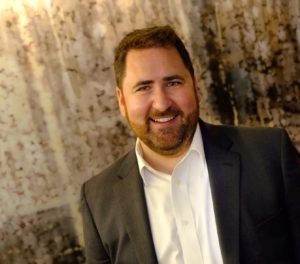 Eric Hrubant is a 20+ year travel industry veteran and owner and president of CIRE Travel, a corporate and leisure travel agency. Eric and his team of agents use their A-list connections to deliver an exceptional, concierge-like travel experience. CIRE has offices in Boston New York City, Los Angeles, Washington DC and Kennebunkport, Maine to serve clients around the country and throughout the world.