I think it's safe to say 2020 has been unlike any year we have ever experienced. The uncertainty, pressure, and stress that Covid-19 has put upon all of us -our businesses, our families, our city, our country and our community- is unprecedented for our lifetime.
Never before have we had so many questions with so few answers; so much confusion with so little confidence in where to find these answers.
As we head into our fourth season of Covid dominated headlines, I want to acknowledge that the reach and impact this pandemic has goes far beyond the number of positive tests in a week or who is wearing a mask and who isn't.
As national and city attention has overwhelmingly been absorbed by Covid-19, troubling numbers in mental health, domestic violence, opioid addictions, degenerative conditions, and child trafficking have all disturbingly moved in the wrong direction.
Charity and non-profit awareness continues to be the foundation of BostonMan Magazine and our Legacy Club community. Now -more than ever- many of these non-profits need our help, our attention to continue their fights. With depleted resources and greater challenges, they fight on.
In this issue we feature our friends at the American Cancer Society as they continue to unite area leaders in raising funds and awareness in finding a cure for breast cancer. We also tell the story of Mary Bucuvalas, the kindest and most loving soul you'll ever meet, who like Pete Frates before her, is courageously battling ALS. We take a look at the life of Jimmy Piersall as well, who battled mental health throughout his entire playing career with the Red Sox, later turning his struggles into a book and movie.
And now, in this space, I want to introduce all of us to the Whisper Foundation.
On August 30th, I had the opportunity to take part in an awareness demonstration in Seaport with Kristina Makris and Jules LoRusso to help increase education around human and child sex trafficking -something that is so horrible, many of us are afraid to even discuss it.
I, too, was among those for too long. Something so sinister, it was easier to put out of my mind.
"Yes, it's terrible," my rationale was. "But what can I do?"
Well, as uncomfortable as it is, we all need to talk about it. And sadly, it's everywhere. The statistics are alarming:
Every 30 seconds in our country a child is abducted. And with stores and public areas requiring mandatory masks, these abductions are only becoming easier and increasing at alarming rates.
During quarantine, I had the good fortune of becoming acquainted with Kara Garland, who has started an unbelievable movement out west with The Salvation Foundation. In the Summer issue of BostonMan Magazine we donated the back inside cover to this mission.
But we knew there was more we could do here in Boston.
The birth of The Whisper Foundation is to provide a voice for those that do not have one. No child chooses to be abducted and trafficked. They need us to be their voice and to fight for them.
And on August 30th, that's what we did. None of us had organized or led a demonstration before but on this sunny Sunday afternoon thirty of us -friends and strangers alike- got together with our handcrafted signs and megaphones and spoke up for those being victimized by child trafficking.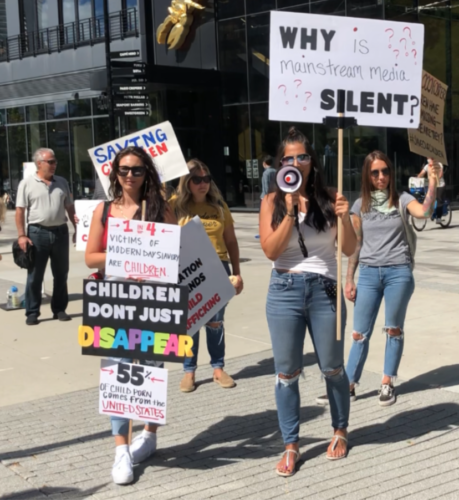 Cars honked their horns, and passer-byers paused to ask questions; which Kristina and Jules were superb in answering what they could and directed to other sources for additional information with what they couldn't.
It was a start. Our start.
The Whisper Foundation is a brand-new non-profit here in Boston, raising awareness and being a voice for the voiceless against human and child sex trafficking. While social media pages, educational material, and future campaigns are being planned, please also feel free to check out @ourrescue, an excellent resource for information in this fight.
Make no mistake about it, we are in the middle of an epidemic. As incommodious it may be to think about -let alone talk about- the realities of child trafficking we need to do it.
Let's together be the voice to unmask these evils.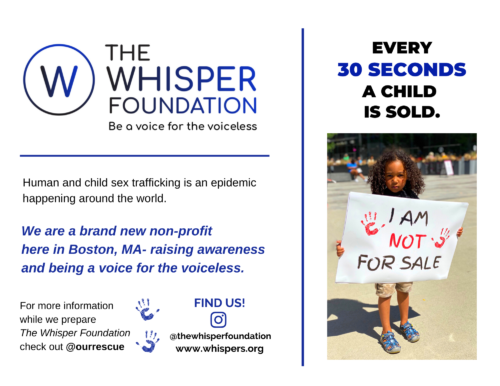 ***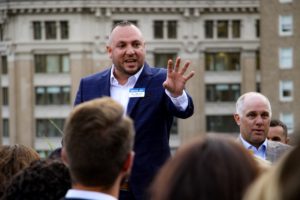 Matt Ribaudo is the Owner and Publisher of BostonMan Magazine. To reach Matt, please message him on Instagram or email at: matt@bostonmanmagazine.com