Powered by FIFTH Wellness, 'Boston Strong' fitness event to celebrate community + continue providing resources for Boston Marathon bombing victims through The Greg Hill Foundation.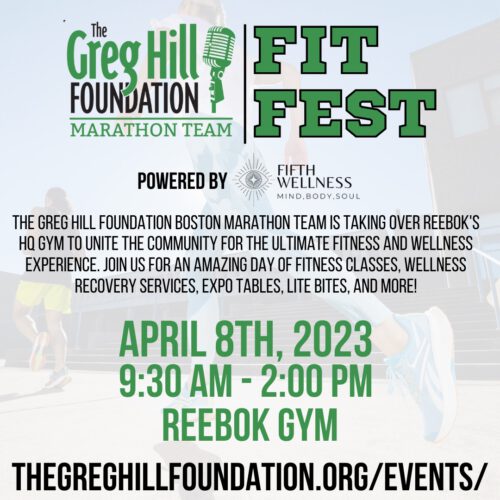 ON SATURDAY APRIL 8th Reebok and The Greg Hill Foundation will be teaming up to create a one-of-a-kind fitness and wellness experience, aimed at uniting local community while raising funds for The Greg Hill Foundation Marathon Team in recognition of 'Boston Strong' and the events that transpired during the Boston Marathon ten years ago.
The event will culminate with the official launching of Reebok's highly anticipated Floatride 5 Energy Running sneaker, which is the latest in their immensely popular Floatride Energy Running franchise.
The Reebok Floatride Energy 5 is an all encompassing running sneaker. The performance shoe has been designed to offer the most cushion and support yet of anything in the Reebok line.
"Whether you're a seasoned athlete or lacing up for the first time, the new Floatride Energy 5 is built to support runners at every level of their running journey," Keith Stern, Director of Product at Reebok recently said in an interview with Sports Illustrated. "It's built for the love of running. With the most support yet, the Floatride Energy 5 helps new and experienced runners run more comfortably."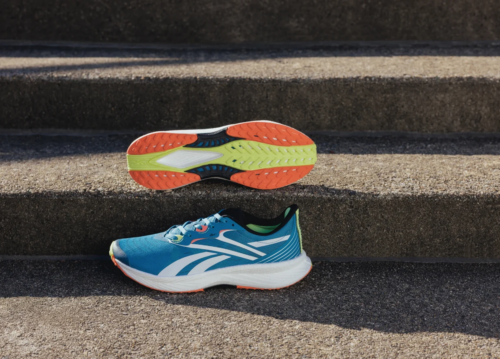 The event on 4/8, powered by FIFTH Wellness and dubbed 'Fit Fest,' will take place at the Reebok Fitness Facility on Drydock Avenue from 9:30am-2pm.
Amalgamated with the Floatride 5 release, FIFTH Wellness has augmented an impressive collection of the areas top fitness and wellness leadership offering an ultimate health experience, guaranteed to be unique from anything else that has ever been done in Boston.
"It's an absolute honor to have the opportunity to put together an event like this for Reebok, and the Greg Hill Foundation," FIFTH Wellness founder and Fit Fest brain-child Kaitlyn McDonough says of leading the expose. "We have have an outstanding day packed with a first-class lineup for all of the attendees. Each of the exercise instructors are volunteering their time and expertise to give back to this amazing community."
THE ENERGY LEVELS will -no pun intended- hit the ground running. At 10am Rob Velasquez of Backyard Boston and Shai and Leah Douty of Two Toned Training kick-off the charge with separate bootcamp classes. Meanwhile, Alyssa Pannozzi of Rev'd 45 will be putting spinners through her heralded 'Battle Ride 45' liturgy while B/Spoke's Ky Bernard soothes attendees with a yoga session. Jillian Rothenberg will be wrapping up the first wave with her remixed pilates dish.
Moving over to 11:15, Conor Murphy from Big Night Fitness takes the reigns for a Crossfit session while Sip & Strut Boston guides a Walk & Tone with Boston Food List. The 'Battle Ride 45' continues, this time with Marguerite Lee and Mike Pannozzi at the helm; and B/Spoke's Trey Kamb will put attendees through a STRENGTH jam-session.
Right when you think things may start to slow down, they don't. The third leg grabs the baton at 12:30 with Mike & Alyssa Pannozzi leading their signature bootcamp class while Stephanie Dumenigo & Clyde Simms gear up for a final 'Battle Ride 45', respectively. Christina Muccio doubles down on another B/Spoke STRENGTH affair. And Gianna Ferrante and Jillian Barnes will forever change the way you look at a towel following their Jet Athletics towel service colloquium!
For those that still have some gas in the tank, celebrity trainer Peter Mollo then enters the building, capping off Fit Fest's class sessions with his legendary PMEF class.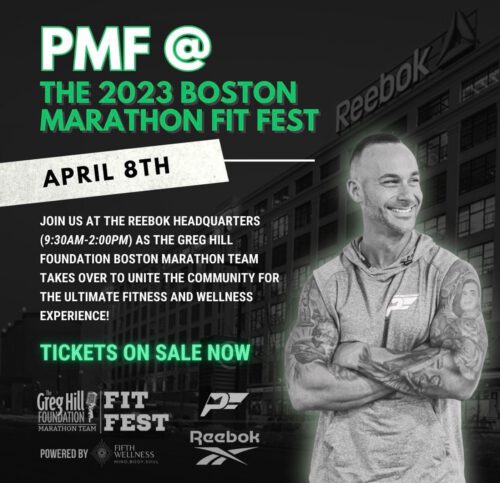 "Their truly is something unique and fun for everyone," McDonough says.
IN ADDITION TO THE FITNESS AND WELLNESS CLASSES, there will be an array of cutting edge wellness recovery services including cryotherapy, stretch sessions, and compression therapies for attendees to recharge their motors. Among them:
Restore Newton (compression + localized cryotherapy & cyrofacials treatments); Stretch Labs (stretch/massage treatments); DLD Brows (infrared red light pop up tent + complimentary eyebrow threading); TULA PT  (mini manual PT treatments: essential oils, gua sha, and cupping); North End Acupuncture  (mini acupuncture treatments + adjunctive therapy treatments); Seaport Med Spa (B12 Injections); Nourish Lounge (infrared sauna wrap treatments); Beamer (PMEF therapy treatments); and Dr. Brittany Zuback (chiropractic treatments.)
MANY LOCAL AND NATIONAL HEALTH/WELLNESS BRANDS will be displayed through various expo tables and booths, with delicious 'carb-up' bites and beverages from local restaurants and brands being available, including the 26.2 brew from title sponsor Samuel Adams.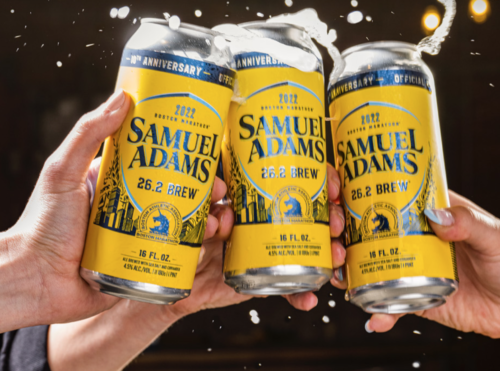 Among the mouth-watering treats attendees will be salivating over are: Playa Bowls (providing complimentary acai bowls); VELO Vodka (product sampling); Cure (product sampling); Culture Pop (product sampling); The Half Cookie (Boston Marathon themed cookies + product sampling); Chic Party Carts (electrolyte protein cotton candy cart); Dunkin (custom food sampling); Smart Water (complimentary full size products, and sampling new line of flavor water); AHA Drink: (complimentary products); Gut Personal (product sampling); and BeBOLD Bars (product sampling.)
OVER 600 fitness enthusiasts, supporters, and people from all walks of life are expected to attend Fit Fest, which will also feature an exclusive Reebok apparel shopping experience as well as both silent and live auctions.
The big thing, McDonough emphasizes, is that all of this excitement, energy and community building is in remembrance and tribute to the strength of Boston Strong.
"Almost 10 years ago, The Greg Hill Foundation was hosting its annual Boston Marathon Celebration at The Capital Grille on Boylston Street," GHF says reflecting on Boston Strong. "What started as a celebration quickly turned into tragedy as the bombs went off. Just hours after the bombing, The Greg Hill Foundation launched an online fundraiser to support the victims and survivors of the Boston Marathon bombing. Immediately, donations began to pour in and within 48 hours the foundation started to visit victims' families and survivors to distribute donations. Within a matter of weeks, the foundation raised and donated $509,695.26 which was distributed to 61 different individuals and families."
Whether it is an event like Fit Fest, or one of the numerous other occasions GHF creates for community throughout the year, the focus is and always will be on helping those in need.
"The Greg Hill Foundation continues to support the survivors by providing grants for expenses not covered by insurance. As we approach the 10-year anniversary the foundation is committed to ensuring these grant opportunities are always available to survivors in need."
For more information and to purchase tickets to attend Fit Fest on Saturday 4/8 at the Reebok Fitness Facility  please click here.