Offering BPS students unique opportunies to build and hone their entrepreneurial spirit, BUILD Boston continues to emerge as an educational leader for the youth of Boston.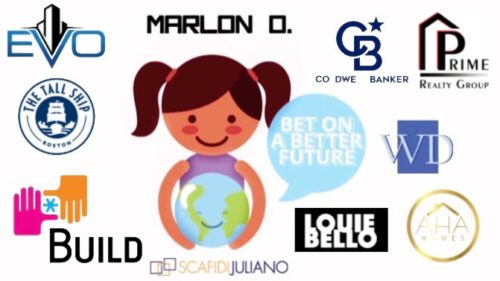 ON Tuesday, June 21st BUILD Boston will be hosting a fundraiser aboard the Tall Ship in East Boston to help raise donations, resources, and awareness for their unique charitable platform that creates "start to finish" entrepreneurial experiences for Boston Public School students.
BUILD, a national non-profit, launched its Boston site in 2011 and currently serves six schools and over 300 students annually with plans to expand to a seventh school in the near future.
The fundraiser on the 21st will feature a live performance from local recording artist Louie Bello, a silent auction, a custom pop-up trunk show by celebrity stylist Kendra Scott, and an evening of networking with 100% of the profits going to BUILD.
"BUILD is a nonprofit entrepreneurship program where students become the CEO of their own life," says Emily Trautwein, Manager of Strategic Partnerships with BUILD Boston.
The foundation of BUILD is to link working professionals with freshman and sophomore students helping them develop their own business plans. BUILD then gives the students money to make a prototype. Later they go on to pitch these business prototypes to a panel of CEOs where each student is granted money for production. Once produced, the student entrepreneurs sell their products at sales events with the BUILD organization allowing them to keep the profits.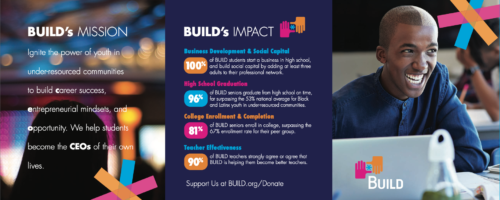 The goal, Emily says, is to ensure all students in Boston-regardless of race, socioeconomic status, or neighborhood- develop the skills and connections needed to achieve economic power and freedom.
Since the launch of its Boston chapter eleven years ago, BUILD Boston has served 1160 students, recruited 853 mentors, created 116 youth businesses, and trained 26 teachers in the intricacies of the program.
Its events like the one at Tall Ship on June 21st, Emily explains, that are crucial in helping to raise the funds and awareness necessary in creating resources needed to successfully run BUILD Boston's programs.
Amanda O'Grady -who along with fellow Real Estate entrepreneurs Tabatha Roseman, Lisa Batista and Teagan Gaeta are part of the leadership team expanding BUILD into a seventh school in Boston- saw firsthand the positive impact the program has on students while working as a BUILD volunteer mentor during the pandemic.
"The last group of students I worked with (due to Covid restrictions) we were mostly meeting during Zoom sessions," she says. "One of my students was nervous about presenting because she was dyslexic and didn't like reading out loud. I told her I understood because I am dyslexic too."
Amanda continues: "I said 'I'm going to tell you the truth, high school isn't easy when it's harder to read and write but I promise you it gets better after (getting through this) and you can go on to be a strong female business owner.' I watched her and the rest of my students ace their presentation and win an award at the end! I saw the difference it made for them and the confidence that grew for everyone in the system."
Without programs like BUILD, Amanda points out, students similar to the aforementioned would not receive the deserved opportunities to blossom to their fullest potential.
To help promote the June 21st event, being dubbed "Bet on a Better Future" Amanda, Tabatha, Lisa, and Teagan even dusted off their cowgirl boots, jumping in for a dance rendition with Louie Bello's newly released "Ain't Tryna Be A Cowboy" -one of the many hits Louie will be performing throughout the evening.
Will we see this quartet of female real estate entrepreneurs help dance their way to a seventh school opening for BUILD Boston on the 21st?
"You'll have to come to find out," Tabatha says with a smile. "No matter what happens though, it's going to be an amazing and fun evening -and all for an incredible cause!"
"BET ON A BETTER FUTURE" at Tall Ship runs from 6:30-9:30pm on June 21st and tickets can be purchased here. For more information on both the national and Boston based BUILD programs please visit BUILD.org.