Publisher's Note: On October 11th, 2021the boxing world, Boston, and the North End lost one of its favorites sons when Tony DeMarco peacefully passed away. This piece was prepared by Jim Botticielli and Dirty Old Boston for BostonMan Magazine a year ago, ironically for the 2-year anniversary edition, but ultimately opted to save for a later date. RIP Nardo, you will always be The Fury of Fleet Street.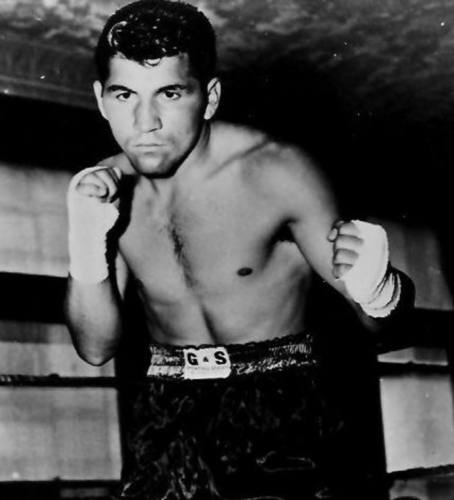 Boston favorite son and former Welterweight Champion Tony DeMarco was known for his dizzying knockout punch. His 56 wins include knocking cold 33 opponents. Yeah, Tony was a fighter. Just ask the 13,373 fans who watched in awe as the North Ender did something no welterweight champ had sone since Barney Ross had done two decades earlier.
He recaptured his welterweight crown. It was April 1, 1955 when he kicked champion Johnny Saxton to the curb with a vicious 14th round knockout in the Boston Garden just down the street from where Tony's house. Dirty Old Boston caught up with him in 2017 and although the years have taken some toll his voice is grit and his presence says "Hell yeah."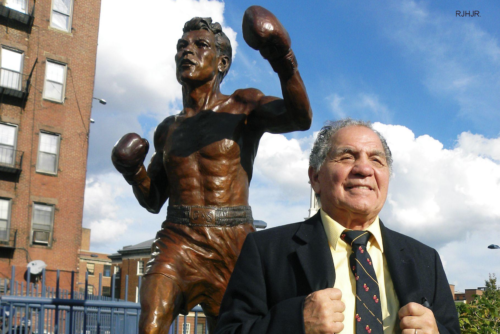 We asked Tony what he did that night to celebrate the win which was to become the stuff of legend. "I went home," he said matter of factly. "I walked. I lived so close…"
Tony was born January 14, 1932 on the North End's Fleet Street. Back when it was really the North End!  His original name, Leonardo Liotta, was changed so he could fight in the amateurs. Because he was legally too young for amateur boxing he copped the name of a pal who was cool enough not to kvetch.. The name stuck and he still uses it.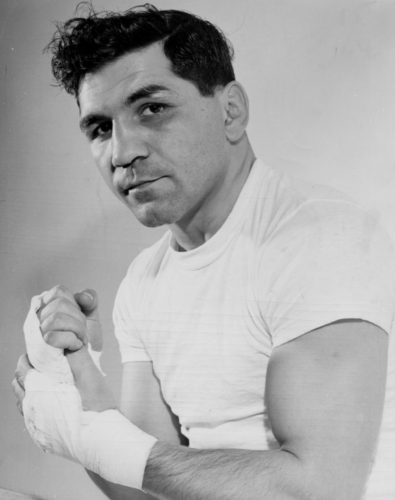 The Fury of Fleet Street fought from 1948 to 1962, stacking up a grand total of 58 wins, 12 losses, and 1 draw. With his legendary left hook, a DeMarco fight was never a snoozer.
In 1962, Tony hung up his gloves for a life in the sunny Southwest. In Phoenix where he ran a successful night club for a spell, but returned to Boston where he still lives with his wife Dottie, not far from where he won the title. In 2011 his autobiography, Nardo: Memoirs Of A Boxing Champion, was published.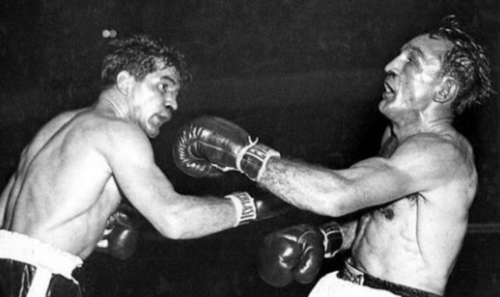 North End's Fleet Street has been renamed Tony DeMarco Way and on October 20, 2012 a statue of Tony was erected at the corner of Hanover and Cross Streets, the entrance to the North End. The beautiful statue represents just how well loved and respected he is by the people of Boston.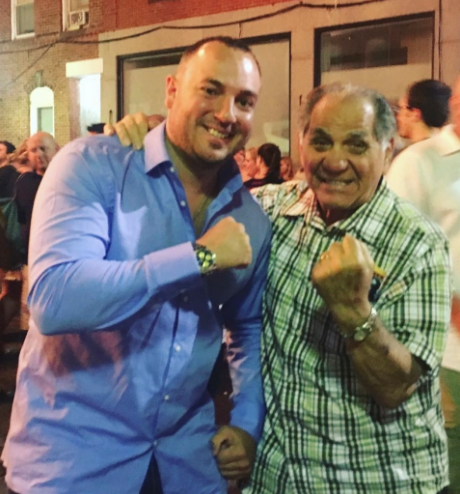 ***
Images courtesy of Dirty Old Boston.
Jim Botticelli administers the popular Facebook and Instagram pages Dirty Old Boston. He is the author of Dirty Old Boston: Four Decades of a City In Transition available from local independent bookstores.