Seeing the Whole Picture
I'M GOING TO TELL YOU A STORY. I want you to really listen to it. I want you to listen to yourself as you read this.
This is the story of two friends. Two very close friends. They didn't grow up together. They met summer heading into college.
That time in our lives when we are super impressionable; meeting new people and discovering new things that have lasting impacts on our lives.
These two friends have an instant connection. Although grown up in different cities, different states; their family heritage is of the same background. They have similar passions, similar outlooks, and they share the same love for God and belief in humanity.
The two friends are on the football team together. One a defensive back, the other a wide receiver. Countless hours on the practice field going toe-to-toe improving each other's craft. Further tightening a strong bond that is fast becoming a brotherhood.
It's football that leads these two friends transferring to another university to continue playing, together.
They are together all the time. Off the field they do all the things normal college kids do. Mostly, it's the endless time lounging around campus housing. Watching sports and playing video games, figuring life out, and theorizing about everything under the moon.
"So far ahead of his time," one friend reflects. "Everything was positive. He would always talk about helping others, doing things to make a difference in people's lives."
These were the conversations, the moments, that brought the friends closest.
"He was talking about stuff back then, that I am just now thinking about today. Traveling the world, learning from other cultures, experiencing new things beyond our horizons. He had us thinking about all of that back in college."
And as university campuses across the country sleepishly came back to life every Sunday morning, these friends would often be up bright and early, pushing each other in the gym, and discussing faith.
"He was always talking about being closer to God, and wanting to go to church more regularly. He was passionate about wanting to do more to help others."
PICTURE A SATURDAY AFTERNOON IN AUTUMN, homecoming weekend, filled with the excitement and activities that come with it. Everyone's families are in town for the football game. It's a day of celebration, a day with friends. A day with family.
"Sometimes we take things for granted, but he was so good about reminding us to stay close with family. Everything was always family first with him."
That evening these friends are back in their campus room relaxing, playing NBA2k; and otherwise simply enjoying some down time with their crew before heading out on the town.
The spot that night is a local bar, not far from campus. Once there, these friends mingle, dance, and hang out among other university students and local townfolk.
As Saturday evening becomes early Sunday morning the lights come on at the bar, signifying that it is end of the night and time to head home.
The designated driver, the friend who only consumed one alcoholic beverage hours earlier on campus, pulls the car in front of the establishment, waiting for the rest of the group to join.
These two friends share a moment together while waiting for the others. Suddenly there is a knock on the window and a police officer is motioning the car forward to clear a fire lane.
The friends oblige and slowly roll forward. In a blink of an eye, an object comes -seemingly out of nowhere- around the corner and is pointing a gun at the vehicle. Seconds later, bullets are shattering the windshield and riddling the inside of the automobile.
These two friends -one in the back seat and one the driver- are in complete and utter shock over what is happening.
"He shot me. He shot me," the friend driving says. "I can't believe a cop just shot me."
The friends are then ripped from the car by police and handcuffed. One is thrown to the ground on the side of the now bullet-laced vehicle, and the other -the driver, now suffering multiple gun wounds- is thrown face down in front of the car he was designated driving that evening.
"Officer, we did absolutely nothing wrong," the friend on the side says. That statement results in a gun forcefully pressed against the back of his head. Looking over to the front of the vehicle, gun still to head, all he can see is his friend from the waist down, lying face down.
Hours later, transported to the police station, and handcuffed to a wall, he keeps asking about his friend -about his brother- who had been shot multiple times.
"Is he alright? Is he alright? How is he doing?"
The pleas fall on deaf ears and are met with vague "I don't know, I'm not sure," responses.
Around 10am, some nine hours since these friends tried peacefully heading home together, one of them is finally let out of jail.
Tired. Scared. Groggy. And confused by everything that had just transpired he retrieves his belongings from the station, and turns his phone back on.
The first message he sees zaps anything he had left immediately from him: 'RIP', it says, to his friend -to his brother.
As a police officer drives him back to campus -in silence- this friend can't help but wonder if he may be next.
CAN YOU PICTURE THIS? Can you picture these two friends; these amazing, gifted, intelligent young men? Friends with their whole lives ahead of them. Friends who prided themselves on helping others, exploring the world one day, loving family, and a belief in the power of community and humanity. One now dead; the other terrified not knowing what is to come.
All of this caused by an overzealous, aggressive, rogue police officer.
Do you see the whole picture? Can you see you all of it?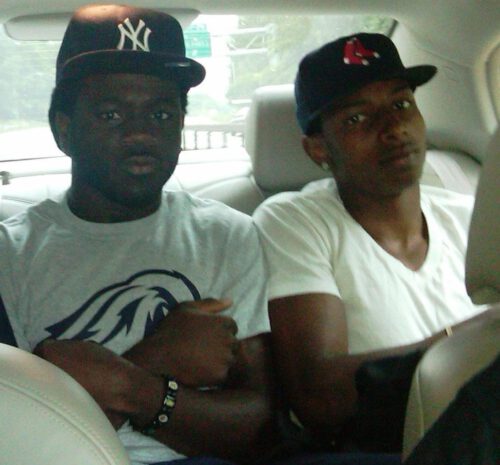 NOW IMAGINE THEY ARE WHITE.
***
PUBLISHER'S NOTE: When we first announced mid-Sept '22 we were running a cover story remembering the life of DJ Henry, I received a DM from my college roommate, upon revealing the cover, as it circulated the social media cycles. "I'm proud of you for doing this story," Jesse Howard wrote to me. "My friend Dez was in the car with DJ that night."
I wish I could have met Desmond Hinds under much different circumstances. Getting to know Dez over these last six weeks though -as he shared so many wonderful memories of DJ, and relived the events of that horrific night with me- it's easy to see why both DJ and Jesse love him as a brother. Dez's strength, character, and compassion are traits every young person can look up to and aspire themselves to be.
The cold irony is not lost on me that it was my college brother, whom I shared many of the same 'coming of age' moments in school that DJ and Dez shared, was the one to introduce me to Dez. I couldn't help but imagine Jesse and I; as Dez and I put this story together.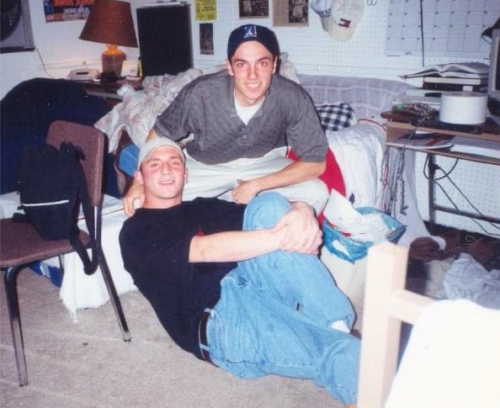 To District Attorney Mimi Rocha: You ran and won the Westchester County seat on a very progressive platform with promises to right injustices such as the DJ Henry case. This didn't go unnoticed. It is never too late to do the right thing. Please re-open this case and help bring justice for DJ Henry. And peace to his family.
**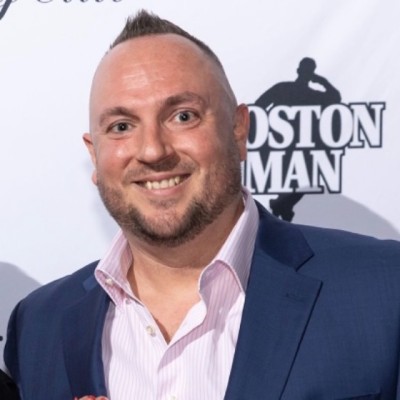 Matt Ribaudo is the Publisher and Owner of BostonMan Magazine and The Legacy Club professional networking community. To reach Matt, please email him at: matt@bostonmanmagazine.com or contact him via social media.