The Triple Crown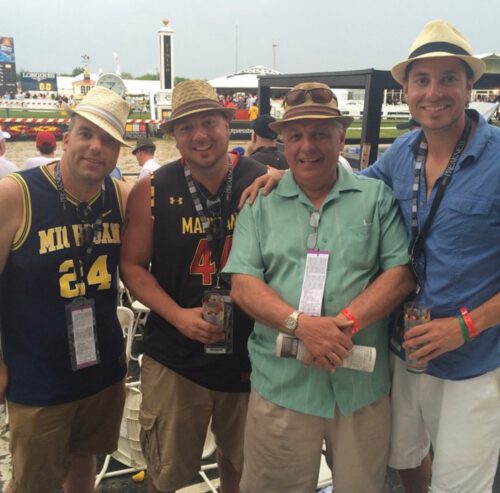 I still say my Dad somehow divinely planned it all this way.
Growing up -and to this day- my family never needs to ask our father what he wants to do for his birthday (May 6th) or Father's Day Weekend in June, because we already know the answers. The Kentucky Derby, the first leg of thoroughbred horse racing's Triple Crown, is always the first Saturday in May (around his birthday) and The Belmont Stakes, the final jewel, comes five weeks after that.
So, yes, every year the answer is simple: birthday = going to or watching The Derby somewhere, and Father's Day = going to The Belmont in New York. The middle race of The Triple Crown, The Preakness Stakes (two weeks after The Derby) is actually the biggest for us too. I spent my primitive years living in Maryland, and The Preakness (in Baltimore) is actually the race my family goes most all out for.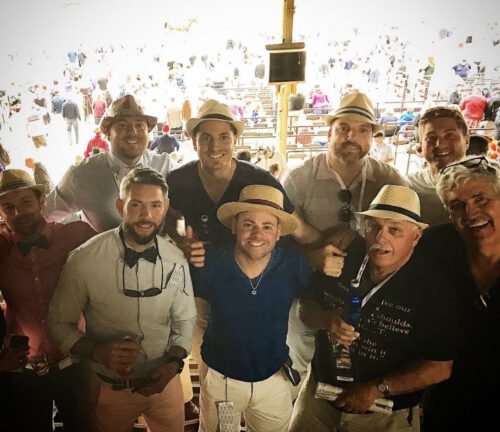 The Spring 2022 edition of BostonMan Magazine is a historic release, at least for us. This issue, our 15th to date, marks our first DOUBLE RELEASE. The cover of the magazine you hold in your hands has either Timmy Sneaks, considered by many to be the top pop-artist globally, or Brian Fox's iconic painting of American Pharoah, thoroughbred racing's first Triple Crown winner in 2015 since Affirmed in 1978 (Justify in 2018 has since accomplished the feat.) Brian's breathtaking canvas oil paintings are featured by Disney, MLB, NHL, and all over the world.
For our Timmy Sneaks cover, Danny Direct (cover photog/design) and I knew the vibe we wanted was to shoot him, in his studio, with some of his work. It was a fantastic shoot and cover. With Brian, I kept feeling this almost mythical draw to his champion horses art.
"What if we put American Pharoah on the cover?" I asked. He loved the idea.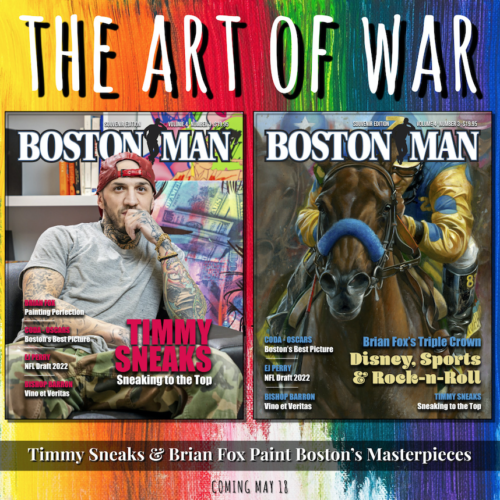 During our winter cover shoot in December with Cedric Maxwell, Max asked me a question he has become known for tossing out to folks in conversation: "Who is on your personal Mount Rushmore for greatest athletes of all time?" Three of my mentions were answers he had many times heard before, but my fourth made him raise his eyebrows, "Wow, you're the first person to bring that level of greatness into this debate," he told me.
American Pharoah was different, I explained to Cedric, he's the single greatest athlete I've ever seen.
My Dad has taken me to the race track for as long as I remember. We have always celebrated the glitz and glamour of the Triple Crown, Travers Stakes (Saratoga) and Breeder's Cup -but we have also watched more $1200 claiming races at Laurel Park and the Timonium State Fair than I care to admit.
Prior to American Pharoah, I had never been able to witness that elusive Triple Crown though. Something, that as the 2nddecade of this century started, was beginning to wear on my father -and me- a little.
"I feel bad we may never get to see one together," he would say. "It's something really special." My Dad, prior to AP and Justify, experienced three Triple Crown winners. The great Secretariat in 1973, Seattle Slew in 1977, and the aforementioned Affirmed in 1978.
Him and I had  a bunch of near misses over the years, champion horses winning the first two legs of the Triple Crown, but then falling short in The Belmont Stakes, which is known as the "graveyard of horses" for its brutal mile and a half distance.
The most memorable of these misses, undoubtedly was in 2014 when California Chrome came up just short at Belmont -a race my Dad, brother and I were naturally at. To this day, my father blames a pre-race concert by LL Cool J that he swears "startled the horses" as they left the paddock.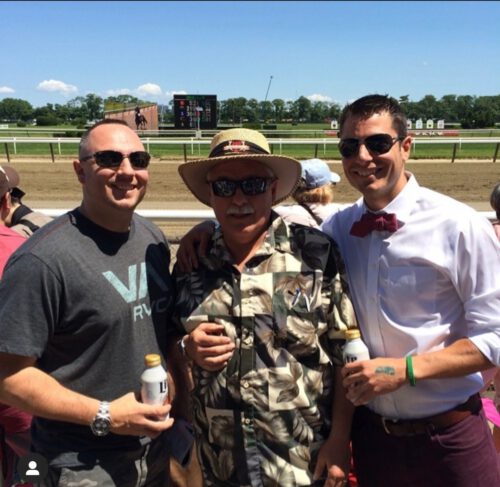 But that all changed one year later. My father, brother, a host of our friends and family and I joined American Pharaoh on his magical run to the Triple Crown. From the beginning, something just felt different with this horse.
We were with AP at the Preakness Stakes as he crushed the field on a sloppy track, and then finally experienced the euphoria of being front and center on a hot and sunny June day at the Belmont Stakes witnessing the Great American Pharoah make racing history.
As the 12th Triple Crown winner since 1875 thundered down the backstretch running away from all of his rivals in front of 125,000 jubilant spectators, I felt an arm wrap around me for the final furlong, my father's.
"He did it," he said to me. "He did it." No Dad, I think you did it. I think this was your divine plan all along.
Happy Father's Day, this cover is for you.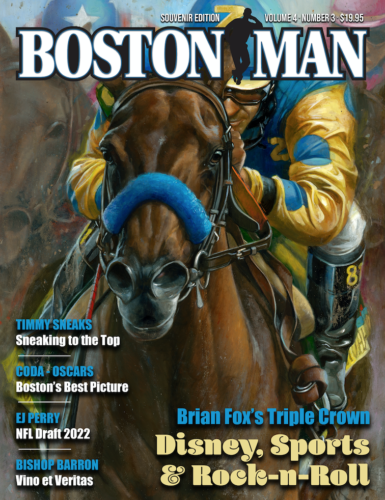 ***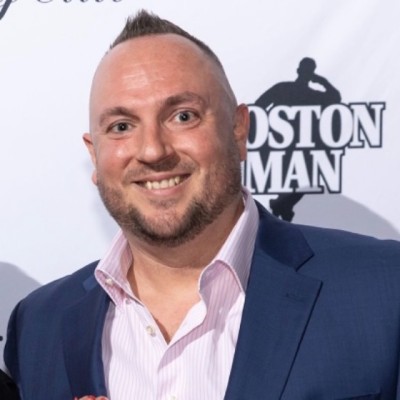 Matt Ribaudo is the Publisher and Owner of BostonMan Magazine. When he was just TWO DAYS young their was a horse named Favorite Son wearing #1 -and breaking from the FIRST post position- that ran on the FIRST race at old CharlesTown Race Track. Being the first son and child to his parents, Matt's uncle and father knew this was an omen. Favorite Son won easily that day, and thoroughbred racing has been part of Matt and his father's bond together ever since.