Widely regarded as one of the world's most influential spiritual leaders, Bishop Robert Barron joins the Archdiocese and YCP Boston for Vino et Veritas and the annual Eucharistic Congress, spreading his message of love and peace.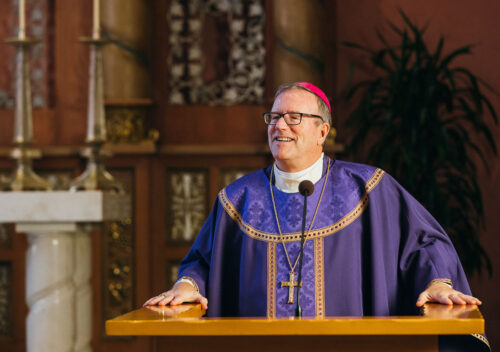 Technically speaking, Bishop Robert Barron is the auxiliary bishop of the Archdiocese of Los Angeles. But practically speaking, he's more or less a spiritual father to the entire young church.
And it's not hard to see why; his You Tube videos have amassed over 97 million views and if he was the boasting type (he's not) then it might be mentioned that his online follower count has recently surpassed three million. Add in that he's written almost two dozen books, produces a weekly podcast, and is a frequent guest on CNN, Fox News, and EWTN, and it becomes clear how he has become a household name within and without the Catholic sphere.
Born in Chicago in 1959, Robert Barron developed an interest in religion at an early age, after reading the works of St. Thomas Aquinus. After high school, he went on to study at Notre Dame, the Mundelein Seminary in Chicago, and the Catholic University of America. He was ordained a Catholic priest in 1986 and spent the next twelve years of his life serving the church pastorally and educationally, with teaching stints at Notre Dame and the Pontifical University of St. Thomas Aquinas in Rome.
During this time, he began sharing his sermons on a local Chicago radio station, but the majority of the population was missing the chance to hear him, since he had gotten stuck with the 5:15 slot on Sunday mornings. But after some encouragement from friends, he began sharing all of his sermons online, in an effort toward accessibility. Those sermons circulated and their exponentially increasing popularity led to Bishop Barron launching "Word on Fire", an online platform that offers videos, articles, and community discussion boards along with courses in theology, philosophy, and evangelization, in 2000.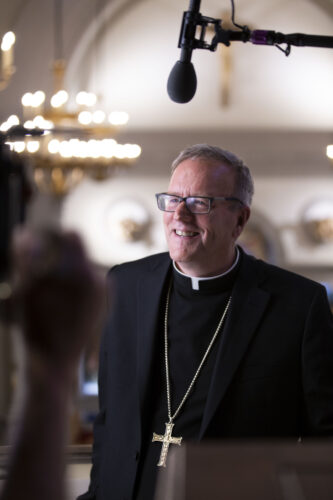 Which is why it should come as no surprise to find that his upcoming visit to Boston is one of the most highly anticipated spiritual events of the summer. He'll be joining Cardinal Sean O'Malley and Bishop Daniel Flores at "Vino et Veritas" a panel and networking event co-hosted by the Archdiocese of Boston and Young Catholic Professionals at the Cathedral of the Holy Cross in the South End. This event will serve as a kick-off to the Archdiocese of Boston's Eucharistic Congress, a yearly meeting of hearts and minds, intended to draw the Catholic community closer to Christ.
The event is called a "Eucharistic Congress" in reference to the Catholic belief in the Eucharist, or the true presence of Jesus Christ in the bread and wine which upon blessing becomes body and blood, during the celebration of the Mass. The process of mere bread becoming Christ's body is called "transubstantiation" and while it is one of the core tenets of the Catholic faith, a 2019 PEW Research study concluded that only a third of Catholics actually believe that when they take communion, they are receiving Jesus' body and blood.
As per the Archdiocese: "A core tenet of the Catholic faith is that the Body and Blood of Jesus Christ is made truly present in the Eucharist. But belief in the True Presence has waned in recent years, even among Catholics. And that's a concern—because as Cardinal Seán teaches, 'it is in the Eucharist where we find our true identity.' Jesus is Here is an opportunity for us to deepen our understanding of the mystery of Jesus' presence with us—by listening to powerful talks on the Eucharist, by receiving Jesus in the Eucharist at Mass, and by adoring Him in a time of adoration and worship."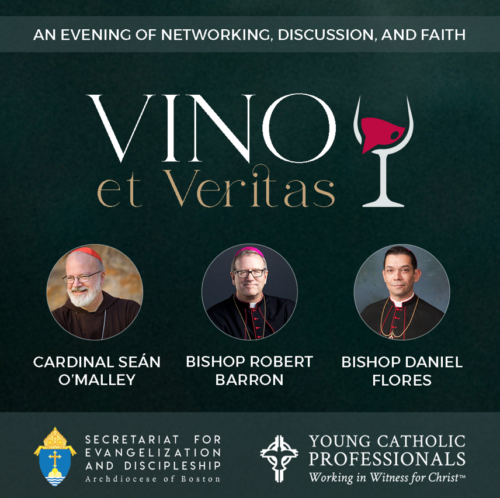 The Eucharist is just one of seven sacraments offered within the Catholic church, along with Baptism, Reconciliation (also known as confession), Confirmation, Anointing of the Sick, Matrimony, and Holy Orders (the sacrament in which a priest is ordained). Reception of the Eucharist is special because it can be a daily occurrence that unites the individual with their Creator in a deeply meaningful way, as Catholics believe that God sent His only son to sacrifice Himself, body and blood, for their salvation. And that very body and blood are given freely to them every Sunday (and every other day if they'd like) through communion.
The return to reverence towards the Eucharist is not only on the minds of the church in Boston though, as Pope Francis has spoken extensively on the topic too, saying that the Eucharist: "heals because it joins with Jesus: it makes us assimilate his way of living, his ability to be broken up and given to brothers and sisters, to respond to evil with good. The Lord gives us the courage to go outside of ourselves and bend down with love toward the fragility of others. As God does with us: This is the logic of the Eucharist: we receive Jesus who loves us and heals our fragilities in order to love others and help them in their fragilities."
As the highly anticipated speaker at Boston's Eucharistic Congress, Bishop Barron also echoes the Holy Father's sentiments on the importance of the Eucharist, in his explanation of how the bread becomes body during the Mass: "Now when the priest at Mass effects the Eucharistic change what's going on? He's not speaking his own puny words, but rather, at the consecration, the priest speaks in Persona Christi, in the very person of Christ. He recounts what Jesus did. But then he moves into that first-person discourse, 'Take this, all of you, and eat. It this is my body.' He speaks with the full authority of Christ, which is why his words have the power to change the elements. And see, that's why for Catholics…that's why for Catholics, the only proper response when you're in the presence of those transformed elements, is to bow down and worship."*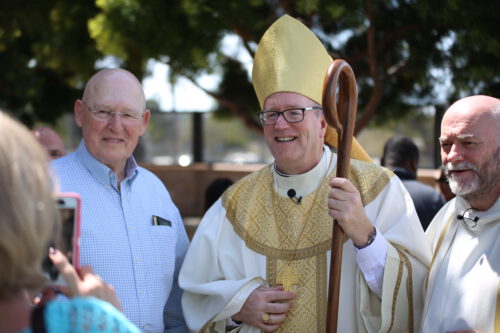 Among those most excited for Bishop Barron's visit to Boston is Tyler Piazza, the President of Boston's Young Catholic Professionals (YCP) chapter. These days, Tyler is a well-known community leader, but his ascent was actually remarkably swift, considering that he only moved to Boston two years ago.
"I moved here from Dallas, which is actually also the home of the Young Catholic Professionals headquarters. My plan was to plug into the Boston YCP community as soon as I got here, but I was shocked to find out that there wasn't a chapter anywhere nearby."
Piazza continues:
"Of course, my first thought was to start a chapter here, but Boston is a hard city to break into. The people here don't just give away their trust for free, which I respect. You have to earn it, because Bostonians are kind but they aren't dumb. As a newcomer, you have to establish your roots and build up relationships before you can start something. I realized that pretty quickly but also realized what fertile ground this was for our mission. Because when you're trying to start a Young Catholic Professionals chapter, it helps to find a city that's 1) young 2) Catholic 3) professional. And Bostonians is full of people who identify as all three of those things, they just haven't met each other yet.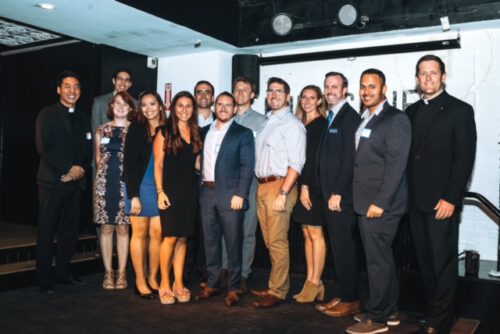 And so, despite my lack of connections, I set out to get a chapter started. Just as I was getting the ball rolling though, the pandemic hit. That set us back considerably but we were finally able to open our chapter this past year, thank you to our incredibly dedicated and hardworking team. In our first year, we've been able to offer so much: an executive speaker series, panel discussions, retreats, and even a gala. We try to offer our members and guests the right balance of learning opportunity and social opportunity. We want you to come to our events, have some fun, make some friends, and leave having learned something new that might further you in your career. We're all in the pursuit of a common goal: to find that sweet spot between virtue and ambition while bettering the city we all love, so we might as well enjoy the journey there together."
Speaking on YCP's upcoming event with Bishop Barron, Piazza added: "When the archdiocese asked us if we would be interested in co-hosting Friday night's networking event, we were over the moon. We're only just wrapping up our first year as a chapter, to have the acknowledgment from the archdiocese in this way is just huge. We're so grateful to get to be part of this event."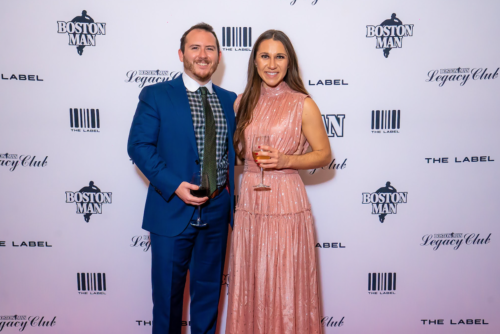 Fernando Limbo, the Executive Director of Pure In Heart America, a local young adult group dedicated to the pursuit of goodness, beauty, and truth, is also excited about the event.
"I think it's going to be a really wonderful opportunity, not just for young Catholics in Boston, but for everyone", said Limbo.
"Most of my familiarity with Bishop Barron comes from Word on Fire. They do such great work and make the gospel so accessible to all. It's a breath of fresh air. As a young Catholic, it's really cool to know that I'll be able to bring my friends of different faiths and backgrounds to this event and share my faith with them in such a loving and fun way. The world can be a pretty polarizing place right now. People are so afraid of those who believe or worship differently than them. So it's exciting to know that I'll have this space where I can show my friends why I love my church. The word "Catholic" actually means "universal", and the ways that Bishop Barron has been able to share the goodness of the gospel is truly universal.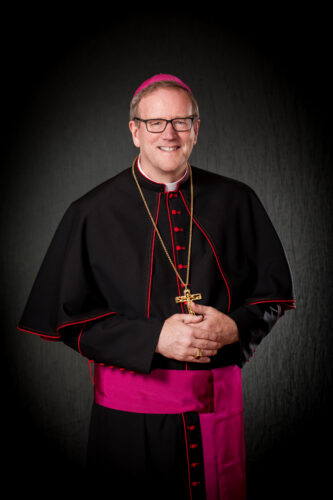 Young people of all walks of life are hungry for truth and acceptance and community. I hope that even people who aren't Catholic or Christian come to this event because I know that if they do, they'll leave feeling even more love than when they came to the event."
Limbo also noted that there are tons of other ways that people can get plugged into the young Catholic community in Boston. On top of Pure in Heart and YCP, there is also St. Joseph's Home for Artisans, an art residency in the North End, in which artists from around the country are selected to live and work. The artist's home frequently hosts open mic nights, exhibits, and skill-sharing classes, ranging from dance to poetry and even pottery.