AS thermometers throughout the area push past 60 degrees this week -fittingly- The Discover Boating® New England Boat Show®, sails into the Boston Convention Center February 15-19 with skippers of all types in the northeast congregating with eagerness to cast-off their 2023 seasons on the water.
The New England Boat Show, already one of the most anticipated annual shows in Boston, has added a host of new vendors and activities this year, prompting it for perhaps their most extravagant version to date.
"It's the most nautical fun you can have on dry land!" says Julie Dennehy, founder of Dennehy PR, describing the Boat Show.
While seasoned sailors and boat owners are obviously very much abundant, Dennehy points out that this truly is an exhibit for everyone -even the nautical novice- as long as there is a love for being on the water within them.
"With more than 800,000 first-time boat buyers taking to the water in the past two years, The Discover Boating New England Boat Show is ready to welcome thousands of water lovers to dive into the boat life and make it their own," she says. "Whether they choose to rent, share, own, or just kick back and enjoy the fun of boating there is something for everyone here."
Among the attractions making waves at the Convention Center this week are:
⇒A new indoor paddle sports pool courtesy of Three Belles where attendees have the opportunity to get on the water and try a variety of paddle sports, with kayak and paddle board demos from experts.
⇒The 'Art of Casting Pond.' Attendees will learn the art of casting from the experts at Goose Hummock, a leading New England Saltwater Fishing Outfitter atop a 30′ fishing tank. There will also be a variety of angler workshops throughout the event helping fisherman with everything from boat set-up; proper rigging for big game fishing; to off-shore angling; to how to land that trophy Tuna!
⇒A kids paddle boating mini lake where youngsters can splash around a mini lake in a paddleboat, build their own toy boat, and hop aboard all the boats to play captain for a day.
⇒'Saluting Our Heroes' Thursday, February 16. New the year to express gratitude for their service, all First Responders, Military, and Health Care Professionals get in FREE on Thursday, February 16. Simply show valid identification along with photo ID at Will Call for a complimentary ticket.
⇒America's Boating Club's® Boating Simulator. With this, attendees take the helm and get "hands-on" practice in boating skills such as docking, pivot turns, stopping and more using a real Mercury throttle and steering wheel.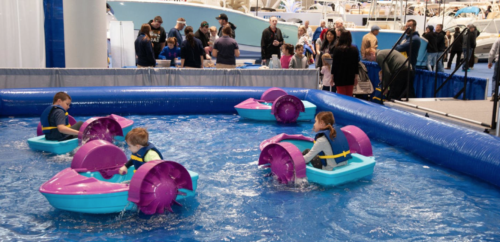 There will also be a free "Boating 101" education for new boaters and experts alike at Fred's Shed How-to Center, presented by Progressive®, featuring tips, advice and practical skills during daily seminars and demos that cover everything from getting started and operating your boat to service, maintenance and more.
With more than 400 boats, from center consoles and family cruisers to pontoons and wakesports boats, it can become easy to 'get lost' among all the options. Fred's Shed How-to-Center, Dennehy says, equips attendees with pertinent information to browse, compare and place orders for their first or next boat, plus shop the newest boating accessories, marine electronics and on-the-water must-haves in the most efficient manner possible.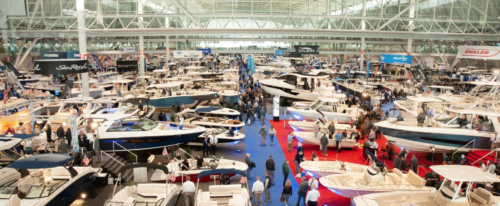 IT'S shows like The Discover Boating® New England Boat Show®, Dennehy explains, that are critical to the growth and stability of America's life on the water, where an estimated 100 million Americans go boating each year. In 2021, recreational marine expenditures recorded its second highest ranked year in nearly two decades at $56.7 billion in revenue. A record 34% of these sales came via first-time boat buyers.
"The New England Boat Show and others similar exhibits around the country are key in bridging the gap and creating comfort levels for first time buyers to make a purchase," she says.
Locally, New England area sales totaled more than $1.5 Billion in 2021, generating big business for the New England recreational boating industry, up double digits in growth compared to 2020.
ADDITIONALLY, Conservation Village features the second annual 'New England Says No to Plastic Clean Water Showcase' featuring local school projects that show how reducing plastic will help protect water resources.
The winning school team will be awarded a $500 grant to fund their continued environmental efforts.
This will highlight how the recreational boating industry is working to help sustain the planet and waters for future generations with exhibitors like the Clean Earth Project, an eco-friendly women-owned lifestyle brand for outdoor enthusiasts that works to raise awareness, reduce waste, and create a cleaner lifestyle.
All product sales help support their beach and community cleanup initiatives and protect the environment.
SHOW DETAILS
WHEN:  Wednesday-Sunday, February 15-19, 2023
Weds-Fri: 12:00pm-8:00pm; Sat: 10:00am-8:00pm; Sun: 10:00am-6:00pm
WHERE:  Boston Convention & Exhibition Center, 415 Summer Street, Boston, MA 02210
TICKETS:  Purchase tickets online at NEBoatShow.com ($20 for adults; children 12 and under get in FREE)
WEB/SOCIAL: For more information, visit NEBoatShow.com; Facebook and Instagram #NEBoatShow #DiscoverBoating