For the better part of four decades Danny Ainge has been an innovative and visionary leader for the Boston Celtics, both as a player and executive. The recipe for that success? Hard work, talent, and a little bit of old fashioned luck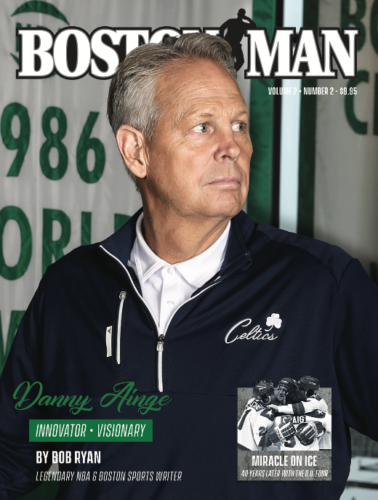 Danny Ainge was intrigued and amused to discover just what led Red Auerbach to recommend him as the proper man to take charge of all matters basketball for the Boston Celtics back in 2003.
"He said, 'Because you're the luckiest man I know,'" chuckles the Celtics General Manager as he sits in his comfortable office overlooking the practice floor at the gleaming Auerbach Center in Brighton. "Is that funny, or what?"
Luck? You know what legendary baseball executive Branch Rickey said, right? He said
"Luck is the residue of design." Hey, Red might have known Rickey. Maybe smoked the same brand of cigar.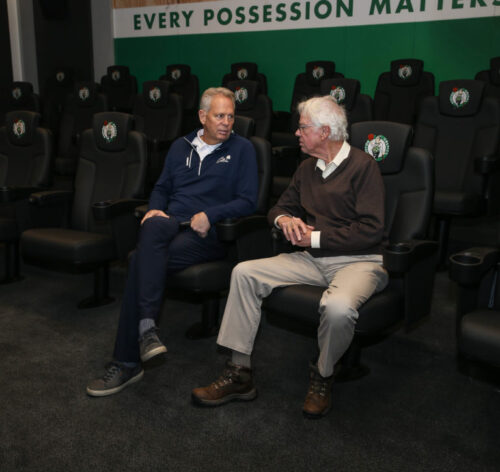 That bit of Auerbachian humor aside, the truth is Ainge was stunned by Red's interest because they had not spoken in nearly 24 years, or ever since the Celtics had traded him to Sacramento on February 23, 1989. "I hadn't talked to Red since I was traded," Danny explains. "We had zero contact. It completely surprised me. I wasn't looking for the job. I liked my cozy lifestyle in Arizona."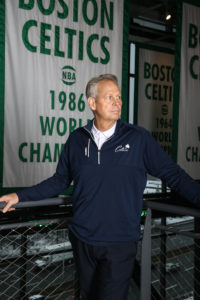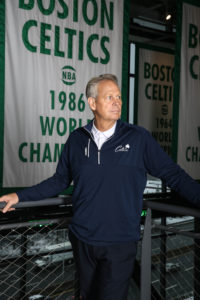 There is no contemporary NBA story quite like Danny's. No other current player, coach or executive entered the NBA in the aftermath of a court trial instituted by a major league baseball team determined to assert its contractual rights to a player who had just been taken by the Boston Celtics as the 31st overall pick in the 1981 draft, and who had decided he'd rather pursue a basketball career, rather than continue on the baseball path that had taken him through 211 major league baseball games in parts of the 1979, 1980 and 1981 seasons while he was still a college undergrad. Nice summer job, eh?
The Toronto Blue Jays prevailed in the trial, after which Blue Jays GM Pat Gillick approached Auerbach and Company, saying, in effect, "OK, we proved our point. Now let's make a deal. "That's exactly what they did, and on December 9, 1981 Ainge made his Celtics debut, thus launching a 7-plus year Celtics excursion that included making a pivotal contribution in game 7 of the 1984 Finals versus the Lakers, and then a starting role on the greatest Celtics team of them all, the 1985-86 squad.
We need to back up a bit. On the occasion of his first visit as a Celtic to his home state of Oregon, a number of us were discussing him with the locals. We knew, for example, that he very likely remains the only high school athlete anywhere to play in a baseball All-Star game in the afternoon and a basketball All-Star Game in the same evening. "But you must understand," we were told. "His best high school sport was football."
Whether it was his best sport or not, he was indeed recruited by all the prominent West Coast schools as a wide receiver, and he is the only known high school athlete in the history of this country to have been All-State in football, basketball and baseball the same school year.
So it comes as no surprise that Danny Ainge felt he belonged in the NBA from Day one. He wasn't used to anything but success.
He loves to recall his first Celtics scrimmage at their Hellenic College practice site. Cedric Maxwell was sitting up on the stage playing the role of a one-man Greek Chorus. "And he was counting my shots," Ainge laughs. '3-for 12…4-for-15…5-for 18 or 19.' I wasn't having a good day and he was lovin' it. And then Coach (Bill) Fitch came over and said, 'This is a lot harder than you thought, huh?' And I wanted to say, 'I never had more open shots.'  I was used to boxes-and-one and exotic defenses. I was just having a bad shooting day. I never had one moment of doubt that I could play."
As far as being remotely intimidated or in awe of the storied Celtics front line featuring Larry Bird, Kevin McHale, Robert Parish, and of course, the irrepressible Mr. Maxwell? Forget that.
"Yes, they had an aura, but I was never overwhelmed or intimidated by them. The one place I felt in awe was Yankee Stadium. When I first walked into Yankee Stadium I was in awe. I was a West Coast kid, and Baseball was a bigger deal than the NBA when I grew up. If I was in awe of anybody in a Celtics uniform it was Bill Walton, who was a legend on the West Coast.
"But speaking of Larry, let me say he was by far the most confident athlete I've ever been around. Now Michael (Jordan) seemed that way, too, but I can vouch for Larry. At the same time, he was humble and respectful of opponents and always played hard. The others played hard, too, but Larry was on a different level."
If there is one that has characterized Danny's approach to his current job it is an utter fearlessness. A lot of that comes from the comforting thought that management will always have his back, but it begins with a self-confidence and call it cheekiness of his own that manifested itself when he was playing, most notably in the late 90s, when it was becoming evident that the Celtics were in need of, um, transitioning as the original Big Three was getting along in years.
There was, for example, a late 80s Christmas party. They were all sitting around, Larry, McHale, Red included, and the subject of how the Celtics should proceed personnel-wise, came up. At that time it was known that the Pacers were interested in home state hero Bird and the Mavericks were interested in McHale.
"Larry and Kevin were both hurt," Ainge explains. "And I said, 'The Pacers are talking names like Chuck Person, Steve Stepanovich and Herb Williams. I said Red, 'Why wouldn't you make that deal?' The Mavericks were talking Detlef (Schrempf), Dale Ellis and Sam Perkins. I said, ' Red, why wouldn't you make that deal?'  I mean those guys were sitting right there." Amazingly, no one took at poke at Danny. The irony of this is that Dany was the one who wound up being traded. Then GM Jan Volk sent Danny and Brad Lohaus to Sacramento for Ed Pinckney and Joe Kleine, two big men that injury-wracked Celtic team desperately needed at the time.
Many in the NBA would have liked to have had a shot at the feisty Danny Ainge, which brings him back to his relationship with Auerbach. "Red and talked a lot," Danny says. "He always noticed the little things. He didn't get excited when I got 35. He liked it when I got loose balls, or took charges or instigated Isaiah (Thomas) into taking 25 shots. He appreciated things other people didn't. Jason Tatum does a lot of unnoticed things for our team now. Blocks from the weak side, things like that."
Oh, and let the record show. Tree Rollins bit Danny; not the other way around.
Danny is well known for assembling the 2008 championship the team by trading the number 2007 number 5 pick to Seattle for Ray Allen and then trading with his buddy McHale for Kevin Garnett, thus giving Boston a second Big Three. But perhaps his boldest move was reaching into the college ranks for a coach to succeed Doc Rivers.
Danny Ainge's interest in Brad Stevens was completely understandable if one knows how he works. He is as hands-on in the world of college scouting as any GM in the league. Every GM has trusted scouts, of course, and that includes the Celtics. Danny gets out and about, be it here or in Europe. His ears are always open and along the way his attention was drawn to the young coach at Butler.
"I was at the 2010 Final Four with Pags," Ainge begins. (Now "Pags" would be Celtics co-owner Steve Pagliuca, a proud graduate of and staunch supporter of the Duke Blue Devils). "I pointed across the floor and said, 'there's the greatest coach in college basketball,' Ainge explains. "He naturally thought I was referring to Coach K. I said, 'No, I mean the other guy.'"
At the time Brad Stevens was 34. Two years later Ainge would hire him. Though a championship has not yet materialized, Danny has never had second of regret. Brad Stevens has already taken his place among the elite NBA coaches.
"I watch coaches, too," Ainge explains. "I liked his demeanor, the way he interacted with his team, the way he made substitutions and the way he was as a husband and father." Danny might have added that Brad knows a little bit about the Xs and Os, too.
You cannot overemphasize how important Danny feels it is to be out there seeing the college games and international competition with his own eyes. Yes, there is a sufficient amount of available video tape on countless games, but the tape does not tell the full story.
"I feel one of my strengths is evaluating players," Ainge declares. Really, the toughest part of that sometimes is just figuring out where to be. But I look for more than the obvious. I look for their interaction with teammates, how they react to the refs, how they act when they come out of the game, their mood swings in the course of a game, how they play after sitting for a while. There is so much to watch, and I feel I need to be there."
People want to know about last year. He realizes that. "I think the Kyrie (Irving) thing is overblown", he maintains. "He had a difficult year. He was genuine when he said he wanted to stay. He was just as genuine with his desire to go home. It was so much deeper than everyone realizes. Look, everyone…myself, the coach and the players could have done better last year."
As he sits in the almost embarrassingly plush Auerbach center, which includes his own private bath and shower, he wonders if his young players could possibly appreciate how great they have it compared to the good old days in the more utilitarian digs such as the aforementioned Hellenic College site which produced three NBA championship teams. He rattles off the amenities, the access to chefs, nutritionists, physiotherapists, etc. "If I had all this, I might have played till I was 45," he jokes. Or maybe not.
What he does is know is how much he appreciates his own Big Picture. First of all, he's in the 17th year of a job he thought he thought might last maybe five years, seven years max. And he's doing it for the same people.
"I really love my job, and the people I work with," he concludes. "I think we work as a team."
Sounds like the thoughts of a lucky man.