Tune in Tuesday morning 3/7 from 10am-2pm on WEEI and see (hear) Christian Fauria with nine other Boston personalities take their best shots at the Red Auerbach Center to help raise money for the American Diabetes Association. Play-by-play and commentary courtesy of Brian Scalabrine.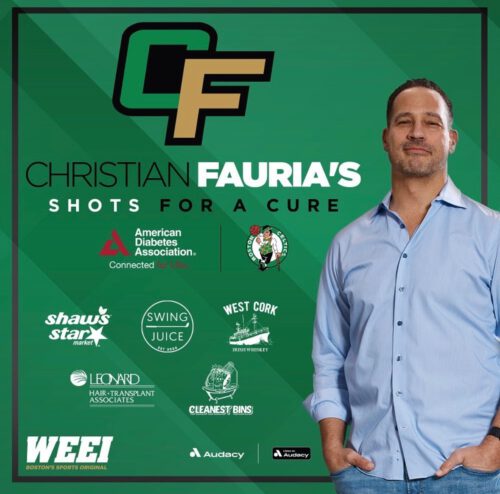 IT IS THE EVENING of January 18 1989, and the Crespi HS boys basketball team in Encino, CA are being bullied a little by way of the physicality of 6'10 245 lb man-child Ryan Jamison playing against rival defending Del Rey league champion Loyola.
Moments later, courtesy of a hard box-out from Crespi power forward Christian Fauria, Jamison is laying on his back staring up at the gymnasium rafters.
"I can be really competitive when I'm on the basketball court," Fauria, a 2x Super Bowl champion with the New England Patriots and current co-host with Andy Gresh on WEEI's Gresh & Fauria Show, says with a slight grin. "I kind of almost started a brawl that game."
ON TUESDAY, MARCH 7th from 10am-2pm at the Red Auerbach Center in Brighton, Fauria and nine other Boston personalities will be displaying their competitive spirit on the basketball court to (figuratively) brawl diabetes in Fauria's  Shots For A Cure with funds raised going to the American Diabetes Association.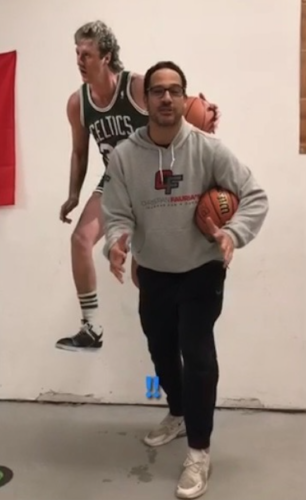 Fauria's son Caleb was diagnosed and has been living with Type I diabetes since 2019, and Christian has been raising money in his name to build awareness and fight to help cure the condition ever since.
The goal, Fauria explains, is to raise $25k on 3/7 by virtue of making a collection of shots designated by dollar value spread out over the court. Any made basket from the three point line is worth $1000; free throw line $500; and dunk or lay-up $200. The accumulative total of the ten shooters will represent the amount of the donation to ADA. West Cork Distillers is the main sponsor for the shootout, and Boston Celtics color commentator Brian Scalabrine will be delivering all of the play-by-play of the action to viewers and listeners.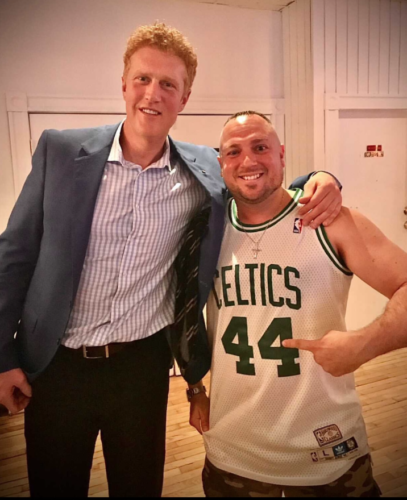 The sharpshooters, hand-picked by Fauria in addition to himself, will be: Greg Hill, Courtney Cox, Andy Gresh, Meghan Ottolini, Rich Keefe, Tom Curran, and Steve Dakota Happas.
"When I was putting together the team it struck me that none of us can actually shoot," Fauria says. "So I went out and recruited Dana Barros to round out our roster."
Simply put, Barros is one of the greatest snipers to ever come out of Boston. The former NBA all star and 14-year League veteran led the NBA in 3-point shooting in '91-92 at a 45% FG clip. In '94-95, while amassing a 20.6 ppg scoring average, he entered the NBA's 'Holy Grail' for a sharpshooter by becoming a member of an elite group of players to post a 90/50/40 shooting season (90% FT/50% FG/40% 3FG%.)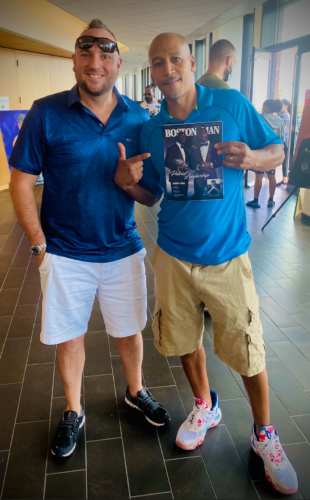 In six seasons with the hometown Boston Celtics, Barros bagged 416 3-pointers while tallying 3109 points. He put in another 2342 points as a four-year starter in college down the road at Boston College, where his number 3 jersey is hung up in the rafters at Conte Forum. In 1985, while playing at Xaverian Brothers HS in Westwood, he was named Catholic Conference MVP and to the Boston Globe's All Scholastic Team.
"I think we're good now," Fauria says smiling of the addition of Barros.
The fight against diabetes, undoubtedly, feels the same.
***
Christian Fauria's shots for a cure will take place on Tuesday March 7th from 10am-2pm. It can be watched via the WEEI channel on Twitch and listened to on WEEI radio.