Growing up I was always surrounded by animals. Literally. My Dad was an Animal Control Officer and managed a kennel.
Aside from your typical lineup of dogs, cats, and birds he also housed the occasional bear, jaguar, snake, deer, cow, horse, bat, and monkey. We had quite the extended family.
Those that know me know I have always had a deep love for dogs. I can't think of a time as an adolescent where we did not have a canine as part of our family. My earliest memories of a bond with a pet, however, are those with Rossi -my monkey.
Rossi had escaped from the local circus and stayed in our kennel. My connection with Rossi –and my Dad's trust in him- was so much that I was allowed to stay in the cage with Rossi on Saturday mornings while my father hosed down and cleaned all of the dog kennels.
Besides being my pet and my friend, you can also say Rossi was one of my first babysitters.
**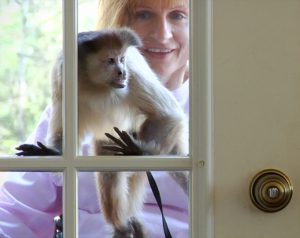 Around the same time I was cage-sharing with Rossi, a group in Boston –later to be called Helping Hands Monkey Helpers- were conducting research surrounding the innate connection and companionship between monkeys and humans.
This research would eventually evolve into a one of a kind non-profit organization where Helping Hands Monkey Helpers would assist in helping adults with spinal cord injuries and other mobility impairments to live more independent and engaged lives. This happens by providing each adult with a capuchin monkey, a unique service animal, that is highly trained to help with their daily tasks, therefore improving their overall quality of life.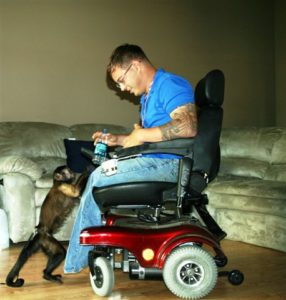 Helping Hands Monkey Helpers raises and trains these monkeys; they carefully match them with appropriate recipients across the nation, and provide active support and care for the duration of each placement.
"We thought that if dogs could be trained to lead the blind, why couldn't monkeys be trained to use their hands?" said Angela Lett, Executive Director at Helping Hands Monkey Helpers.
Adults with spinal chord injuries often times go through very traumatic experiences. They begin to lose their autonomy and in some cases their self-worth, Lett explained. The capuchin monkey helps their recipients with everything from turning light switches on and off, to picking up cups and other spilled objects, to opening and closing doors and drawers. This type of service –and unique companionship- allows the injured recipient to regain some of their independence and helps restore mental strength.
"The monkey sees the human as the Alpha and is looking to help them in any way they can," Lett continued. "We train the monkeys to be able to perform many of the day-to-day tasks in a persons life. They are looking to take care of and please their human."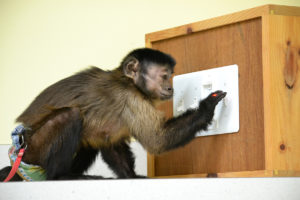 Thus far, Helping Hands Monkey Helpers has placed more than 160 monkeys with recipients all across the United States. 75% of the service monkeys are with their human for 10+ years.
This May marks the 40thanniversary of Helping Hands Monkey Helpers, where all of the monkeys are raised and trained right here in Boston.
"We're really excited to be celebrating this landmark and to be changing lives," Lett said. "We're the only organization of our kind in the world."
**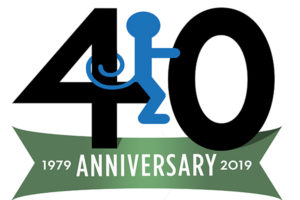 On Saturday May 11th, as part of this celebration, Helping Hands Monkey Helpers will be hosting their 40thanniversary Festivale at the Artists for Humanity Epicenter in Boston from 6pm-10pm.
Their will be raffles, door prizes, food, and special announcements throughout the evening.
The event is open to the public with a limited number of tickets still available for purchase!
Among the VIP guests confirmed for the event include: Roseann Sdoia – Boston Marathon bombing survivor; Dave Jensen – Boston Bruins alum / Team USA Hockey; Anna Johannes and Mike Prout – Team USA Paralympian medalists; and Jarvis Green – New England Patriot 2x Super Bowl champion. Boston Chefs Nicole Capostagno and Rachel Klein will also be joining for tastes at the VIP reception!
Tickets and on-line bidding are available here. You can also follow and support Helping Hands Monkey Helpers on Facebook, Instagram, and Twitter @monkeyhelpers.
The impact that these capuchin monkeys and Helping Hands Monkey Helpers of Boston is having not just in our city but world-wide is immeasureable. This truly is a special organization that is making a positive difference in both people's and these monkeys lives.
I know Rossi would be proud.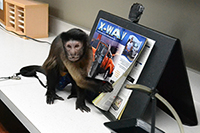 All photographs used with permission of Helping Hands Monkey Helpers of Boston.