In 2018, Sheena Melwani's family started "Spread the Joy" a non-profit that packs and delivers "joy packages" to children in hospitals. On Sept 10th, their biggest packing party yet comes to Boston, taking over Big Night Live to help "Spread Wicked Joy."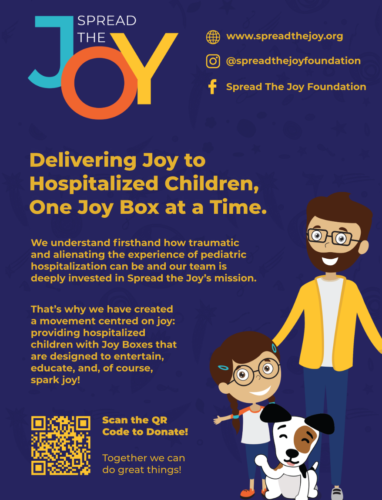 ON THE AFTERNOON of September 10th at Big Night Live, some of Boston's favorite local celebrities are getting together to compete against each other for an extra special cause.  The Spread The Joy Foundation is partnering with a company called Do Wicked Good to put on a one-of-a-kind fundraising event, Spread Wicked Joy, to benefit the Foundation.
Spread The Joy Foundation's mission is to provide boxes with crayons, coloring books, reading material, arts and crafts, and more for pediatric patients who are hospitalized for longer stays – so, boxes of joy.  The idea behind the Joy Boxes is that these children are receiving world-renowned medical care, but they're in need of a distraction from what they're facing and something to break up the monotony of treatment.  Spread The Joy aims to bring Joy Boxes to every pediatric patient in North America.  The Joy Boxes are put together by volunteers who pack the boxes with friends and family at their homes at events known as packing parties.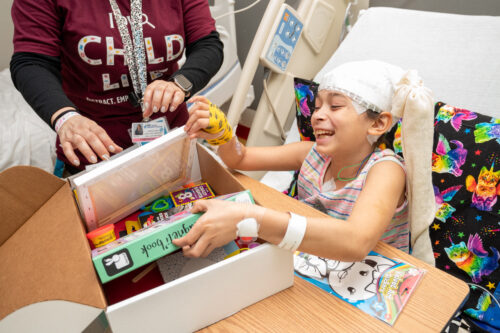 Spread The Joy was founded in 2018 by the family of Boston-based musician Sheena Melwani after her niece spent the first years of her life in and out of the hospital with a rare, severe autoimmune disease.
"I saw this from my sister's perspective.  She did everything she needed to do to make sure her daughter was taken care of.  But nobody was really there taking care of her," said Sheena.  So she spent as much time as she could at the hospital with her, offering support.
"What we found together was there was this gaping hole in the system where you'd have these kids and they wouldn't know what to do with themselves.  Parents wouldn't know how to take care of them.  So I'd run around the hospital looking for plastic forks and Styrofoam cups, anything that we could use to keep this child entertained.  Anything to get her to not be scared."
Fortunately, Sheena's niece made it through those delicate early years, masking long before Covid, and is thriving as she grows up.  But their family never forgot what those days were like; the Thanksgiving when they got to go home for the holidays and the family was ecstatic, but Sheena's niece and nephew were asking about the children they'd left behind who weren't so lucky, the families they'd formed connections with being in a similar situation.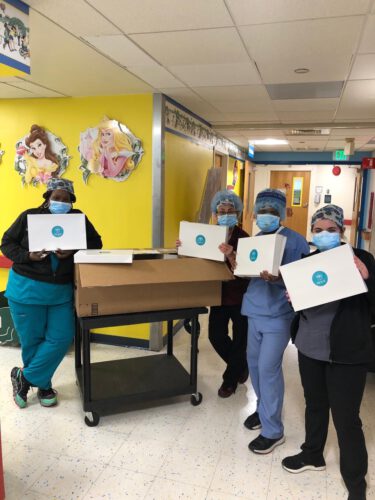 That Thanksgiving inspired the creation of the very first Joy Box, when Sheena's sister took her children to Target to get toys, books – anything that would bring joy – and sat together at the dining room table to assemble them and bring them to local hospitals in the area.
"Everyone felt a little more healed," said Sheena.  "In that creation of the Joy Box, they all just felt like they were a little less broken.  So it really came from almost a rock bottom, not knowing what to do with themselves, and they paid it forward."
When Valentine's Day and Easter of the next year followed, Sheena's family continued to make and deliver their Joy Boxes at the hospital in New Jersey where her niece was treated.  It grew very organically; family and friends would hear about what they were doing and give them a little bit of money to buy supplies for the Joy Boxes.  As time went on, people didn't want to just donate money – they wanted to be involved.  That was how packing parties got started, small groups of people assembling the boxes in their dining rooms and garages.  Whenever Sheena was in town, she would help with the packing and delivery, both to hospitals in New Jersey and in Boston, taking some of the Joy Boxes back home with her and spreading the joy within her community.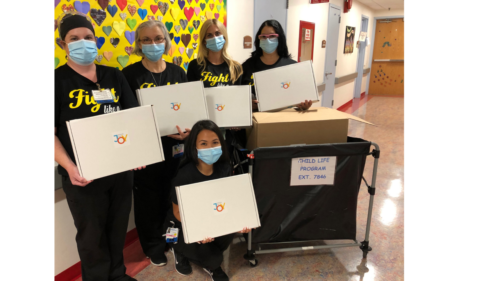 Before long, large, reputable companies wanted to get involved too, donating their products to be included in the Joy Boxes and ensuring they met all the requirements for the highest levels of sanitization.  Companies at trade shows, eager to not pay the shipping costs of bringing home unused items, were only too happy to make a tax-deductible donation.  Sheena's sister would go to some of these trade shows; occasionally, she'd bring her mom, who would earmark items she wanted just for the Joy Boxes.
"No one could say no to this little granny," said Sheena.
Word of the Joy Boxes continued to spread.  "It started feeding itself, it was like wildfire," explained Sheena.  A black-tie gala was held in New Jersey on February 29, 2020, "One More Day To Spread The Joy" on the leap year day.  One of the top event-planners in the country helped them put it together. Sheena worked with the students at her children's school to design the Joy Boxes they were raising money for.  "It was made by kids, for kids."  Sheena performed an original song, "Incredible You," that she'd written for her niece.  They raised $50,000.
"It was magic," said Sheena.  "And then the world shut down."
Spread The Joy was more determined than ever to continue their mission, knowing how critical it was at that time in history.  But, of course, they had the challenges everyone faced in those isolating, restricted days.  In a way though, it was the perfect activity for people to do something good and productive and stay within their bubbles.  People would pick up their supplies and have smaller, more intimate packing parties in open air environments.  They were already no strangers to the safety protocols.  Since hand-delivering was out of the question, and all deliveries had to be made through shipping the boxes, Spread The Joy was suddenly able to ship to more hospitals around the country than ever before.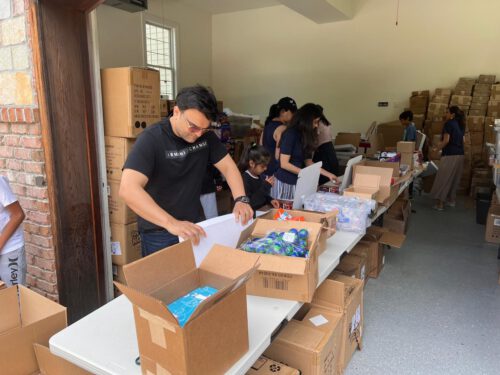 This is when the at-home packing parties took off in Boston.  "It's really a heartwarming and incredible journey," said Sheena.  When the world started to open back up again, the excitement around the Joy Boxes and packing parties only continued to grow.  In order to bring the Joy Boxes to more hospitals outside of their local spheres, Spread The Joy shifted their focus to creating their own products, working through each item with child psychologists and therapists.
"Every item is purposeful," said Sheena.
Still, there are only so many boxes Spread The Joy can pack each year, with the time it takes to collect the supplies, assemble the boxes, and ship them.  "It's a lot of management, and it's very curated, because we know firsthand what the need of the child is," said Sheena.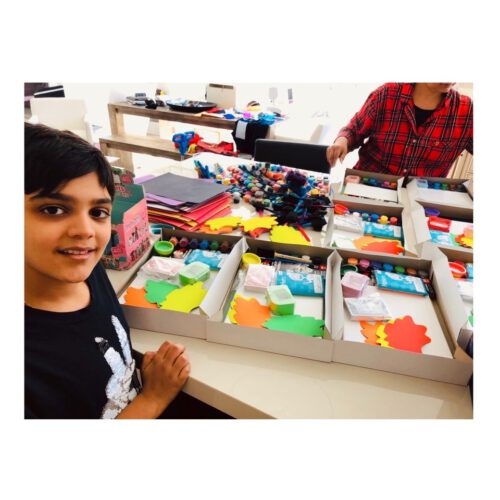 THIS CHALLENGE MADE Spread The Joy a perfect match for Do Wicked Good, a company founded by Josh Vernon at the start of 2022 with the simple idea of helping people who were giving back in their communities to scale what they were doing even further to reach even more people.  At first, he envisioned a merchandise line as the primary way of getting the message out, but it quickly became much more.
An invite to a Reebok event led to an introduction to fitness entrepreneur Gordie Gronkowski.  He had participated in many of the at-home packing parties of the darker days of 2020, loved the mission of Do Wicked Good and wanted to get involved.  He connected Do Wicked Good with the Spread the Joy Foundation.  Of course their packing parties were already wildly successful, but Josh was inspired to help them create the biggest one to date in terms of funds and awareness raised, people impacted, and excitement.
Since Spread The Joy, and their warehouse, is in New Jersey, they'd never given much thought to hosting an event in Boston.  Josh encouraged Sheena and her family to not only put one together, but to get other local influencers with hearts for helping others involved too.  They loved the idea, and as soon as they all began working on the event,  just about everyone they approached wanted to help more than they ever would have expected.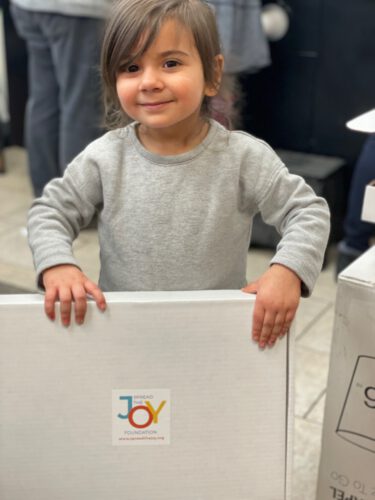 This big idea was not without its challenges. Even before Covid, all packing parties required a controlled environment – none of the items can be contaminated with germs, as they're going to the most vulnerable among us.  Nothing other than an item on the approved list can go in a Joy Box, and this can never change.  They must be assembled in an assembly line and have quality control.  Usually, only 20 people at a maximum can be involved in packing the boxes.  For this event, the number was doubled.  But with the strictest sanitization requirements, plus the amount of space that is needed for the tables and materials for the assembly lines, the live attendance still cannot be any higher than 100 at the very most.
The first step was securing a venue that could accommodate such a controlled environment and hold the audience they knew the roster of competitors would attract.  Once Big Night Live was approached, they gladly waived many of their regular costs so as much money could be raised as possible.  `Studio B was excited to jump on at the same time.  That was when the idea of making the event a friendly competition between the influencers, creating their own teams, came to be.  There will be four teams of ten people, captained by four people with rosters of their choosing, and they'll be racing to raise the most money and pack the most boxes.
Not only can Big Night Live provide the safe environment the event needs, but capping the number of spectators adds a level of exclusivity to the event.  Sponsors have clamored to be a part of it; Athletic Brewing Co. and High Speed Daddy quickly jumped on board.  Others are following, and it's becoming a star-studded event that every company wants to be a part of.
Gordie and Jocelyn Saber, NBA All Star Cheerleader and Celtics Captain, will lead a team of their fitness family & friends including Big Papi David Ortiz's talented daughter Alex; Margaret Cresta of So Vigor, and her fiancé, Brendan Griffin.
Team Influencers are captained by Kevin Cooney of Dangerously Caffeinated and his girlfriend, Ashley DeMato. Their full roster includes popular Boston TikTokers Tommy Guarino and The Prosciutto Papi; Summer '22 BostonMan Magazine co-cover model and Grow with the Flow founder Ashley Cunningham; ABG designer and founder Marina Varano; and the Douty sisters from Two Toned Training.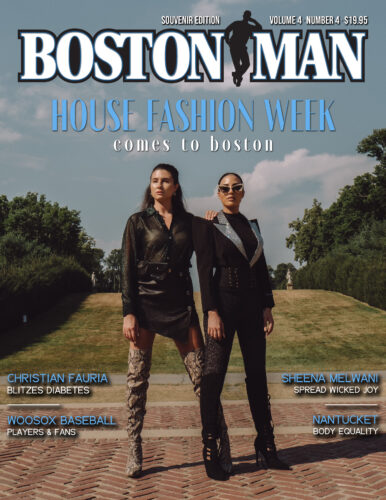 Holly Daniels Christiansen, founder of Dune Jewelry, is another captain, joined by Summer '22 BostonMan Magazine co-cover model and Miss Middle East USA, Dayane Habchy; and singer Nicole Michelle.
Vernon discloses that Holly & the Gronk team are also rumored to be engaging in an old-fashioned "paper, rock, scissors duel" to have one of her best friends, Camille Kostek, on their teams. "Still to be determined though," he jokingly admitted with a laugh.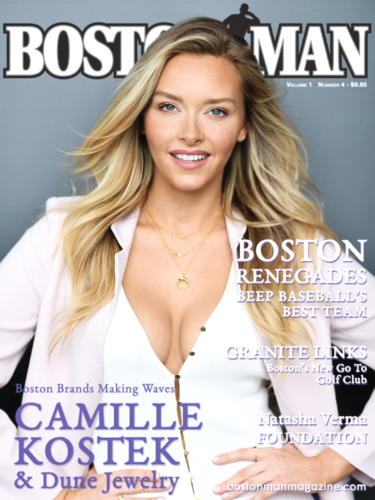 The final team will be captained by WEEI's Greg Hill, who will be joined by several members and friends of The Greg Hill Foundation.
A couple of spots on each team are intentionally left; there is an opportunity for people who haven't been chosen for one of the teams to join one – if they donate any amount of money to the cause.  Everyone who donates will be entered in a drawing for one of the coveted spots on each of the four teams.  But, of course, anyone can donate and be a part of spreading wicked joy. Sponsorship tickets and packages for the actual event are also available.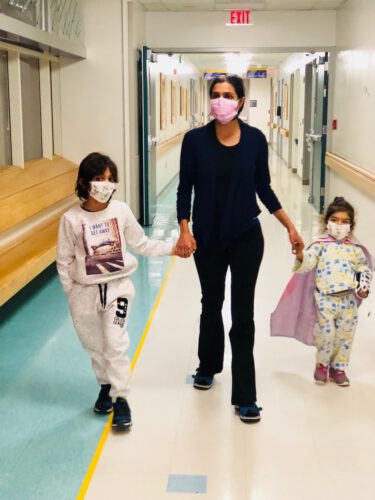 "Our slogan is 'joy for you, joy for me.'  We give joy and we get joy at the same time," said Sheena.  This vision was perfectly aligned with Do Wicked Good, the spirit of the 2020 gala marrying up with an unstoppable force for positivity in our city to put together an event that will spread joy to all that it touches – from the competitors to the sponsors, spectators, people contributing to the cause, and, of course, the families directly impacted by the Joy Boxes.
"This has gone from nothing to way bigger than I ever could have imagined," said Josh.  "It's amazing."