STEPPING UP THE SNEAKER GAME
We are living in the golden era of athletic footwear. Unless you have been binge-watching "GOT" in a cave, you must have noticed that designers have completely changed the game when it comes to sneakers. Once intended solely for the gym and sporting activities, an overwhelming number of new styles, in myriad colors and sizes have been seen on the runways and in all kinds of events, even as dressy as red carpets.
Having so many options can sometimes work against you, making it harder to choose the style that suits you best. Like any other piece in your wardrobe, footwear should also be an expression of yourself and should complement what you already own. Staying on trend is often tricky, especially when we are bombarded with ads and social media posts, and getting a whole new wardrobe to match your new of-the-moment sneakers is not wise.  No matter how cool you think they look on Kanye, or any of the Justins or your favorite sports star, they might not be right for you. I'm all for trying new things and reinventing yourself, to an extent, but don't stray too much from your authentic self.
When are you too old or too young for certain styles? Like anything else, I always say, make sure to dress your age, size and lifestyle, and keep in mind where you are going at all times. And although some designers have crafted sneakers with the finest materials, they should not be worn to some events (ie. a wedding), or anywhere with a specific dress code in place that forbids leisure footwear. No matter how expensive, shiny, and "cool" your new sneakers are, they are not for every occasion, and they are definitely NOT a substitute for your dress shoes.
From classic lines and hues to redesigned shapes, bright palettes, and new textures, you are bound to find a style that will speak to your aesthetics. I'm here to give you some pointers and guidelines that, with help, you navigate the vast world of athletic shoes and sneakers that combine both function and fashion.
BACK TO BASICS
This is the go-to style for all things casual.  Made of canvas or leather, they are usually the most versatile. You can never go wrong with the classics. Wear them with jeans — full, slim or skinny —, khakis, sweatpants or shorts. Pair them with a relaxed blazer over a t-shirt for a smart casual and effortless look. In my opinion, best suited for the younger crowd.
Brands to look for: Vans, Converse.
REFINED BASICS OR LUXURY SNEAKER
Your classic silhouette has now been crafted with the finest suede and leather. A sophisticated version of the basic sneaker has matured into a dressed up accessory that can now be worn with tailored slacks. A very smart look when paired with unconstructed suiting. This could be a great addition to your footwear repertoire. I'm not a fan of logos plastered all over (my guess: it's status signaling) or extra glitter and embellishments but there is a style for everyone. Keep it refined. A teenager no more.
Brands to look for: Gucci, Bally, Givenchy, Tom Ford, Ferragamo.
SPORTS SNEAKER
These are the kicks that started it all. The Jordans and Reebok Pumps. From track and field, and sports events to streetwear made famous by hip-hop artists in the '90s. They are still evolving but always destined for casual outerwear. Now available with modern styling and shapes, find a style you like and stick to them. Wear them with shorts, denim or chinos. Running gear for weekends and getaways. Keep it sporty.
Brands to look for: Adidas, Puma, Nike.
HIGH-FASHION SNEAKER, THE RUNNER
Oh boy, oh boy. Let the sneakers do the talking. They are loud and unapologetic. On the expensive side but many say they are worth every penny. They are designed to be noticed. I call them statement footwear. Skinny denim is their best friend. Some tend to look chunky when worn and sometimes a bit heavy. Love them or hate them, these kicks have taken the fashion world by a storm, and are here to stay, even if they fulfill more of its aesthetic purpose rather than utility.
Brands to look for: Balenciaga, Fendi, Off-White, Louboutin, Maison Martin Margiela.
THE CLASSIC RUNNER
It's all about functionality. They don't let fashion get too much in the way. The shoe should flex or roll the way your foot wants to move. Pay attention to the shoe's responsiveness, looking for a balance between cushioning comfort and a firm push-off platform. Activewear. Casual.
Brands to look for: Reebok, Nike Zoom, Saucony Ride.
HIGH-TECH
Crafted by every designer that is pushing the limits. Innovative and fashion-forward. From neon hues to logomania to basic black. Works best with muted attire. Often used with running gear. They are comfortable and sleek looking but don't get stepped on. Officially my personal favorite travel footwear. Experiment with your style. Project your uniqueness.
Brands to look for: Balenciaga, Fendi, Maison Martin Margiela.
**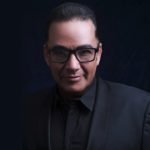 After a quarter century with the Boston Herald, Gustavo Leon left the publication as managing editor/creative for print and web, where he spearheaded a broad array of design initiatives across the paper's print and on-line platforms. A graduate of the New England School of Art and Design at Suffolk University, he had worked at the newspaper since 1994. In addition to overseeing redesigns at the Herald, JobFind, and Women's Business Journal, Gustavo also created the look for the Herald's Hot Shots, GoodLife Magazine, Champions special sports publications and the innovative Herald Radio.