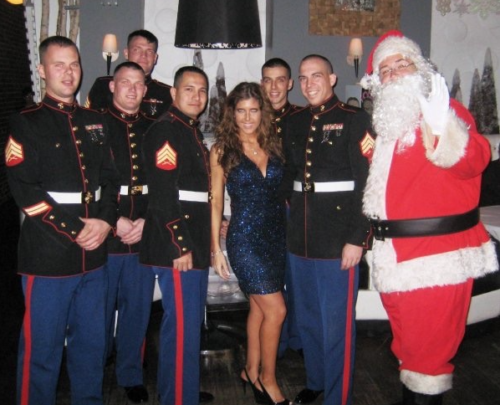 Giving without receiving embodies true altruistic kindness, and for Massachusetts local and former Kiss108 personality, Heidi Marani, she carries this sentiment extremely close to her heart – especially around the holidays.
Heidi's annual fundraiser benefiting Toys for Tots with the U.S. Marines is a magical night that brings extreme joy not only to the children who received the Christmas gifts, but also to all who come to the event, donate toys, and spread holiday cheer.
This year, Heidi will hold her 17th annual fundraiser on December 10th from 7-11 p.m. in the Omni Boston Hotel at the Seaport. The only requirement for entry is to bring an unwrapped toy for a young child to eagerly open from Santa Claus on Christmas morning.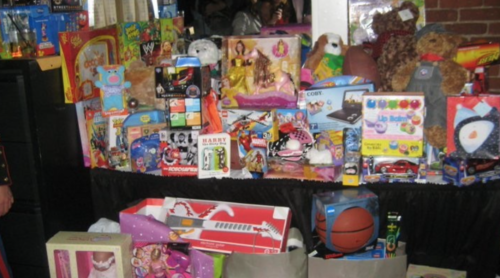 "People used to come with one or two toys, and now they come with handfuls and bags of toys," said Heidi. "It's so heartwarming. People get all dressed up, and it just feels so magical because you walk in, see all these toys, and you know you're doing something really great."
Though Heidi's tradition with the Marines has been going 17-years strong, it was a selfless gesture for a friend that fortuitously galvanized this beloved annual tradition – which brings joy now to so many.
When Heidi was only 22 years old, her colleague and friend Victoria Garcia was going through an extremely tough situation as she lost her financial stability in the blink of an eye. Between filing for a divorce, being unable to afford to pay her bills and trying frantically to make ends meet working at the Limited Corporation, Victoria was struggling trying to provide for her four-year-old twin boys.
With Thanksgiving, Christmas, and the twin boys' birthdays fast approaching, Heidi was heartbroken when Victoria shared what she was going through. Fresh out of college, Heidi had never heard of a story quite like this and wanted to find a way to help.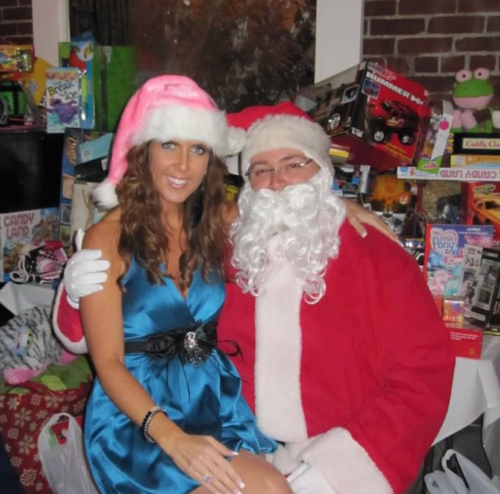 It started with one idea.
With Thanksgiving coming up, Heidi figured that Victoria wasn't going to be able to afford a nice meal for her family and rallied her coworkers to pitch in for a gift card to Stop & Shop.
Victoria was moved by the gesture, and Heidi kept the momentum going as the holiday season approached.
Like a brick, it dawned on Heidi that Victoria probably wasn't going to be able to purchase gifts for her boys for Christmas or their upcoming birthday.
"They don't understand that mommy doesn't have money," said Heidi. "Then I thought about Christmas. How do you tell your boys that Santa doesn't come?"
"I love Christmas even though I am Jewish, and I can't even imagine that."
The lingering thought of knowing two young children wouldn't experience the magic of Christmas left Heidi feeling distraught, and she knew she needed to take action.
With her contagious optimism, Heidi decided to throw a party.
This party could make all the difference to ensure Victoria's boys maintained their candid believe in Santa Claus and save their Christmas.
Heidi followed suit in the methods of Santa's workshop and got to work.
She secured a venue named Dockside, who generously donated space for the worthy cause. Heidi then called all her friends, asked them to come celebrate the holiday season for a night with the sole cost of admittance being to bring an unwrapped gift for a young boy.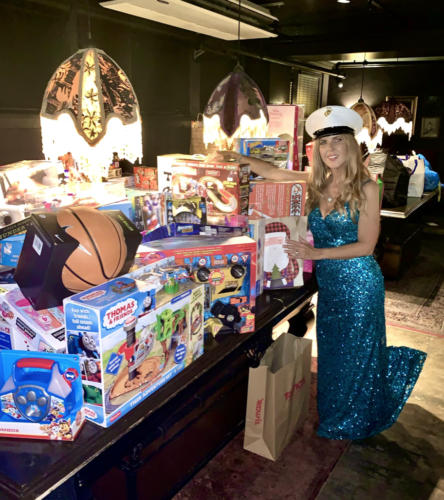 "My friends got so into it," said Heidi. "We didn't have kids yet – we were so young, but it was fun to go out and buy the toy water squirters and the basketballs.
"Everybody showed up with toys. If they didn't show up with a gift, they donated at the door, and I put that money towards wrapping paper and tape."
Following her successful and festive holiday party, Heidi loaded her car before heading to work as if she was loading Santa's sleigh prior to Christmas Eve. Her little blue Toyota Corolla was filled to the brim with toys for Victoria's soon to be five-year-old twin boys, and her heart was filled with pride and excitement to surprise her friend.
When Heidi got to work, she parked in the very first parking spot at the Natick Mall and called the store asking for Victoria to come outside to help her with something at her car.
As Victoria paced towards Heidi's car, Heidi rolled down her windows to reveal the copious unwrapped presents inside. Heidi shared that these presents were for her boys' birthdays and Christmas. With complete and utter astonishment, Victoria's jaw dropped in disbelief when she saw the gifts and tears of joy began running down her face.
"She just started crying," said Heidi. "I remember standing there hugging her.
"It was probably one of the best feelings I've ever had in my life. Everyone got really into it, and it made such a difference in her life. I knew it meant so much to her because here was someone who used to have everything and went from having everything to nothing. When you're a parent, you just want to give your kids everything."
"I didn't want anything wrapped because I wanted her to see what everything was. Her boys had an amazing Christmas and an amazing birthday."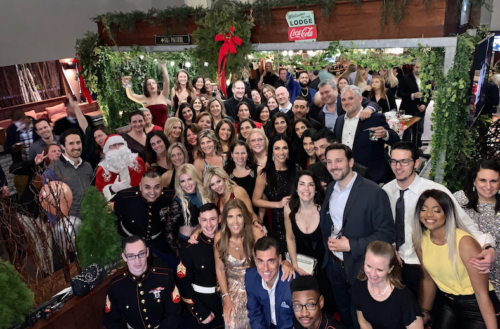 This moment was how Heidi's annual holiday fundraiser was born.
Victoria even had a nickname moving forward for Heidi because her actions were so impactful on her life.
"I remember she called and told me that my picture was on her refrigerator, and that I was her Jewish Santa Claus," said Heidi.
Victoria ultimately moved to California with her boys to put physical distance between their family and her ex-husband. After the move, Heidi and Victoria inopportunely lost touch. Heidi, to this day, still searches for Victoria and hopes that one day they will be reconnected again.
While Victoria's life was greatly impacted by the toys that Heidi delivered to her, as the holidays approached the following year, it became clear that Heidi's charitable actions and Christmas spirit also touched the lives of many others too.
"The next year everybody talked about that party," said Heidi. "Everyone said they still wanted to have to party and I wanted to keep doing it, so I said I would do it for Toys for Tots.
"It wasn't just for five-year-old boys anymore, it was for any child."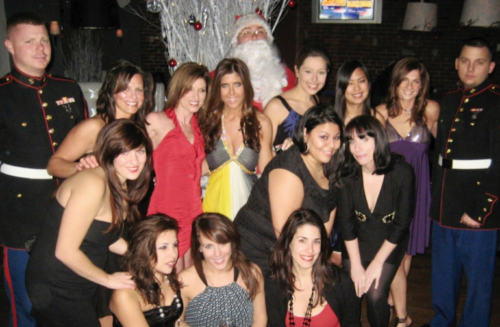 Heidi called the 1-800 number for the Marine's Toys for Tots foundation, and the rest is history, as a beautiful partnership was cultivated.
"The choice to work with the Marines was such a natural fit," said Heidi. "It was very easy to tie in with them.
"Every year since then, they have not missed a party. They're on the dance floor, they're having a good night, everyone is appreciative thanking them for their service for our country and they have a great time too."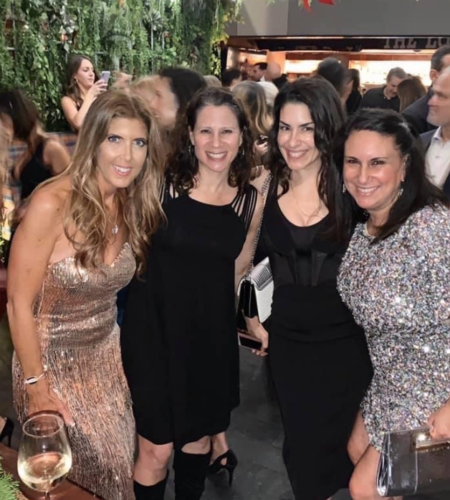 The Marines bring big a van, set up the boxes for the toy donations, and take care of safely delivering all the presents to the Toys for Tots foundation at the end of the night after the party.
Over the years, Heidi's Toys for Tots fundraiser has persisted through any adversity thrown its way, including snowstorms and the pandemic. The holiday spirit has always persevered and brought out the best in others to ensure kids were waking up on Christmas morning with presents from Santa. Over the years, Heidi's party has gathered up to 500 people annually and at one point had been the largest single donor to the local Toys for Tots charity – with years that produced over 1,000 toys that would be delivered to children.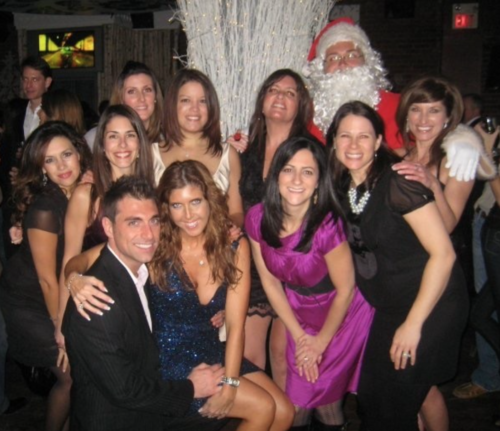 "Christmas morning, I always wake up and thinking 'wow, we've made a difference,'" said Heidi. "That party, which is fun and easy for me to do and my friends to go and enjoy a night, it just makes such a difference the next morning."
With toys needed for young children and even kids that are in their teenage years living in foster homes, there's always an incredible opportunity to make an impact for them.
"You pay it forward in life," said Heidi.  "I have some friends who have never missed a year, and I feel grateful that people just wanted to continue it."
In 2021, Heidi was awarded a special medal called the Semper Fidelis medal from the Marines. This award was established by the Hope Family Foundation in 1997, in honor of Bob Hope, symbolizing patriotism and service reflecting the essence of Bob Hope's dedication to those in the Armed Forces. When the Marines presented Heidi with this award, they shared it's a very rare medal to receive.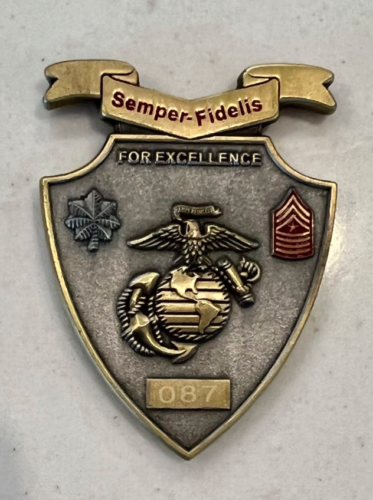 As Heidi prepares for her 17th annual fundraiser for Toys for Tots with the Marines this December, she is beaming with excitement knowing what joy comes out of this event for everyone involved – from the kids to the party guests.
"The Omi-Seaport this year is putting boxes in their lobby at the beginning of the month and they're going to promote it all month long at the hotel," said Heidi. "They're going to promote it on their digital screens. I'm very grateful. I know it's going to be a great turnout this year."
Every year the toys are bins on display as guests walk into the Toys for Tots party, and there's one word that perfectly describes that feeling of entering the event: Magical.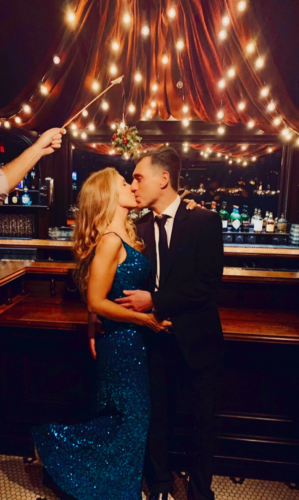 "It's on the invitation that it's a magical evening, and as corny as it sounds, everyone is happy walking into that room," said Heidi. "That is just a really great feeling."
If you're in the Boston area and have a chance to stop by the Omni Boston Hotel at the Seaport in December, please consider dropping off an unwrapped gift to spread the magic and joy of the holiday season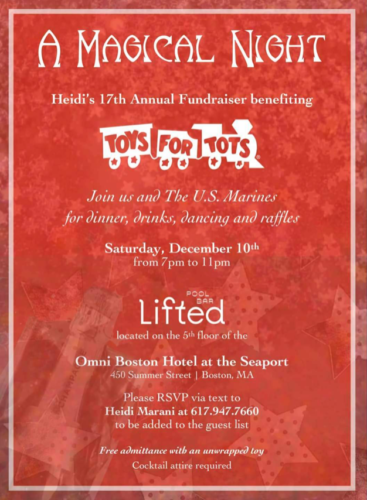 .