With mud season behind us, spring is finally here.  That means summer can't be far behind.  Thoughts are turning to summer vacation: lazy days at the beach, boat rides, outdoor happy hour cocktails, and evening fire pits complete with s'mores (and more cocktails).  Before I opened two offices in New England (Boston and Kennebunkport), a visit to Maine was an annual summer pilgrimage.  There is something about it that makes it my happy place. I can't put it into words, but when I'm in Maine, life is just better!  So a few years back, I took the leap and bought a vacation home in Vacationland.  No regrets!  Read on for some of my favorite ways to spend a summer weekend in The Kennebunks, complete with multiple lobster rolls, of course.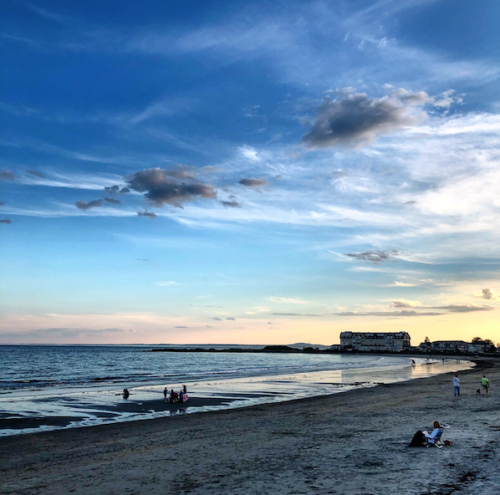 TO DO
Summertime in Maine is beach season and there are some gorgeous beaches in Kennebunkport and neighboring Kennebunk.  Goose Rocks is my top beach pick if you're staying nearby (see our "STAY" recommendations below).  However, if you're not staying at a nearby hotel, parking at Goose Rocks is highly regulated (and kind of a nightmare).  Just across the river in Kennebunk, there are three more great beaches (with more abundant paid parking): Gooch's Beach, Middle Beach and Mother's Beach.  Gooch's is a huge sandy beach at low tide, considerably smaller at high tide and popular with surfers.  Middle Beach is rockier and quieter.  And finally, Mother's Beach is a great option for the kiddos since it's smaller, sandy, and on a more protected cove boasting a sizable playground.  The entire stretch of these three beaches is just a mile long, so take a walk or a drive and pick your favorite.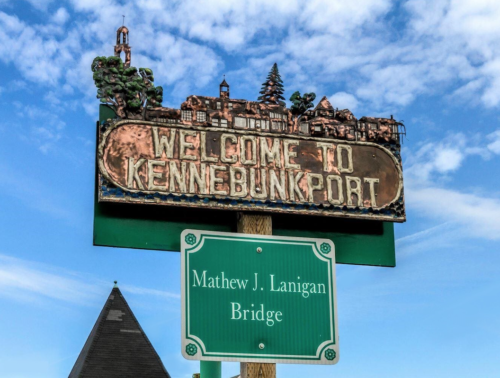 There are plenty of non-beach options, too.  Dock Square, Kennebunkport's town center, is loaded with charming shops and restaurants.  Some of our favorite stores include Minka, Daytrip Society, The Candyman, Good Earth Pottery and Maine Art Hill, which is just on the other side of the bridge.  Speaking of the bridge, a photo in front of the iconic "Welcome to Kennebunkport" sign is a must.  Then cross the street and get another photo in front of the "Kennebunk Welcomes You" sign!  (The dividing line of Kennebunk and Kennebunkport is the Kennebunk River.)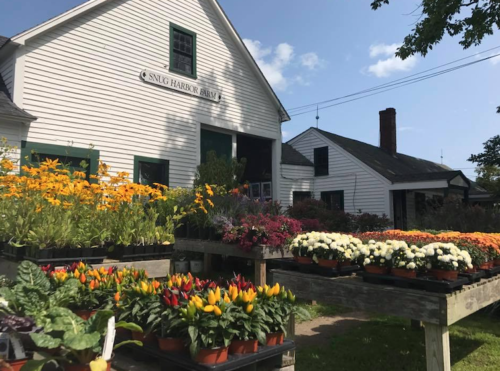 Two other shops I recommend when friends and family come to visit are Snug Harbor Farm and Farm + Table.  Snug Harbor is a beautiful shop, greenhouse and farm complete with miniature ponies and numerous fancy birds like peacocks and faverolles (feather-footed chickens).  I love strolling the grounds and greenhouses to get inspired for my own garden.  Snug Harbor is only a mile from the Dock Square shopping area.  Further afield, but still in Kennebunkport in the fishing village of Cape Porpoise, is Farm + Table, my absolute favorite in the area.  Every friend I bring leaves with something special.  It's a true gem.  After a visit to Farm + Table, follow Pier Road all the way to the end for a view of the lighthouse, great photo ops, and a real working lobster pier.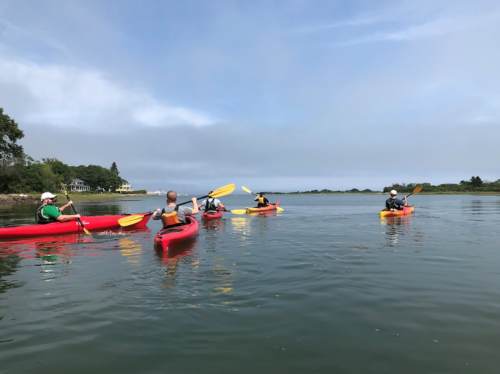 And of course, in addition to beaching and shopping, there are lobster boat tours, whale watching tours, fishing charters, sailing excursions, bike and kayak rentals, and more.  Two activities I recommend for first timers is Rugosa Lobster Tours and the Cape Porpoise Lighthouse Tour with Coastal Maine Kayak.
 WHERE TO STAY
Hidden Pond is a luxury resort located in a woodsy, tranquil part of Kennebunkport.  The resort is a collection of charming bungalows, cottages and tree-top lodges ranging in size from studios to 2-bedrooms.  Each dwelling has a screened-in porch, working fireplace, and all the woodsy, Maine charm you can handle.  Breakfast is delivered to your cottage each morning: A thermos of hot coffee, fresh pastries and fruit, and there's OJ and yogurt in the fridge.  A spa, two pools, a top-notch restaurant, and nightly campfires complete with s'mores are just a few of the selling points.  Complementary loaner bikes will help you scoot around the property.  Also, it's less than a 2-mile ride to Goose Rocks beach where you can use the umbrellas and chairs at Hidden Pond's sister property, The Tides Beach Club.  Parking nightmare averted!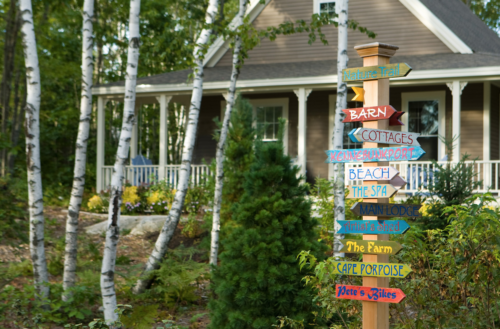 Another lodging option closer to the action is the historic Inn at English Meadows.  This newly renovated bed and breakfast is owned by my friend and neighbor, Elizabeth Arruda, and is just a half-mile from Dock Square and a little over a mile to Gooch's Beach.  The inn's rooms and suites are spacious and beachy without being kitschy.  There is also a private bungalow in the rear of the property for those that aren't "B&B types."  Elizabeth is a warm and gracious host and will take good care of you!
 COCKTAILS
After the beach (or your daytime activity of choice), a drive along Ocean Avenue is a must.  Stop at Walker's Point to see if you can spot George (known locally as "43"), Laura, Jenna or any of the Bush family at their summer retreat.  (Hint: If the Texas flag is raised on the flagpole, the Bushes are in town.)  A stone's throw down the road, stop at the Cape Arundel Inn and the elegant Ocean restaurant for a sundowner.  The bar inside is small, but the real winning spot is a seat on their front porch over-looking the craggy coast and the Atlantic Ocean.  This is the place for an upscale cocktail and quiet conversation.
For a livelier happy hour atmosphere, head back to Dock Square and visit The Spirit Restaurant.  The Spirit is a former seafaring vessel, The Spirit of Massachusetts (shout-out!), that was retired and set permanent anchor in the Kennebunk River.  You're right in the middle of the action on The Spirit, with fabulous water views as well as the perfect perch to check out what's going on in town.  Order your favorite cocktail from genial bartenders Jeff or Mike and enjoy some live music and a cool breeze.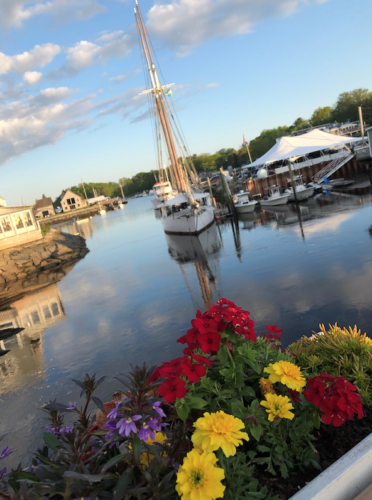 One of our other favorite spots for pre-dinner drinks and apps is Old Vines Wine Bar. Their amazing staff serves up snacks and small plates, so you'll find munchies to fit your appetite without spoiling your dinner reservation. (Or, you may be so impressed with the apps you'll want dinner right there!)
All images courtesy of CIRE Travel
***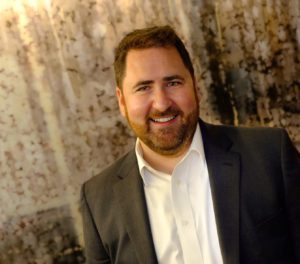 Eric Hrubant is a 20+ year travel industry veteran and owner and president of CIRE Travel, a corporate and leisure travel agency. Eric and his team of agents use their A-list connections to deliver an exceptional, concierge-like travel experience. CIRE has offices in Boston New York City, Los Angeles, Washington DC, Alexandria, Virginia and Kennebunkport, Maine to serve clients around the country and throughout the world.