Big Brothers Big Sisters of Eastern MA to host learning event and panel discussion to raise awareness about mental health, remove stigmas, and establish caring relationships.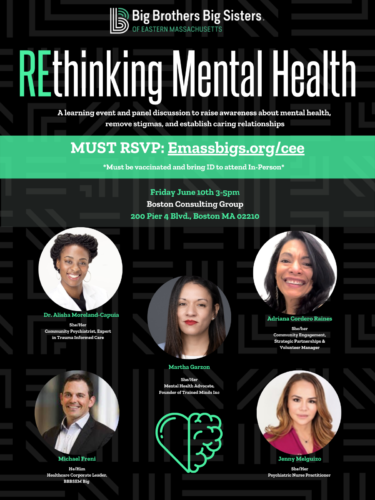 ON FRIDAY June 10th, Big Brothers Big Sisters of Eastern MA will be hosting a learning event and panel discussion centering around the crucial conversation of mental health and caring relationships.
The panel, led by BBBSEM community member Martha Garzon, will take place at the Boston Consulting Group offices from 3pm-5pm at 200 Pier 4 Boulevard in the Seaport. It will be available to attend both in-person and virtually.
"This event will include powerful and necessary narratives including vulnerable and traumatic content," Garzon, a 21-year veteran of Massachusetts General Brigham and founder of Trained Minds Inc explains.
She leads a comprehensive panel that also includes: Dr. Alisha Moreland-Capuia, community psychiatrist and expert in trauma informed care; Adriana Cordero Raines, community engagement and strategic partnerships & volunteer manager; Michael Freni, healthcare corporate leader and BBBS Big; and Jenny Melguiz, a psychiatric nurse practitioner.
"We're honored and privileged to host community member, Martha Garzon and this amazing group of panelists," Aka Denjongpa, Director of Community Engagement & Partnerships at BBBSEM says. "This learning event will be focused on raising awareness about mental health, removing stigmas, and celebrating the power of caring relationships."
Big Brothers Big Sisters of Eastern Massachusetts is focused on providing each child with access to a positive, consistent mentor. That work, says Denjongpa, is connected to a commitment to DEI (Diversity, Equity, and Inclusion) and perpetual learning. The goal, he explains, is to be a responsive organization that includes learning and lifting up diverse narratives and providing a platform for partners, constituents, and community members.
To register to attend Big Brothers Big Sisters of Eastern Massachusetts "REthinking Mental Health" panel discussion on Friday June 10th, please RSVP here. For more information on getting involved with BBSEM please email Aka Denjongpa at: adenjongpa@emassbigs.org.