With the Summer warmth fading away and the crisp Fall chill in the air, it's time to pack up our beach gear, toss aside those worn-out flip flops and throw on your favorite cozy hoodie.
BUT PLEASE PEOPLE, keep that damn SPF in hand. UVA rays are present at the same strength from sun-up to sundown, 365 days a year! Now, I'd feel slightly hypocritical if I didn't get a little honest here.
My younger days were filled with basking in the hot Miami sun, smothering my body in good ol' baby oil while striving to achieve the perfect bronzed look. Little did I know, my uninformed self was doing irreversible damage that I'm now paying the high price for today.
As I write this article, I'm a week away from undergoing Mohs surgery on my nose. For those of you unfamiliar with Mohs, it's a surgical technique used to treat skin cancer. During Mohs surgery, layers of cancer-containing skin are progressively removed and examined until only cancer-free tissue remains. Sounds fun, right?
As a Nurse Injector whose career consists of assisting in beautifying the faces of my patients and preaching about the importance of sunscreen and medical grade skincare, this is certainly a humbling reminder that nobody is immune to skin cancer. I am not trying to scare you (but maybe my stitches will) this shit is real.
So, if you didn't take my advice in the previous issue, please, go purchase an SPF 35 or higher! I know I'm biased, but I LOVE my Age Defense Line which includes broad-spectrum sunscreens offering anti-aging benefits while simultaneously fighting off powerful UVA/UVB rays!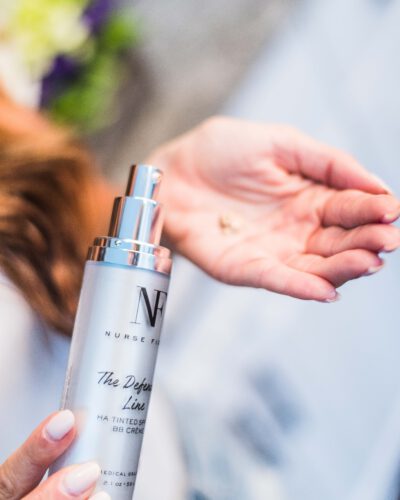 Now back to that Autumn chill. Transitioning into the cooler months doesn't mean we need to lose our summer glow and beach-ready bodies. Fall is the perfect time to clean up your weathered skin and fine-tune your body with the many non-invasive treatments available to consumers today!
For skin-related tips, I suggest taking advantage of products and services that we typically avoid during the summer months due photosensitivity. In terms of products, despite the many advances in skincare over the years, Topical Retinol is STILL the gold standard product for anti-aging! Retinol is a wonder drug to have in your skincare arsenal. Not only does it prevent and correct fine lines and wrinkles, but it also stimulates collagen and elastin production, which unfortunately we lose with age.
In addition to a medical grade retinol, my favorite must have products include an exfoliating agent, vitamin c serum, a high-potent skin brightening product, hyaluronic acid, and SPF. I know it sounds overwhelming, but if you break it down into an AM and PM routine, it's highly manageable and so worth it. The Nurse Fiona Skincare Collection offers a variety of strengths and formulations that can be customized for the perfect fall-refresh-routine!
As for treatments – the sky's the limit this time of year. IPL therapy (intense pulsed light) can treat those pesky age spots, pigmentation, broken capillaries and improve the overall tone of your skin! It's the perfect post-summer rejuvenation for anyone looking to reverse summer damage. Another great option is Laser Resurfacing, like the IPL, its goal is intended to diminish signs of aging and rejuvenate the skin. Lasers typically resurface the skin and may require more downtime but are highly effective for reaching your anti-aging goals.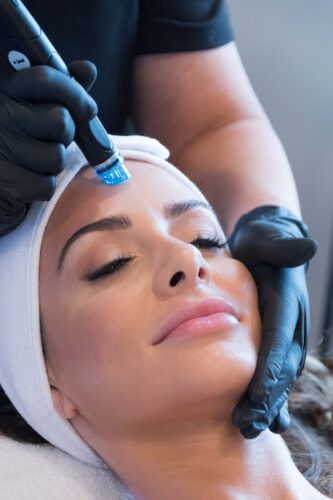 Choosing between the two options should be decided upon with your Skincare Provider and ultimately comes down to you, your skin type, and overall goals. Another excellent way to refresh your skin would be with a series of chemical peels. The most effective peels on the market have numerous benefits such as reducing pore size, smoothing skin, fading discoloration, and giving your skin an overall glow. What I love most about chemical peels is the ability for  Skincare Providers to get creative and customize formulations specific to patient needs.
Jumping on over to body treatments, I love how far the medical aesthetic industry has come with non-invasive options. The first (and popular for males and females) would be Laser Hair Removal. I know I may sound like a broken record, but now is the time to fine-tune that beach-ready body, and nothing says beach like a silky smooth (hairless) back or bikini line. For the newbies interested in hair removal, it typically takes a minimum of 6 treatments for optimum results therefore starting in the Fall is always my recommendation.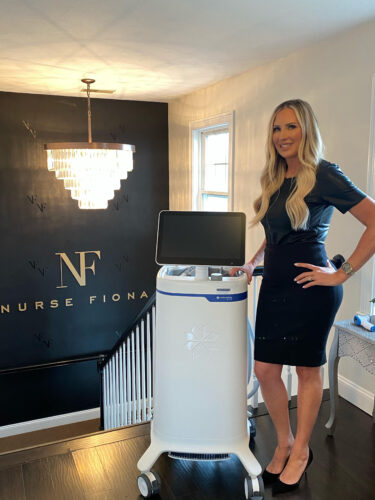 At Nurse Fiona Medical Spa, we offer a variety of hair removal packages covering everything from your nose down to your toes (and all those personal areas in-between). With many effective hair removal devices on the market, it can be overwhelming. I chose Cutera's Excel HR for its versatility and safety as well as its superior cooling tip allowing for greater patient comfort. When it comes to Body Contouring, a highly popular treatment is Coolsculpting. CoolSculpting allows active, healthy people to permanently freeze away troublesome pockets of fat. This device is FDA approved to treat 9 body areas: chin, arms, abdomen, love handles, bra rolls, banana rolls, inner thighs, and outer thighs.
Admittedly, Coolsculpting has had some bad press lately, but I trust its safety and efficacy and have successfully treated numerous patients who are thrilled with their results. Lastly, one of my personal favorites is Emsculpt. If you follow me on social media (@nursefiona) we're known to show off a tush or two getting toned and sculpted!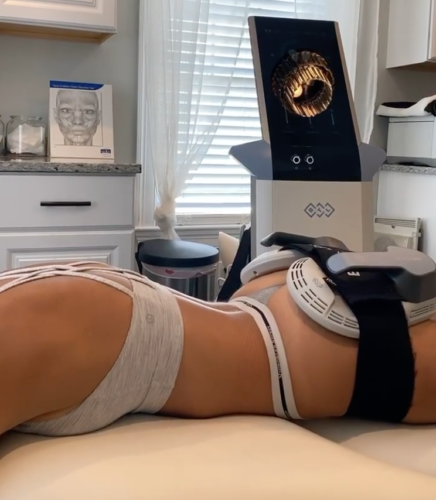 This device uses electromagnetic therapy to enlarge current muscles, as well as grow new muscle fibers. The Emsculpt procedure is currently FDA cleared to treat your abdominals, buttocks, arms, calves, and thighs. Who wouldn't want six-pack abs without breaking a sweat? It's also a great non-surgical alternative to the Brazilian butt lift.
Navigating the many aesthetic options available can be overwhelming. I strongly advise all potential patients to book a consultation prior to investing in any skincare product or service. I look forward to seeing your glowing faces and toned tushies at the next BostonMan Legacy Club event!
***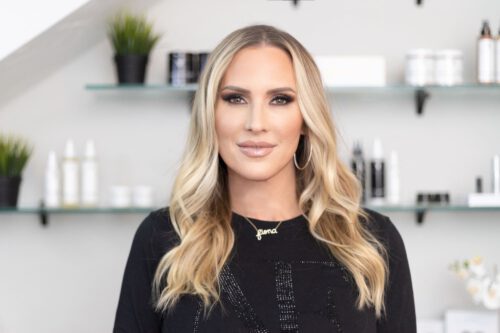 Nurse Fiona is a highly respected and nationally Board Certified Nurse in the Boston area specializing in anti-aging aesthetics. She was one of the first Aesthetic Nurses in Massachusetts to be C.A.N.S certified and has had extensive training by world renowned injectors. Her understanding of what makes a face youthful, proportional and natural allows her to deliver uniquely crafted, unflawed results. Her ever-evolving knowledge of the latest innovations in beauty, combined with her personable demeanor make her a leader in the industry.