My love affair with food goes back as far as I remember! You hear of some kids being picky eaters? That was never me! I've definitely always been one to appreciate the savory of a well put together meal.
My time as a host on NESN's Wicked Biteshas allotted me the good fortune of experiencing many lovely and delicious restaurants all throughout New England.
Here's a quick look at three of my favorites -outside of Boston- that I have featured over the years:
Ledger – Salem, MA: When you get a chance to get out this is always on my list of recommendations. Aside from the ambiance of the restaurant, the menu itself has such a great range from their breakfast (homemade dounts) to their pasta's. My personal favorite has to be the Wild Mushroom Campanelle. Aside from all the fantastic things Ledger brings to the table (pun intended) it's willingness to always provide for the community in times of need is most outstanding.
Thanks to the great crew/ Kitchen staff they have put together the Ledge Marketplace. The Ledger Marketplace allows you still enjoy the food of the Ledger and stock your fridge at the same time. Amen to that! Take out or delivery orders from 3pm-8pm and the menu changes daily. Ledger I appreciate you.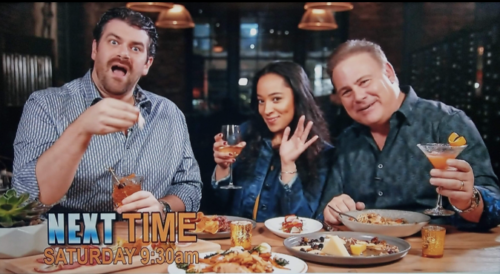 Lobster Trap – Bourne, MA: Summer in New England has its many perks. New England is a great place for fresh seafood. I know it's definitely a Quarantine craving, however once they're open, it's one of my favorite decks around.
The thing about the Lobster trap is that they do just about EVERYTHING right. Executive Chef Dan and Head Coach David have such a great thing going on. We're talking about refreshing colorful drinks to fresh seafood with such a distinctive remarkable menu. A day under the sun at the Lobster Trap is a day well spent.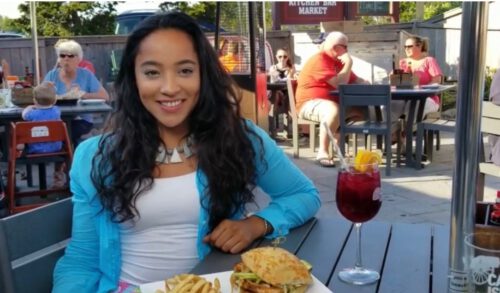 Alba- Quincy, MA: People that know me understand my love for fresh garden veggies. Once I found out about the garden on the roof at Alba in Quincy I fell in love! I am telling you in the summer time nothing beats sitting out on the roof and enjoying a nice glass of wine, your favorite cut of steak, topped off with the freshest veggies around!
Might I emphasize this is THE place for steak AND wine. Surrounded by fresh veggies and the sun it really doesn't get any better than that. Their curbside menu really spoils you too! With everything from hand cut steak to fresh seafood your taste buds will not be disappointed! Some of the steaks are even available to be cooked at home. There is something for everyone on the menu at Alba.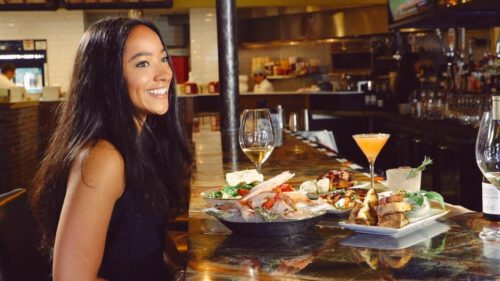 **
Finally, while we have all been couped up in our homes during the "Quarantine of 2020" many of us have rediscovered (or in some cases, discovered for the first time) our love for cooking! Here is one recipe for you to try at home, which if done right, will surely become one of your favorites, as it is mine!
Blueberry Balsamic Glazed Chicken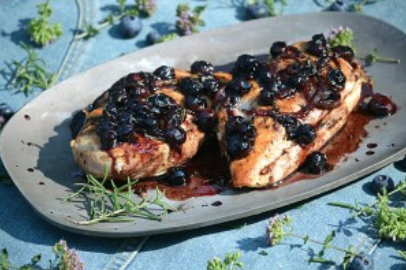 INGREDIENTS
2 tablespoons extra virgin olive oil, divided
2 tablespoons unsalted butter, divided
4 skinless, boneless chicken breasts
1 teaspoon salt
1 small white onion thinly sliced
2 cups Blueberries, rinsed and stems removed
½ cup balsamic vinegar
⅓ cup real maple syrup
1 tbsp chopped rosemary
1 tbsp oregano
INSTRUCTIONS
Preheat oven to 350°F.
Heat 1 tablespoon of the olive oil and butter in a large, heavy, skillet.
Season chicken with ½ teaspoon salt and ¼ teaspoon pepper.
Add chicken to the pan after butter has melted and is hot and bubbly.
Sear chicken breasts over medium-high heat until lightly browned.
Remove from the pan and place in a baking dish, set aside.
Add remaining olive oil and butter to the skillet,
Add onions and cook until soft and lightly caramelized, 3- 4 minutes.
Add blueberries and cook 1 minute.
Stir in vinegar, maple syrup, rosemary, oregano and remaining salt and pepper.
Simmer about 10 minutes, until blueberries have softened.
Pour the blueberry balsamic mixture over chicken and put baking dish in the oven for about 20 minutes.
Chicken should no longer be pink in the middle and reach an internal temp of 165 degrees F
Recipe adapted from: Driscoll's Blueberry-Balsamic Glazed Rosemary Chicken
**
Bianca Reyes is a host on NESN's Wicked Bites. She is a model and actress signed to Model Club in Boston. From Food TV, to commercial sets, to Radio Studios, to Runways, Bianca has done it all. Aside from modeling and television she is known for her skills in the kitchen. Home cooking and gardening are some of her favorite things. She also enjoys long walks on the beach .. but only if they end with a good lunch!