The BostonMan Magazine Legacy Club was back at it again on March 19th, this time bringing the monthly upscale networking event to the effervescent Publico Street Bistro and Garden in South Boston.
The event culminated St. Patrick's Day Weekend and the Evacuation Day celebration for the city as only BostonMan Magazine and the Legacy Club with Publico could do: IN STYLE!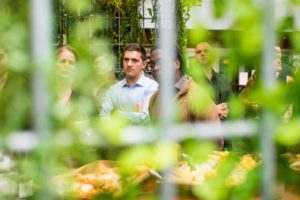 The networking, atmosphere, and overall vibe for the evening was a tremendous success as members, sponsors, advertisers, and guests all mingled with some of the very best our city has to offer.
Thank you to Theo Bougas and Lauren Santilli of Pubico for being such gracious and accommodating partners with BostonMan Magazine.
"This was such an an amazing event!" Santilli, the events manager at Pubico, said. "I'm very impressed with the BostonMan Legacy Club group!"
The event, the sixth official overall for BostonMan Magazine, added a new wrinkle as authors Dr. Paul Napper and Dr. Anthony Rao were on hand providing customized, signed copies of their new book "The Power of Agency" to all Legacy Club Members.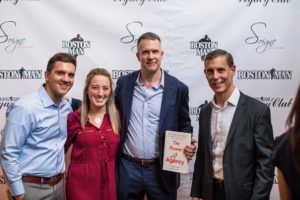 The book will be featured in the debut section of "The Book Shelf" in the upcoming April issue of BostonMan Magazine.
The highlight of the evening was the unveiling of the April issue. BostonMan writers John O'Callaghan and Thomas Haire revealed the co-cover featuring David Ortiz with Roseann Sdoia as the inset.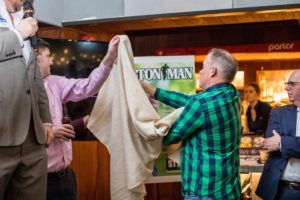 O'Callaghan penned the article "Triple Crown: David Ortiz Hits Big with Baseball, Charity and the Boston Marathon" while Haire's piece on Sdoia is already being billed as one of the top compositions on her story to date. Both are must read features coming out this month!
Sdoia, will also be a featured guest at the next BostonMan Magazine Legacy Club event on April 30th. ALL Legacy Club members will receive a personalized signed copy of the updated version of Soda's best-selling book "Perfect Strangers."
BostonMan Magazine Legacy Club events are quickly building a reputation for the opulent door prizes Legacy Club members are eligible for. This month Mike Chapman and Michael Santosuosso of Tourneau Watches in Copley graciously provided BostonMan with a watch from their luxurious collection.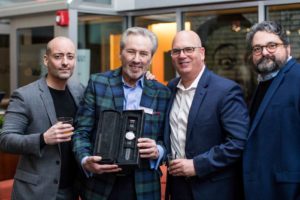 Legacy Club member Ed Naczi was the lucky winner having his card drawn for the grand prize!
Frankie Valli and the Four Seasons BostonMan VIP Package was the other big give-away. This exclusive package which included show tickets, signed memorabilia, and vintage photos was won by Legacy Club member Frederick Cullen of Green Team Junk Removal.
"I'm honored," Cullen stated after winning. "My Aunt and Uncle have been wanting to go see Frankie Valli for a while. I'm so happy to be able to gift these tickets to them."
As always, a really big thank you goes out to our video and photography teams.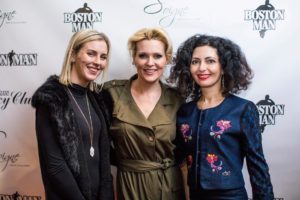 BostonMan Legacy Club members Conductor Productions, once again put together an amazing sizzler recap, while BostonMan videographer Aaron Weiss is grinding it out in the lab to finish his production from the evening.
http://bostonmanmagazine.com/wp-content/uploads/2019/04/March-Legacy-Club-Event-Publico.mov
The woman behind the lenses all evening candidly capturing the best images of the Legacy Club and guests was Samantha Robshaw of Samantha Robshaw Photography. You can view her collection from the evening on the BostonMan social media sites!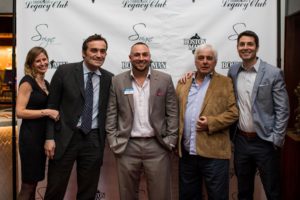 REMINDER: BostonMan Legacy Club events are exclusive invitation only experiences for members, advertisers, sponsors and guests. Anyone that has been a guest for multiple events NEEDS to sign up as a member in order to continue to attend. BostonMan still has Charter Membership + Advertising packages available! Don't miss out!
Please contact: Matt Ribaudo (matt@bostonmanmagazine.com), Jamie Dunek (jamie@bostonmanmagazine.com) or Anthony Lauretto (anthony@bostonmanmagazine.com) for more information.
We're looking forward to seeing all of you in April!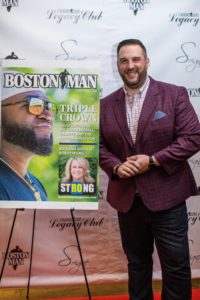 BostonMan Magazine is an upscale lifestyle publication that targets the interests of successful professionals. Quarterly print magazines and monthly digital content are released throughout the city of Boston.
The BostonMan Legacy Club events are exclusive monthly experiences for members and guests. For more information please contact BostonMan Publisher Matt Ribaudo at matt@bostonmanmagazine.com