Meet The Wondertwins, Billy & Bobby McClain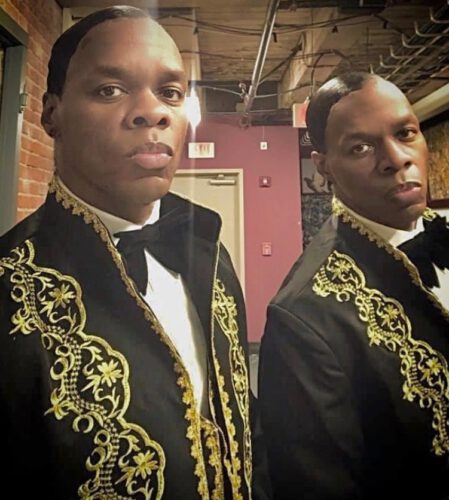 Our passion for teaching children has given us the opportunity to express who we are and the values we follow. These very values and principals we teach youth every day, we also model ourselves.
When working with children and students by showing our work, we get the chance to share stories of success and failure. These embody the things that we have experienced through life and dance. This format has become a way of giving, receiving,  and healing through movement.
With any form of dance you must start with the foundation in order to build strongly and make connections to build upon it. A strong historical foundation is just as equally  important when learning hip-hop as it is to learning other styles of dance. These styles include ballet, jazz, tap, contemporary, and modern.
When we create, we ask ourselves: Will the audience be emotionally engaged? Are they having a sensory experience? As black men, we aim for our work to challenge the audience's mindset. The choreography we create illuminates in our bodies movement  to create a reaction in how media chooses to show what black men are: Hip-hop dance.
One of the most important aspects of dance is imagery. What do we want our children, students, and community to see when they watch us as artists? Do we want our visual image to just be merely entertaining? Or do we want something a child can carry throughout adulthood? The answer lies in our show/topic pieces.
We aim for our work to be a life-long lasting effect. Our work is intertwined. It's not just about the men and women we grew up admiring.  It brings about awareness of current issues and concerns of racial injustice to education.
The goal has always been for us to come together as a people. If not only for us, for the children after we are no longer. This is our legacy. This mindset must not just be encouraged, but in many ways it had to be programmed in us early. And it was dance that did just that for us.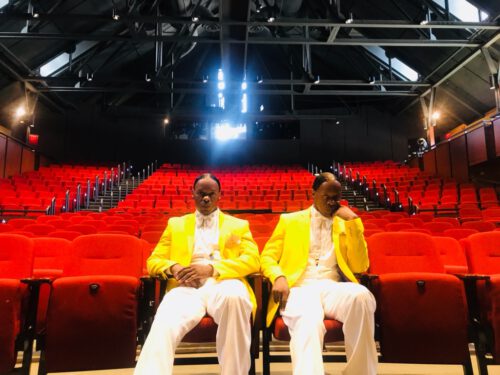 In The Beginning
As Hip-Hop dance pioneers and identical twins, we started dancing at the age of eight in Boston inner cities. Our childhood beginnings started as we would imitate a weekly dance show called "Soul Train". By nine years old, we were doing our "WonderTwins show" for family events, such as cookouts and barbecues.
At 10 years old, we won our very first dance competition. This was judged by the legendary hip-hop pioneer, KURTIS BLOW. Later that year, we were recruited to join the Boston's first professional street dance crew, "The Funk Affects". A group that influenced and were very inspirational to the early successes of iconic boy bands, "New Edition" and Boston's own, "New Kids On The Block". We would later go on to co-headline shows with "New Edition.
We spent seven years with the company gaining recognition by opening up concerts for legends like Run DMC, LL Cool J, KRS ONE, Queen Latifah, Public Enemy, and MC Lyte, to name a few. In our early teens we were given monthly hour long shows for the community with opening acts such as Boston's own, New kids on the Block.
As the Wondertwins, we were "New Kids on the Block's" choreographers in the early days and later co-choreographed elements of their "Magic Summer Tour". We then produced the hit, "I'll Be Waiting For You" for their 'Face the Music' album.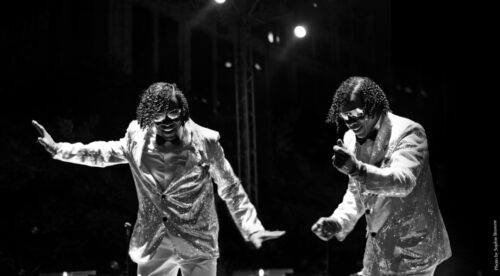 Always Grinding, Always Teaching
Today, we are a multiple award-winning street dance pioneer duo from Boston teaching workshops at schools and dance studios around the country, and have headlined some of the biggest festivals in the country such as:
Jacob's Pillow "Unreal Hip Hop" & Inside/Out Dance Festival, Brooklyn Dance Fest, Rochester University, Southern Vermont, Dance Festival, Colby College, NYC Town Hall, UraGano Italy, Concepto Vimen Mexico, Wembley Arena, Singapore Indoor Stadium, TedX Talks Boston, David White's Tap The Yard, Dance The Yard, DanceNOW Boston, DanceNOW NYC, Joe's Pub, Dixon Place, The Dance Hall, The Music Hall Loft, PAC Center of Martha Vineyard, and The Lincoln Center.
We are six-time winners of "Showtime at The Apollo" and performed a record breaking sixteen appearances on the Apollo Stage in Harlem, New York. There we had the pleasure of sharing the stage with our presenter and iconic comedian/actor, Sinbad.
We have proudly performed as special guests with Maurice Hines', "Club Harlem", at the Apollo Theater and toured internationally with Bobby Brown's, "Don't Be Cruel" USA/UK tour and Purple Rain's co-star Apollonia's, "Since I Fell For You" tour in Singapore.
Many accomplishments for our work are centered around community work. Thus, we have received highlighted recognition from Berklee College of Music Artists for Social Change (2019), Official Resolution Award by City Councilor Kim Janey (2020), and The Sojourner Truth Award (2013).
In 2012, we received Boston's Pioneers of Dance award by OrigiNation (other notable recipients of this prestigious award are Complexions Cofounding artistic directors Desmond Richardson & Dwight Rhoden of Complexions, former principal dancer of Alvin Ailey Dance Theater Renee Robinson, best-selling author/scholar Dr. Michael Eric Dyson and Actor Terrance Howard.)
"With the technical facility of hip hop, the sophistication of the glory days of the Cotton Club, the flash of Rat Pack era Las Vegas, and elements of vaudeville, robot, tap, and mime, The Wondertwins create a distinctive style all their own". This perfectly describes us as we have had the opportunity to perform all across the globe presenting magical shows on stage!
Former Alvin Ailey American Dance Theatre executive director, Judith Jamison has praised us as, "Absolutely beautiful, strong, powerful, and electric…made for Broadway." Maurice Hines noted that we, "Dance in the same spirit as the great brothers of dance before them". Star of stage and screen, Marge Champion stated after seeing us for three nights, "You were with us". This statement precisely exemplified the embodiment of referring to the feelings she had as she and Harry Belafonte traveled performing together during America's most hostile racial times.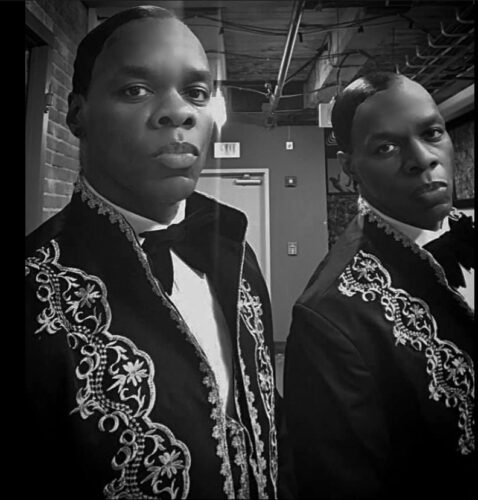 ***
The Wondertwins are a trademark of Hip Hop globally. Today, Billy and Bobby McClain are celebrating 40 years of professional dance with 25 years as educators in Boston Public Schools.