Former NEPC and Super Bowl Champions Zoe Bucuvalas & Julia Scaparotti are used to winning on big stages. After being handpicked by Jamie Foxx for his FOX Entertainment game show, could the duo next 'Beat Shazam'?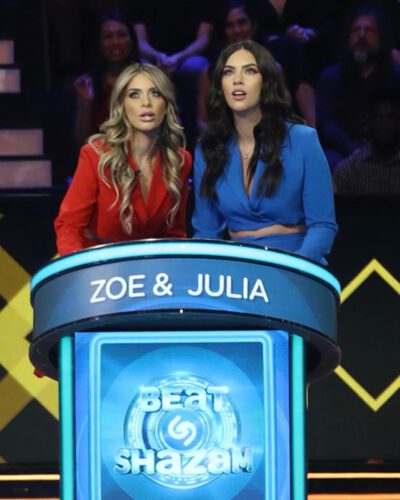 THE season finale of the latest season of Fox's hit game show, "Beat Shazam," had some local flavor as it featured two Boston women: Zoe Bucuvalas and Julia Scaparotti.  Each episode has three teams of two players each, and they compete through four rounds to identify a series of songs.  Along the way, the teams bank money for each correct answer.  In the final round, the highest-scoring team competes directly against the Shazam app as they try to correctly identify each song before the app does over the course of six rounds and increasing their winnings along the way.  Any team that beats Shazam on all six songs wins a grand prize of $1,000,000.
It was just the latest adventure for this duo, who met when they both became cheerleaders for the New England Patriots and have been best friends ever since.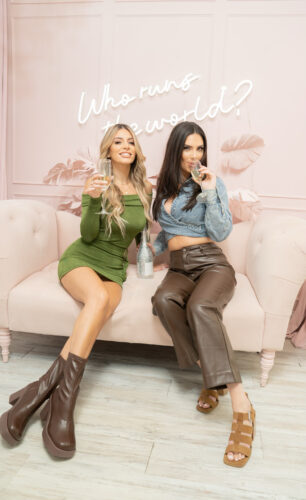 "As soon as I met Zoe, I was taken aback by how supportive she is," said Julia.  Though they're both known for being competitive, it's never been with each other or at the expense of others.  "She is loyal, never jealous, and is always empowering other women.  We get along so well because we understand that we are stronger together, and that there is room for everyone to be successful."
Their friendship blossomed as they experienced a lot of success together; Zoe and Julia were a part of a Super Bowl-winning squad together and over the years have modeled together and even created a co-hosted a pop culture-themed podcast. So when Julia came across a casting call for "Beat Shazam," she immediately signed both of them up.
"She called me up randomly months ago and said 'I put in an application for us to be on a game show,' and I was like 'what?'" said Zoe.  But with her background in TV and comfort in front of the camera, and trust in Julia's adventurous nature, "my immediate response was 'yes, let's do it!'"
Julia had a pretty good feeling that would be her response.  "Honestly, no matter what the challenge is, Zoe and I are always up for it," she said.  "Together, we can do literally anything.  Put us on a deserted island, and we would survive."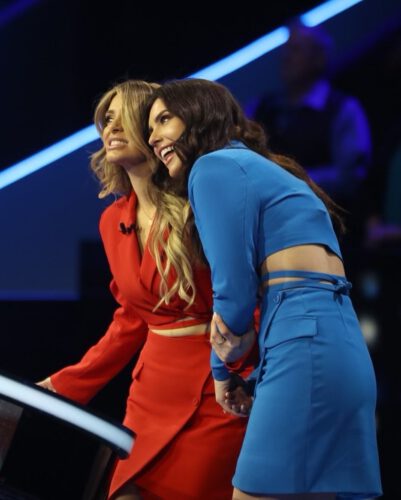 "Beat Shazam" was right in their wheelhouse.  "We're both very competitive and we love to win," said Zoe.  In addition to that aspect of the show, both of them had grown up listening to a wide variety of music genres with their families, from pop to classic rock to disco, and with their dance and cheerleading backgrounds, learning the words to songs was the way they'd memorize their routines.  They were chosen by Fox to participate in an audition, and from there they were picked as contestants on the show.
Usually, the show is filmed in California.  But the season they were selected for was set to film in a location the show had never filmed in: Ireland.  Once Zoe and Julia found that out, they began to suspect their team had someone special looking out for it: Zoe's late mother, Mary, who passed away in December of 2020 after a battle with ALS.  Before Mary had gotten sick, she and Zoe were planning a trip to Ireland.
"When I found out it was going to be filmed in Ireland, I thought I would love to go and share it with Julia because it was something I'd wanted to share with my mom and I couldn't," said Zoe.  "So it was special to find out it was being filmed there, and to go through it all with my best friend."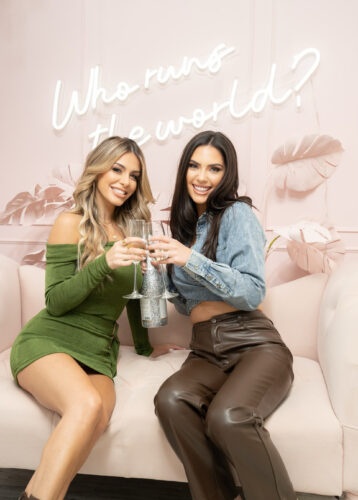 As the show is, of course, also a game, there is some strategy to it.  Both of them knew where their strengths were with particular genres of music, and they discussed who would take on each one if it came down to one person.  Once the contestants reach the final round, they have the choice of walking away with all the money they've banked up until that point or continuing on with the risk of losing some of it but also the potential reward of the grand prize.  This was something they had thought about and discussed before going to Ireland to film.  They both came to the same conclusion with their approach.
"We decided we were going to go for the big prize no matter what," said Julia.  "This was a once in a lifetime opportunity, and we were going to take the risk."  As Zoe simply put it, and would come back to at different decision points of the show, "go big or go home."
Zoe wanted to take it a step further if she found herself a winner: she planned to donate some of her portion to the Peter Frates Family Foundation.  Pete Frates famously fought the same disease her mother had, and his family started the Foundation to assist progressed ALS patients and their families with the overwhelming costs of healthcare.
"I definitely wanted to give back in some way," said Zoe.  "That's how my mom raised me, and kind of what you're used to doing as a Patriots cheerleader.  There's a huge focus on giving back to the community.  It felt like the right thing to do."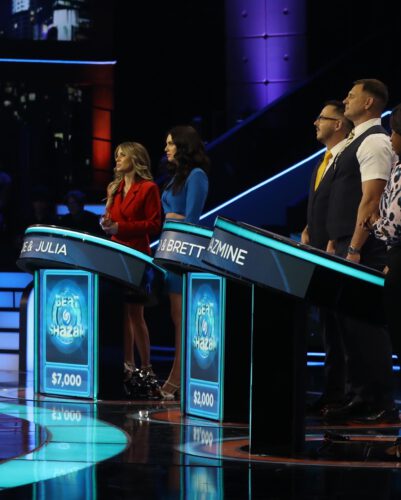 With determination and focus, the girls set off for Ireland to film.  Zoe's boyfriend and Julia's fiancé came with them and got to be in the audience when the episode was filmed – the contestants all had to sign nondisclosure agreements and weren't able to divulge anything that had happened with anyone else until the episode aired, so it was nice for both of them to be able to share it with them.
"It was definitely hard to keep the results from my parents," said Julia.  "I tell them everything, so it was difficult to keep such a big secret from them."
The team at Fox had heard about their Patriots cheerleading days, and the hosts played off of that for the episode.  "Jamie Foxx is exactly what I thought he'd be," said Zoe.  "Super nice, fun, awesome host.  And Corrinne (his daughter, who is the DJ) was so sweet and beautiful and lovely."  At the beginning of the episode, Jamie and Corinne did a cheer routine with them and at the end, Zoe and Julia brought Corinne a pair of pom poms.  The episode itself ended up being titled "Shake Your Pom Poms!"
One of the most memorable moments for both of them came from an off-handed comment Jamie had made during the filming.  It all came back to the person who was on their minds the whole trip and who had exposed Zoe to so much music throughout her life so she could be in the position they were in: Mary.  She had been a big fan of action star Jean Claude Van Damme, so much that when Zoe wrote her eulogy and included all the things she'd loved, he was mentioned in it.  When it came time to read it out loud at Mary's funeral, Zoe was too emotional to get through it.  Of course Julia took over.  She'd never heard of Jean Claude Van Damme and mispronounced his name, which made everyone laugh.  So when they were on set and Jamie said something about Jean Claude Van Damme, they both immediately looked at each other.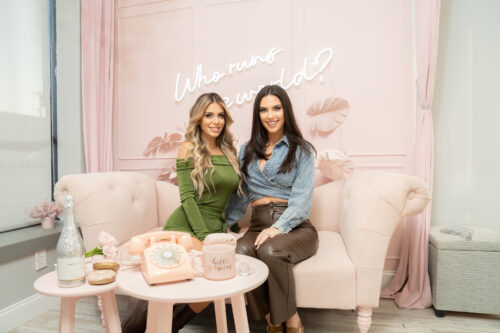 "Mary was definitely with us throughout the whole process, and I can't believe she was able to possess Jamie Foxx to give us a message!" said Julia, who still doesn't know how to pronounce his name.
With some divine intervention and staying true to their competitive, fun-loving nature, Zoe and Julia kept getting the song names correct and moving further along until they got to the final round.  They could have stopped there and pocketed the winnings they'd gotten so far, but it wasn't even a question in either of their minds in that moment.  They knew exactly what they wanted to do: big or go home.
The category of music for that round was R&B; since they both felt like Zoe knew those songs better, they decided she should be the one to take on Shazam.
"I kind of blacked out," said Zoe.  "You only have one or two seconds to identify a song, so everything happens very quickly."  For Julia, it was the same.  "It was an out of body experience," she said.  "When I was finally able to watch the show, I kept thinking, 'wow, we actually did that.'"  They don't even remember all the songs they had to correctly identify in order to win; the only one that sticks out is the one that Zoe got right to win it all for them: "Just The Two Of Us."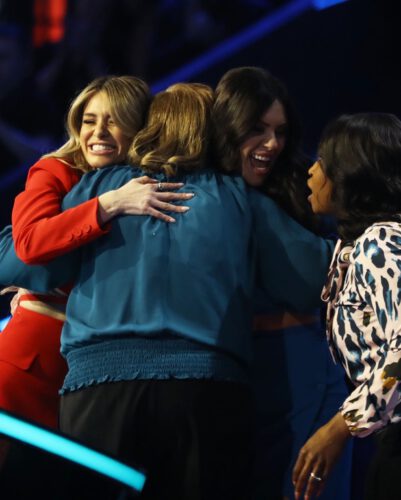 "I'll always remember that one," said Zoe.  "It's our song now." They won $152,000, some of which Zoe donated to the Peter Frates Family Foundation.  Leaving the set as winners and keepers of the secret that they had won, Zoe and Julia set off with their significant others on an extended Ireland trip. "Let's just say we drank a lot of Guinness!" said Julia.
Their families and friends had no idea they'd won until the episode aired and they were all able to watch it together.  "That made it all the more fun," said Zoe.  "I think they probably thought that we lost, because they were shocked we didn't say anything.  It made it kind of more exciting."
So what's next for the dream team?  "We're very adventurous," said Zoe.  "As opportunities come up, we kind of just go with it."
"As life goes on, I know Zoe will always be by my side," said Julia.  "I consider her a sister, and whatever life throws at us, it's nice to know I have someone like her in my life as support."