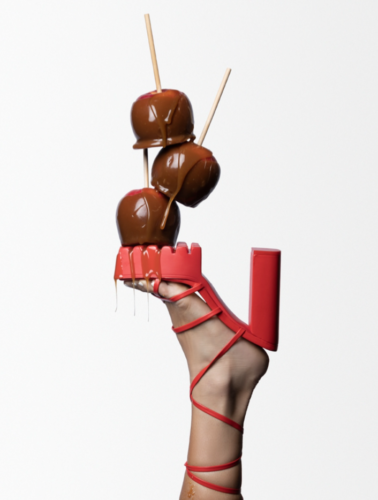 BY MOST accounts the Caramel Apple first surfaced in 1936 in the Pacific Northwest of the United States. Hard candy apples had been around since the turn of the century, but it wasn't until Hunter's Candy in Idaho decided to dip their candy apples into a coat of caramel that this delicious new treat was born. 
During World War II, the Caramel Apple was a popular delight for soldiers -regularly being shipped overseas to England, Korea, and Japan- offering them a sweet respite from the hardships of war. 
Over the years various bakeries and candy shops added their own twist to the Caramel Apple, and then in 1960, Vito Raimondi patented the first automatic Caramel Apple making machine, replacing much of the process that involved production by hand. 
 FAST FORWARD to 2022. The Caramel Apple has been a favorite of mine for as long as I can remember and I decided it was time to balance a ternate of this confectionary on my foot!  
So we visited Custom, Cakes, and Sweets in Braintree where owner Liz Perez has nurtured a delectable bakery, offering up some of the tastiest Caramel Apples in the area! 
To be honest this one was actually extremely difficult to execute, from start to finish though. 
A recurring theme in a lot of our MoH shoots is the utilization of two (very) reliable and staunch resources: a dowel to help sturdy a stack, and the pointer finger of my creative partner, photographer and stunt man -Tucker Friend.  
For this shoot BOTH were needed to pull it off! 
Once our dowel x finger combo were able to gently hold the apples in place we carefully proceeded to fill any visible gaps by squeezing additional caramel from a bottle.  
The caramel 'drips' on my leg were strategically placed as well to aesthetically enhance the photo. 
Even final edits in photoshop were a little more tedious than normal, but in the end we absolutely loved the finished image. 
Pretty sweet, right? 
***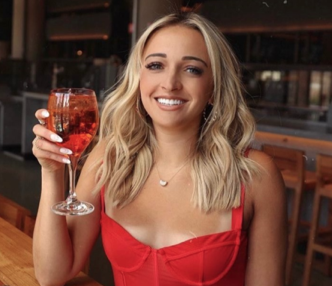 Brittany started The Boston Food Journal in late 2015. With a degree in biomedical engineering and a background in software management, she wanted to create a platform that combined her skills and experience in technology with her long-time love of food and art. Growing up, eating was always a symbol of love, family and togetherness. When she moved to Boston in 2014, she was enamored by the authentic food scene and on a complete whim started The Boston Food Journal. 
In late 2019, Brittany resigned from working her corporate 9-5 to pursue the Boston Food Journal full-time and launch her digital marketing agency, Eleven Seven Media. At Eleven Seven Media, Brittany and her team craft custom digital strategies for clients across multiple verticals, leveraging both creative expertise and analytical insights. Learn more →