The Tomahawk Challenge
#BFJMealsonHeels by @bostonfoodjournal is a creative, ongoing art series that combines Brittany's love of food with her love of fashion and style.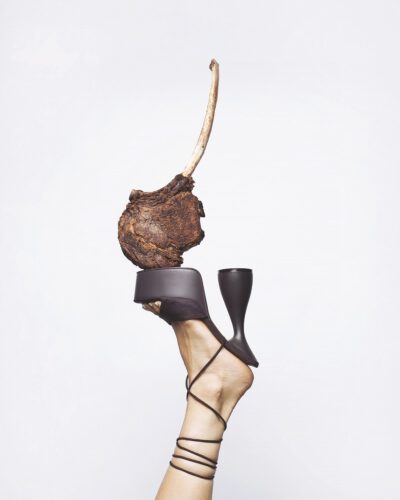 I launched this unique campaign earlier in the year when we were all spending more time at home. I wanted to find a creative way to promote some of my favorite foods in a unique and fun photo series that would be eye catching, engaging, and different (differentiating yourself in the digital industry is huge).
Eventually, the series caught on and my friends, family and followers would suggest different ideas. There was one request that kept coming up consistently: everyone wanted me to balance a Tomahawk steak on a stiletto.
Honestly, there's nothing I love more than a creative challenge. So, after launching the series balancing McDonalds French Fries, donuts, pancakes, pasta, and even cotton candy, I knew it was time to go big or go home.
At first, I couldn't envision how to make an awkwardly shaped Tomahawk steak look elegant on a heel, but I knew I'd be able to rise to this challenge with my creative partner.
After ordering the perfect pair of dark brown, retro heels, next up was finding the perfect steak.
I immediately reached out to my friends at Ocean Prime in the Seaport.
Ocean Prime is easily one of my favorite spots in the city. Everything on the menu is delicious – from their cocktails to the seafood, steak, and dessert. My go-to order is the Bubbles & Berries cocktail, scallops, and their famous butter cake dessert (#ThankMeLater).
Ocean Prime is open for lunch, has a spacious patio that's great for people watching and is a fun, elegant spot to hit up on a Friday or Saturday evening for a night on the town.
Without hesitation, my friends at Ocean Prime were excited to collaborate and supply the steak for the shoot.
With each shoot comes both excitement and anxiousness. I'm always eager to nail the perfect shot, but that requires a LOT of focus and creativity. Most importantly, I always need to make sure I keep my leg straight enough and properly angled to balance the food on my heel. But, since I've done this a few times now, I'm more used to the feeling and process.
Make no mistake, I'd say we nailed it. Also don't worry, no steak was harmed during this shoot.
What should I balance next?
Image used with permission of The Boston Food Journal & Brittany Di Capua
***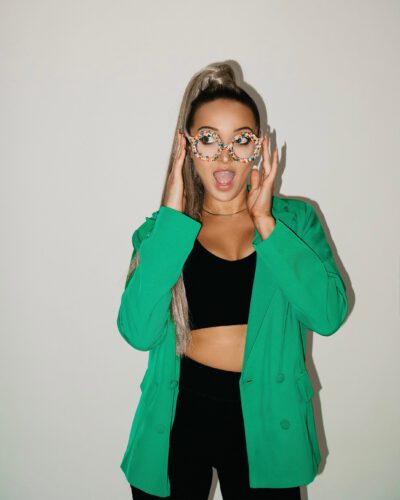 Brittany started The Boston Food Journal in late 2015. With a degree in biomedical engineering and a background in software management, she wanted to create a platform that combined her skills and experience in technology with her long-time love of food and art. Growing up, eating was always a symbol of love, family and togetherness. When she moved to Boston in 2014, she was enamored by the authentic food scene and on a complete whim started The Boston Food Journal. 
In late 2019, Brittany resigned from working her corporate 9-5 to pursue the Boston Food Journal full-time and launch her digital marketing agency, Eleven Seven Media. At Eleven Seven Media, Brittany and her team craft custom digital strategies for clients across multiple verticals, leveraging both creative expertise and analytical insights. Learn more →