This Southie-based startup co-founded by three University of New Hampshire alums has sold over 1 million cans of their non-carbonated "boozy water," and they're just getting started.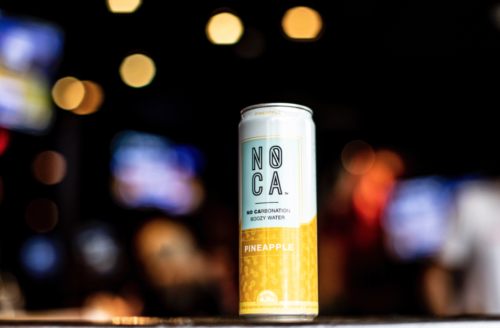 It's a Thursday afternoon in late July and the new headquarters of NOCA in Southie is bustling with activity.  The three co-founders of this bubble-free boozy water, Galen Hand, Rich Roy and Alex Febonio, are all at their desks and on their phones.  They'll leave for a little bit to get their pictures taken, but they don't have a ton of time.  Their intern, also Alex, is buzzing around the office trying to get everything ready for their next promo event the following day: Summer Bash with Tuscan Kitchen in the Seaport.  There's always a next event.  Whether they're at some organized party or just spending time with their friends and family, they're never "off the clock" – usually people are drinking and the three of them are always promoting NOCA.
They're all wearing dark jeans and branded NOCA t-shirts; they swear it's not just for the photos, but something they do every day.  "I don't have much of a wardrobe outside of NOCA," admits Alex.  They've just moved into their new office, a studio space in the same industrial building that they were renting out a basement unit in before.  They claim it had a window, but not much else.  This one has a few, and is on the top floor.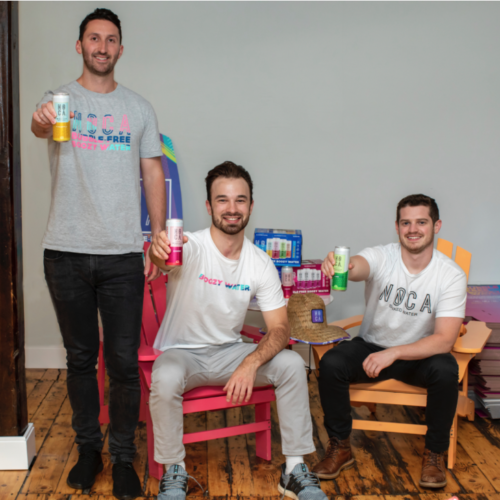 They're still unpacking from their move three weeks before, but it looks the way you would imagine three 27-year-old guys and friends from college who co-founded a startup together and spend all their time trying to grow it would decorate: a long table running through the room with a variety of merch and random items placed on it, three desks side by side – but with enough space between them – towards the back wall of the room, shelves overflowing with the same kind of stuff, a corner with unassembled NOCA-branded boxes that they send packages to influencers in, a couch that would not have looked out of place in the UNH dorm room that Alex and Rich once shared, and three neon-colored Adirondack chairs heavily featured in NOCA's Instagram stories and TikToks.  It's still an improvement from what the space looked like before.
"There was paint all over the walls," Alex explains.  "It was an art studio before this.  The floors were covered in paint. Now it looks totally different."
Not one of them could have imagined when they met in the Atkins Investment Group at UNH, back when their years-old group text was more about finding the best party on a weekend than trading startup ideas, that they'd be sitting there on their neon Adirondack chairs to share their story for a feature article on the successful, up-and-coming company that they'd co-founded together.  But the more they talk about their backgrounds, it seems this moment was inevitable.  They're the sons of entrepreneurs: Alex's father was a used car salesman with his own lot that Alex grew up working on, Rich's parents had a restaurant and his dad "always found a way to make a dollar on the side, whether it was plowing or real estate," and Galen's parents always encouraged him to do whatever was going to make him happy.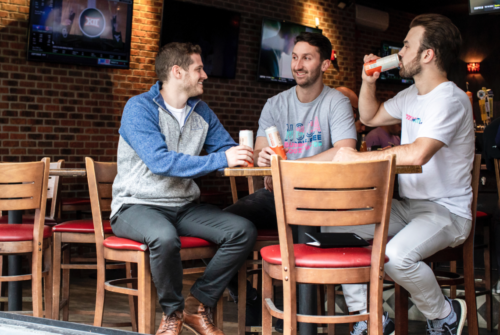 They all tried the traditional route first after graduating from UNH in 2016: Rich went into investment banking with Goldman Sachs in New York, Galen also worked in investment banking in Chicago, and Alex worked first in wealth management and hotel acquisitions in the Boston area.  Galen was the first to break away.  "A lot of our clients were founder-owned businesses," he says, "and I started seeing more of myself in the entrepreneur than my boss."  He drove back from Chicago to New Hampshire and moved in with his dad, unsure of the next step but with the conviction that he'd find the right thing.
Alex was still working at his corporate job when they all came up with the idea for NOCA and began working on it. "It was definitely a point in my life where I was like 'okay, this isn't working for me, I need to get the hell out of here."  Rich, who had spent plenty of nights at Goldman Sachs sleeping under his desk, came to the same conclusion shortly afterwards, and NOCA became their full-time focus.
They all laugh when the origin story for the idea of NOCA comes up – it's become something of an urban legend in their history.  Somehow, word started going around from one of their interviews that Galen had come up with the idea while mowing the lawn at his mom's house and drinking a White Claw.  It stuck, but it isn't exactly true. "I was not mowing lawns at the time," Galen insists.  It's something he used to do growing up; the yard was huge and his mom would always prepare a large glass of ice water with a slice of lemon for him when he was done.  This was the experience he drew on when he came up with the idea of an alcoholic seltzer without carbonation that anyone could easily drink.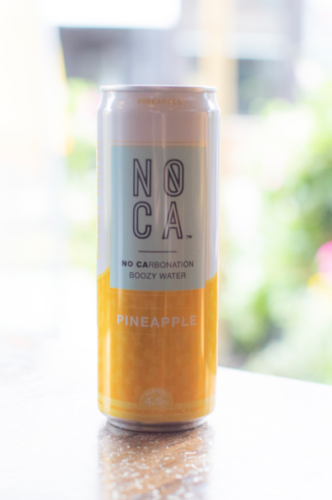 "Everyone I knew drank seltzers," says Galen, and he was encouraged by the things he would read about alcoholic seltzers from a growth perspective.  The group text had had some  "ridiculous ideas" thrown out on it over the years, but when Galen brought up his idea for an alcoholic drink without carbonation in it and asked Alex and Rich, "is this crazy?" they both said "no."
"We took hard seltzers and simplified it even further, so when you say it, it sounds a little silly," says Alex.  "But when you drink it, it makes a lot of sense – boozy water."  Galen would go to the grocery store and buy seltzers, and Google how to decarbonate them.  They experimented with a bunch of different formulas until they had one made for their first sample.  "I remember standing in [Alex's] apartment," Rich said, "and we said 'if these suck, we're all going back to what we were doing, and if they're remotely OK we'll keep going.'  And after we sipped it we all looked at each other and basically burst into tears laughing, like 'these are so good.'  That's when we knew."
Fortunately, a lot of people agree.  Their UNH connections helped them with distribution and as it caught on, investors saw the potential and wanted to be a part of it as well.  They'd started calling it NOCA simply for "no carbonation," and it stuck.  They launched in New Hampshire and Massachusetts in the spring of 2019.  Alex, Galen and Rich had been living at home and financing most of it on their own up until that point.  They moved their operations to Southie when they found their old 500 square feet basement space, wanting to be in a place where they could "build a culture around our brand."  And they certainly have – they've now sold over 1 million cans of NOCA, which is available at Roche Brothers, Market Basket, Hannaford, Shaw's, Kappy's, Price Chopper, Big Y, and many more.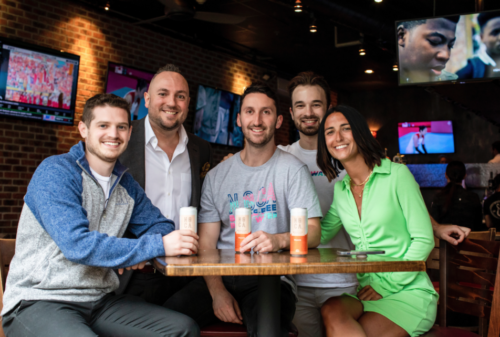 But they feel they're just getting started.  Growing the brand in the Southeast is the next immediate focus; with the weather not quite as seasonal, they think it would do really well there.  They want to be on the West Coast too.  "We have so many places we want to be," says Rich.  "We have huge aspirations."
"A million cans sounds like a huge number, but it's nothing for White Claw," says Alex.  "The players in our space are massive."
Indeed, growing their brand in the alcohol industry is a 24/7 job, and they'll go just about anywhere to do it.  "When someone's making a decision in the store, if I've made a personal connection with somebody, even if it's their friend who's grabbing something they might be like 'oh, can you grab NOCA?' Shaking hands and introducing ourselves – that stuff matters a lot," says Alex. "It's also a good time to let loose, have fun, enjoy people who have supported us and show our appreciation to them."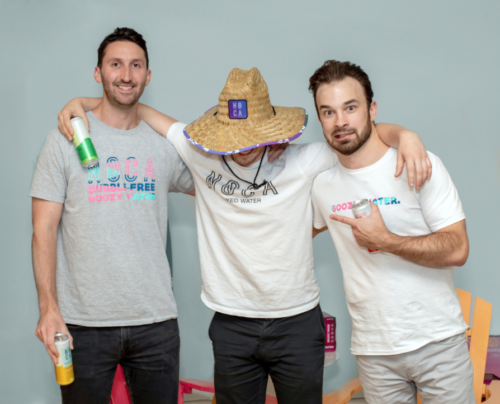 And it works.  "We look like a big brand, but it's really just us and our sales team," says Alex.  The NOCA merch everyone loves?  In a pinch, there's a good chance one of the co-founders quickly made it on the vinyl heat press sitting on one of the shelves in their office.  "Very startup," says Alex.  They're still at the point in their journey that they all wear every hat and will do whatever is needed at any given moment.  In a world full of seltzers, they're determined to stand out as the anti-seltzer.
Though their passion and drive is unmistakable, their friendship is the driving force behind NOCA's success.  Although the guys work together and the job is all-consuming, they also spend a lot of time together socially and insist they're not sick of each other.  When the house Rich was originally living in during their senior year at UNH was robbed, he took his mattress and, without a word to anyone, walked down the street to Alex's house, where he was taken in as a roommate without hesitation.  Galen and Rich will be by Alex's side when he marries his longtime love, Alexys, later this summer.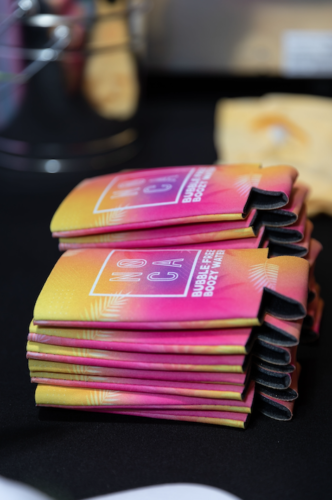 They walk over to Stats, which is close to their office, for the photo shoot.  Rich trails behind the group so he can take a call before it gets started.  Stats has been known for a while as a High Noon bar after Barstool promoted it so heavily – and their demographics are similar.  But NOCA has started to sell there, too.  "I think our demographic will keep spreading the word," says Galen.  They each order a NOCA from the bar for their photo shoot and, after opening them to make it look more realistic, Rich and Galen had finished theirs in about 2 minutes, while they poked fun at Alex to catch up.
There are a ton of High Noon umbrellas set up at the outdoor tables, but sprinkled in the makeshift patio you can clearly spot a few NOCA umbrellas as well.  As we walk by, the guys talk about the day when NOCA could be the prominent beverage and umbrella at outdoor patios everywhere..  And why not?
"We've just begun to scratch the surface," says Alex.