Devin and Jason McCourty are much more than just the first twin brothers to play in — and win — a Super Bowl. On and off the field, they represent the best of Boston and the best of their country: hard-working, big-hearted leaders.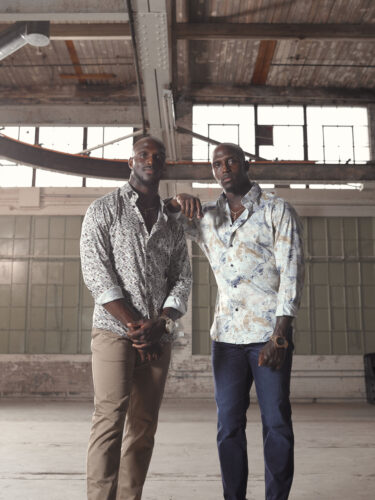 When you speak with either of the twins — New England Patriots defensive backs Devin and Jason McCourty — you sense the word immediately. When you speak to both of them at the same time, about any topic, that whisper in the back of your mind turns to a full-blown roar. What's that word? Leaders.
"Since I joined the Patriots (in 2010), I've spent so much time with leaders like Matt Slater, and what we've always talked about is relationships," says Devin McCourty, a three-time All-Pro and three-time nominee for the NFL's Walter Payton Man of the Year Award. "It's about building relationships, standing up, giving a helping hand — whether you're in the locker room, you're being a husband or father, or serving others. When you build people up, it goes both ways: they build us up."
Jason McCourty, heading into his third season in Foxborough and 12thin the NFL, amplifies Devin's thoughts. "We all look to each other for motivation in the locker room," says Jason, a 2015 nominee for the Payton Award. "When I came into the league in Tennessee, I had Cortland Finnegan and Chris Hope showing me how to do work both inside the building and in the community. When Devin came into the league, we wanted to make an impact off the field. When you're genuine about the work you're doing — on the field or off — people see it."
As they close in on age 33 — their birthday is Aug. 13 — the McCourtys agree that 2020 has been one of the most challenging years in their lives. From the pandemic to early summer's national uprising over police brutality and systemic racism — and to Devin and his wife Michelle suffering through the stillbirth of a girl who would have been their third child — it's been one challenge after another.
Both Devin and Jason remain unbowed. Not only are they both preparing for the 2020 NFL season — one that few have any idea what it might look like or even if it might happen at all — but they also continue to serve their families (Jason and his wife Melissa have three children, while the McCourtys' mother Phyllis also plays an integral part) and community through their Tackle Sickle Cell campaign. And they even continue to find time to inform and entertain: their "Double Coverage" podcast, which debuted two years ago, is gaining new listeners every week.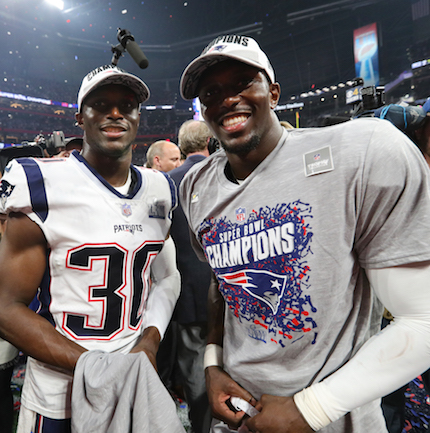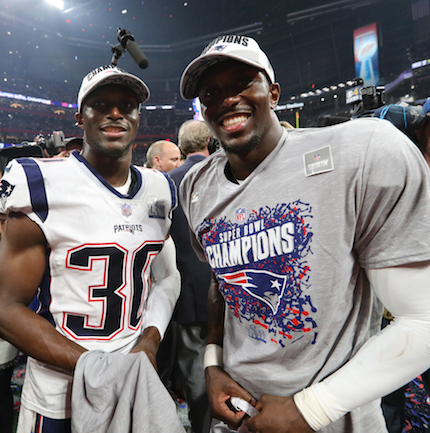 Inseparable From the Start
The McCourty brothers grew up in Nyack, N.Y., raised from age three by their mother Phyllis Harrell. Their father, Calvin, was just 34 when he passed from a heart attack related to complications from asthma in 1990. Their older brother Larry White, Phyllis' first son, was in the U.S. Army and served in Desert Storm. It is this group that's the cornerstone for each brother's success.
"Dev has always said, 'Anything we do off the field, we owe it to her,'" says Jason of his mom, who retired from her career as a nurse in 2010. "You don't realize until you get older what it means to have a parent who supports whatever dream you have. It's everything. Whether it was to be a lawyer, doctor, schoolteacher, or an NFL player, she wanted to push us toward our dream."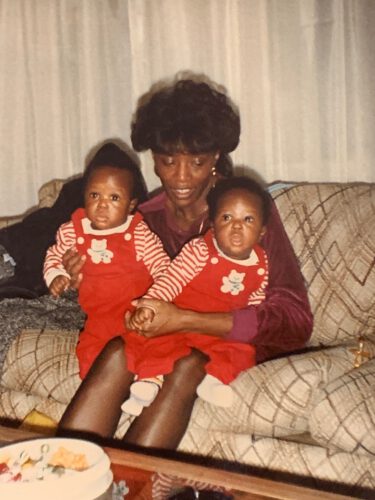 Devin adds, "When you're young and lose your father, but you never see your mom waver? You owe it to her and to yourself to learn and understand how much she sacrificed as a person. We're a reflection of her and all she's instilled. There's no 'us' without her. She has always encouraged us. Every day, I try to pass that on to my kids."
Both brothers recall "countless hours" of Harrell driving them to and from practices and games, often with White joining them. "She had these printed-out MapQuest directions that took us across New Jersey and New York," Jason recalls. "And she was willing to do that every day. She taught us from the start: 'It's not how you start. It's how you finish.' Our careers are made on that."
Devin agrees, adding, "Football has always been a family thing. Our lives have been wrapped around each other and football, since we were kids. From Pop Warner to high school to college — it was the four of us doing it all together."
The twins played high school football at St. Joseph's Regional High School, a Catholic school in Montvale, N.J. Jason was the more heavily recruited player coming out of high school — but with a nudge from their mom, then-Rutgers coach Greg Schiano offered scholarships to both. The next four (Jason) to five (Devin, who redshirted as a freshman) years in New Brunswick, N.J., were transformative.
"We did a lot of growing up at Rutgers. Being born in August, we were young for our grade throughout school," Jason recalls. "We weren't 18, so mom had to sign our LOIs (letters of intent). We really went in there as kids. We met our wives there, and we came out of there as men. That kind of journey holds a special spot in your heart. You knew what it took to grow there, and how you learned to overcome obstacles. Rutgers always will be a special place."
Devin agrees about the university, where the twins delivered the annual commencement address in 2019. "Rutgers is a big part of who we ended up becoming," he says. "You don't get to where you're at just because of hard work or bright ideas. I believe that God is in your life, placing you in right place at right time. Rutgers was the only college visit we had together. Jason was choosing between Rutgers and Boston College. But spending the time together at Rutgers gave us the chance to have that family atmosphere. It was the right place for us, and we want to make sure we stay attached, so that Rutgers gets that recognition."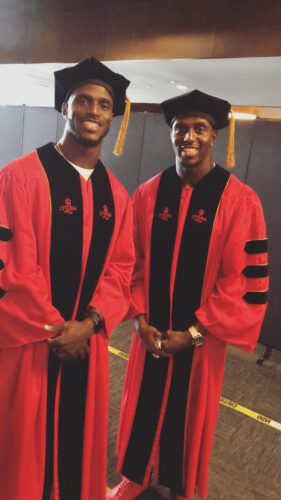 A Decade Apart
After spending three seasons as a starting cornerback for Rutgers, Jason was selected by the Tennessee Titans in the sixth round of the 2009 NFL Draft. He spent much of camp battling for a roster spot against a group of rookies and veterans before earning the nod as the team's No. 4 cornerback.
Jason was so unsure he'd make the team in that first camp, he actually lived in an apartment more than a half-hour drive from the Titans' facility "since it was cheaper."
He adds, "I just wanted to make the team. My wife could probably write a best seller about my emotions during the past 11 years in the NFL. I learned so much from (Titans teammate) Cortland Finnegan from the very start of my career, and one thing that's always stuck with me was when he told me his goal was that, when he retired, he could say, 'I exceeded my own expectations when I entered the league.' That became my goal."
Jason spent eight seasons with the Titans, having his best statistical years from 2011-2014, averaging 86 tackles, two interceptions, and starting all but one game. His second NFL contract, a six-year, $43 million deal signed in 2012, was a big reward. He was a team captain in 2015, but he was released by Tennessee just before the 2017 NFL Draft.
"I'd gotten the second contract. I was a leader, a captain. Then, I got released 10 days before the draft," he says. "I was appreciative of my time in Tennessee, but still angry.
He signed a two-year deal with the Cleveland Browns, but only lasted one season — a memorable (for the wrong reasons) 0-16 campaign. "A lost year in Cleveland, that's a great way to characterize it," Jason says. "You learn so much through adversity, though. I'd been through 2-14, 3-13 seasons in Tennessee. You start asking yourself, more and more, what can I do to be the change? It built character, for sure."
As a Brown, Jason had perhaps his best season in three years (14 starts, 65 tackles, three picks). But, as a competitor, he wanted more. "I went into Cleveland with a lot of doubt. It was important for me, despite the team's problems, to find my own success, to show myself I could still do it," he says.
Meanwhile, in a role reversal from their college recruitment, Devin was a prized NFL prospect after earning All-Big East first-team honors as a senior cornerback. The Patriots selected him in the first round of the 2010 draft — and he produced immediately, recording a career-high seven interceptions as a rookie and All-Pro notice.
Still, not playing with Jason was an adjustment — for Devin and the family. "We'd had the year apart when I was still in college," Devin says. "But both being in the NFL, on different teams, was a change. The family had to adjust to rooting for different teams. I was lucky to have the immediate success that I did."
He's started all 16 games in seven of his 10 seasons in Foxborough, shifting to free safety midway through his third season. He's averaged 77 tackles, including a career high 97 in 2017. And in three Super Bowl title runs (plus two other Super Bowl appearances), he has had some standout postseason moments.
Devin is also part of an elite group in NFL history: he's one of only three players to earn All-Pro honors as both a cornerback and as a safety. The other two: Hall of Famers Ronnie Lott and Rod Woodson.
"It's easier when you realize that when you're on that list, you're the worst one," Devin says jokingly. "But it's awesome being mentioned with them. Ronnie Lott was one of of the most feared and physical safeties, while Woodson one of the most versatile. I find it hard to believe I'm in the same group with these guys."
After spending 10 years apart on the playing field, though, the Browns dealt Jason to the Patriots in March 2018. "To come full circle to play together again in 2018, we took every moment as if we'd never get it again," Devin says. "It was like the old days, driving to practice together, driving to games together."
Jason adds, "Thinking back to playing Pop Warner, how we'd go over plays before the games, then we'd come home, watch film, and talk about the game. To have that chance again in 2018, after 10 years in the league? A dream come true."
It was Devin who broke the news that the Patriots were trading for Jason — to both Jason and their mom. "I remember, Devin called and just said, 'Welcome to the Pats!'" Jason says.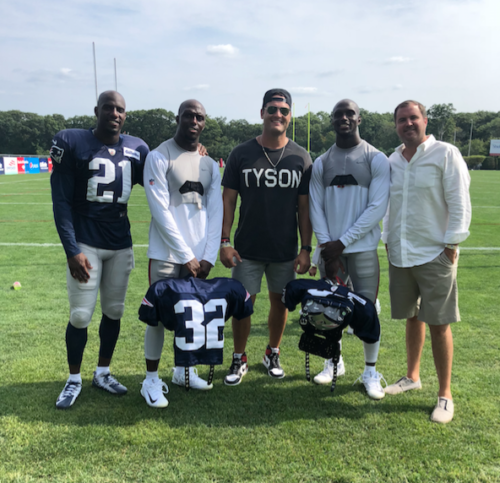 After battling to make the team, Jason ended up starting 12 regular season games and the postseason. He tallied 70 regular season tackles (Devin had 82) — and when the Patriots rallied to beat the Chiefs in overtime in the AFC Championship Game in Kansas City, he was headed to his first Super Bowl as a player.
"I remember every second of the lead-up, from the end of the AFC championship game," Jason says. "I remember talking to my wife about the four times we had been a part of Dev going to the Super Bowl. But realizing that now that it's my chance, I'm going to enjoy every moment: logistics, tickets, hotels, etc. The whole two weeks leading up to the game — practice, media day — it was all so cool to me."
On the other end, Devin was heading to his fifth Super Bowl. "All of that lead in, I had done it, and it felt more like a grind," he says. "You have to do it. But, with us being so close and this being his first time, he gave me — and everyone on the team, really — a fresh perspective: enjoy the moment."
The game itself was a defensive grind, with Jason making a key pass breakup in the end zone with the Patriots holding a three-point lead in the third quarter. As the clock wound down on New England's 13-3 win over the Los Angeles Rams, the emotions were overwhelming.
"I remember sitting on the bench, then taking a knee and taking it all in in the final seconds," Jason says. "I remember Dev looking at me, and we embraced. I remember finding (defensive tackle) Danny Shelton — we'd been 0-16 in Cleveland just the year before — I felt special and blessed."
Devin adds, "It was like watching yourself win a Super Bowl — watching him, seeing him on that knee. I remembered my own past and thinking this moment would never happen for us. I was so grateful for everything being given to him in that moment."
Giving Back — and More
Off the field, the McCourtys bring the same passion to all of their interests, including their "Double Coverage" podcast that launched shortly after the kickoff of the 2018 season.
The twins' agents at Malka Sports — Kevin Malast, vice president of talent, and Pat Capra, president and CEO — had pushed Devin and Jason to start the show before Jason joined the Patriots. "Once we got together on the Patriots, Pat came back to us and said this was a great opportunity for a weekly show," Jason says. "We started to brainstorm, realizing we could produce the show in Devin's basement."
Devin adds, "It's a lot of fun to be able to do something like this together. I remember before the first show, we were writing down all these topics to make sure we didn't run out of things to talk about. Then we started recording, and it just flowed — we had way too much written down! Some of the best episodes have been learning about our friends across the league and their stories."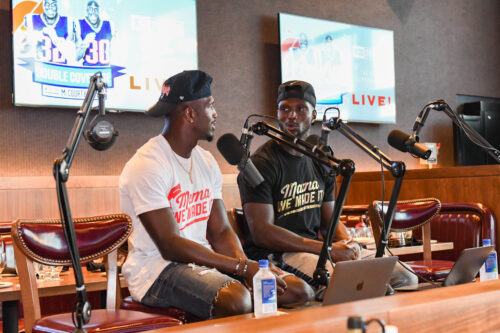 Both have considered media opportunities as a possible post-career path, so the podcast has allowed a no-pressure way to explore that and "create a portfolio," Jason says.
"It gives fans another opportunity to learn another side of sports, to be our own media outlet," Devin adds. "We've listened a lot to Chris Long's podcast. He and the guests are so free and open. That's what we're trying to do."
A new episode debuted weekly during the 2018 and 2019 seasons, and the plan was to return in September 2020 for a new season. Then the pandemic happened. Working with the new Fancred app, the twins were able to begin to broadcast together — while distanced — from their own homes with ease.
"We thought we could bring some entertainment, with sports at a halt," Jason says. "And we've gotten so much media coverage — because there are no sports!"
For instance, when Jason and Devin first spoke about coronavirus affecting the 2020 NFL season, "Our comments made national news. All we said was 'Yea, of course we're concerned,' when asked about staying safe. I thought everybody was!" Jason says with a laugh.
The McCourty's are also very active in charitable causes, most prominently with their Tackle Sickle Cell campaign, created in partnership with the Embrace Kids Foundation. Launched in 2013, the campaign aims to educate the public, increase blood donations, and raise money & awareness for the fight against sickle cell disease. To date, the campaign has raised more than $2 million net, helping Embrace Kids annually service approximately 200 families whose children are dealing with sickle cell.
"We watched our grandfather deteriorate from sickle cell disease," Devin says. "Our aunt and uncle also had it. Two years ago, our aunt passed away, and since, it's all been in her memory. She never did make it to one of our events, but she always shared how proud she was. She inspired us; it's hard to describe how special this work is to us and our family."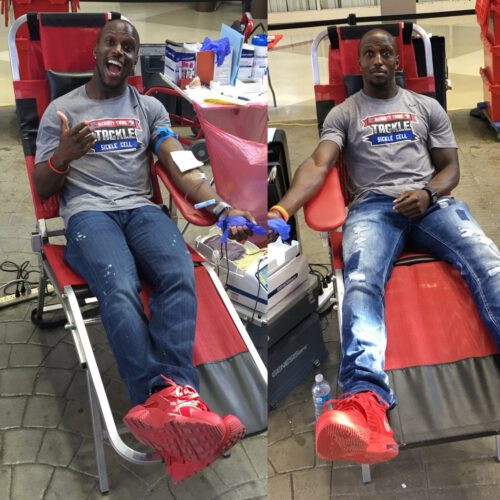 Jason adds, "A while before she passed, our aunt did a newspaper interview about the campaign. She was so excited to speak out. She lived to be 69, and we've had so many parents come up to tell us how inspiring her story is. Life expectancy with sickle cell can be so short, and these parents see their 18-19-year-old kids rushing through everything. Our aunt is still making an impact even though she's gone."
The campaign has relied on a series of events to raise money and awareness: blood drives, 5Ks, casino nights, and more. However, during the pandemic, the opportunity to host such events has been limited. The twins are hopeful that an event this fall at the Boston Medical Center might happen. And, the day we spoke, Devin was headed to a blood drive co-hosted by well-known Boston Rev. Liz Walker.
"We used to go to these for a couple hours, sign autographs, speak to folks," Devin says. "It's so different right now, appointment only, limited contact. But we still want to be a part of it, by showing up and making sure people hear about it."
The McCourtys also recently jumped at an opportunity to help lower-income kids who faced technology issues when schools made the shift to virtual classrooms during the spring in Rockland County, N.Y., where they grew up.
"Education is important to us, as is equality in the black and brown community," Jason says. "When the coronavirus hit, Dev called me and said, 'We have to do something for our community.' With kids not able to go to school, households that don't have the money for computers are at a major disadvantage. Chromebooks for Kids allowed us to give back to kids growing up in the same neighborhood."
The duo purchased more than $90,000 of Chromebooks for students lacking access to computers at home in the East Ramapo and Nyack school districts. They're also allowing fans to donate (in partnership with the Rockland Community Foundation) to expand the number of Chromebooks distributed (click here to donate).
The McCourtys are also entrenched and team with other Boston institutions on projects. In early 2018, for instance, Devin teamed up with Ken Casey of the Dropkick Murphys to raffle off a pair of tickets to Super Bowl LII in Minneapolis (plus a number of other gifts) with proceeds going to the Dropkick Murphys' Claddagh Fund and McCourty's work with the Embrace Kids Foundation.
Devin says, "We got connected through Massimo Tiberiat Arya in the North End, with the Super Bowl coming up. It was an awesome chance to do something great for Boston and for both of our charities."
That openness to sharing the spotlight to raise money and awareness for their causes is one reason the McCourtys were finalists for the 2020 Muhammad Ali Sports Humanitarian Award, which honors athletes who are community leaders and embody Ali's principles inside the ring and out: confidence, conviction, dedication, and respect.
Minnesota Twins slugger Nelson Cruz won the award, which was presented as part of the ESPYs on June 21 (WNBA superstar Maya Moore, Kevin Love of the Cleveland Cavaliers, and WWE superstar Titus O'Neill were the other finalists).
"We've never done what we do thinking about what the awards could be," Jason says. "To be mentioned with Maya, Kevin, Nelson, and Titus — not to mention Ali — tells us we're headed in the right direction. Being a part of the award shines a spotlight on all of our causes: donations and research on sickle cell; education; children; justice and equality. When you talk about what Ali did for his community as an athlete, it's something special."
Devin adds, "Just having the chance to shine a spotlight on the things we've been a part of — and when I say we, I mean our teammates and the Patriots organization. It's what the team's done. It's never just been us. To be mentioned in the same breath as Ali is humbling. He showed what it means to be a man."
Justice and equality are something the McCourtys have been battling for their entire lives. Devin was a key player in getting a juvenile justice reform bill passed and signed by Massachusetts Gov. Charlie Baker in 2018. And, together, Devin and Jason lobbied for a $1.5 billion bill funding school districts that serve low-income and English-as-a-second-language students that also was passed.
For past two seasons, the twins have led their Patriots teammates to pool nearly $1 million in donations to help non-profits and other programs across New England, including Codman Square Health Center, UTEC, and Boston Uncornered.
After the recent high-profile murders of George Floyd, Breonna Taylor, and Ahmaud Arbery (among so many others), the McCourtys know that their fight for justice — and against the systemic racism that poisons the nation's past and present — is not, nor likely ever will be, done.
"Fixing police brutality is just a part of what needs to be done," Devin says. "I was just on a call with the leaders of Café Momentum, a restaurant in Dallas that employs formerly incarcerated juveniles, teaching them skills and helping them finish their schooling with a job. We need equal education from the start. How can the NFL help break down the barriers of systemic racism, when there are just three black head coaches and two black general managers? We're human, we're people before we're black, white, brown, or otherwise. How can we get to the place where we treat everyone the same? It's about understanding policies and changing legislation, to start. What can you do? Talk to your neighbors, your friends, your families with no fear, no second thoughts. Do what you think is right; that's how we start making it better."
Jason carries the conversation further. "We have to educate ourselves first, whether black, white, Hispanic, or otherwise. Why is our country the way it is? It's a heart issue," he says. "We have to change the hearts away from the hate throughout the history of this country. Dev always talks about voting: put people in power that have the influence to make these changes to policy and legislation. Malcolm Jenkins (an NFL veteran who is also vocal in this arena) has said that it's on black people to carry this torch. And he's right, but it's going to take white people standing with black people to get that torch across the finish line. We need to listen to all ideas about policing and the funding of police. We have some great examples of what it could look like. But we also need to invest in these communities — so many are poverty stricken and don't see any hope. Create programs to help people learn skills and start careers; change how the police operate so they can actually have the tools to protect and serve. Change must follow the conversation."
Yep, you're right. You're hearing it again. That word is thundering through your head: leaders. The McCourty twins' football futures are limited, time-wise — any NFL player who reaches the second decade of their career knows the clock is ticking. But don't believe for one second that retirement will be the last you hear from either Jason or Devin. Their voices are too strong, their work too important. Leaders lead, and the McCourtys appear ready to do so for some time to come.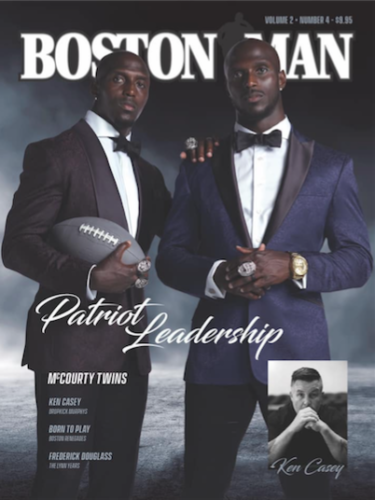 ***
9Tailors X McCourty Collection = Tackle Sickle Cell
The cover image of this edition is kindly provided by photographer J.J. Miller, and shot for the 9Tailors x McCourty collection. All proceeds of the collection benefit the McCourtys' Tackle Sickle Cell campaign: an ongoing movement which educates the public, increases blood donations, and raises funds for those affected by the disease. The collaboration comprises twelve one-of-a-kind custom shirts and suits, specially designed by the McCourtys and 9Tailors. (You may browse the collection of six suits and six shirts, via www.9Tailors.com. To place an order, schedule an appointment with a 9Tailors stylist, via info@9tailors.com)
9Tailors is an acclaimed custom suiting house for men and women based in Boston. The clothier was recently featured in People Magazine for suiting a celebrity wedding entourage (a 9T specialty), and awarded Best Suits of 2020 in Boston Magazine's annual Best of Boston event—where it has placed multiple years, in numerous categories. In the face of COVID-19, 9Tailors oiled its gears to serve its community in the best way it knew how: by employing tailors in and around Boston who have lost work, to construct quality, protective masks. Sales from this recent project have enabled 9Tailors to donate hundreds of masks to hospitals, care homes, and many other institutions in need. (Masks are still for sale via the 9Tailors website.)
Founder Samantha Shih built 9Tailors from the ground up—spending her earliest days designing custom suits for her friends, and her latest suiting the likes of professional athletes, television personalities, and politicians. Having mastered and modernized an old-world tradition, 9Tailors rightfully holds its place as an immovable leader in the sartorial space. Its award-winning production and unrivaled team of talented stylists deliver a carefully catered design experience which truly suits you. (A trip to the 9Tailors studio is like stepping into your own living room with close friends, except there's free booze and a plethora of design books.)
The 9Tailors label has indeed garnered widespread renown, and for good reason. 9Tailors is resolute in its dedication to diversity and inclusivity, and takes pride in its promise to help you look good and feel even better, for life's biggest moments.
Have an important date on your calendar? Make an appointment today to design your custom suit at info@9tailors.com.