Say Gerv? You're truly an inspiration. You have a demeanor and aura to you that is very unique in a person. From your time on Survivor, to your work as a stylist, to your writing, and everything in between, you always leave a genuine impression with anyone that is fortunate enough to get to meet you. I would love for our readers to be able to get to know you a little more the way I do. Would you be able to let us inside your journey? The challenges, triumphs, and hurdles that have helped shape you? And how you are always able to maintain such a positive outlook, even during difficult times? It's an honor to have you as part of the BostonMan family! 
-Matt, Wakefield, MA
Matt, thank you for the kind words. I owe everything to my parents and also the many people that I can call friends that I have met along the way. My parents always instilled in me to treat everyone fairly and to do the right thing. Have I always done that? No. But I have always strived to do that every single day. That foundation they gave me is what everything I do is built on. My dad used to have a saying "if you hang with nine broke friends you're bound to be the tenth one". It's all about the company you keep. So I've always tried to surround myself with friends that are positive, motivated and workers.
My father passed away in a car accident when I was 15 years old and that changed my life. It made me realize that you really can die at any moment of any day. That was the catalyst for me to start living my life. I decided at that moment that I was going to live everyday like it was my last and to maximize and squeeze as much out of life as I can before my time is up. I decided that I wasn't going to be afraid to try something new or to ask that girl out or to go for something that nobody thinks I can accomplish.
I remember waking up one day when I was 28 years old and realizing that I was not 100% happy with my life and I knew why. I wanted to be on tv, I wanted to be an actor. I was working three jobs and over 110 hours a week and just had a baby with my girlfriend. Everyone thought that I was crazy and told me I couldn't do it. That I had to be responsible and to just keep working my "real" job. So I found an acting school and started taking lessons. I was just studying the craft and was completely happy. I started to extra work and was grinding hard "paying my dues" in the business. Then one day my brother gave me the application for this show called Survivor. I didn't want to do it because it wasn't acting. It was me being myself. Then I thought when will I ever have a one in sixteen chance to become a millionaire. Those were going to be the best odds I ever got so I applied and was chosen to be on the show. Survivor ended up being the biggest reality show in the history of television and catapulted me into Hollywood. Every door was opened to me and I tried to walk through as many as I could. Acting, modeling, hosting, correspondence, commercials, endorsements, speaking engagements, writing and more. I was playing in the NBA Entertainment League and a comedian named Joe Torry was on my team. One day he asked me was I really trying to do this acting thing. I told him yes and he gave me a book and told me to read it and if I had any questions or needed anything to come to him. That left such a huge impression on me. Joe didn't have to do that. So I told myself if anyone ever needed my help I would give it to them the way Joe did for me.
After being in Los Angeles for two years things were going great for me. I was constantly working and making a good living. Then one day my sister called me up and said "mom is talking to the people on the tv like they're in the room with her". My mother was diagnosed with Alzheimer's disease two years prior and my sister had been taking care of her. She said that it was time for her to go to a nursing home or have a live in nurse. I told her to give it one week and we'll come up with something. I hung up the phone sat down on my bed for two minutes. I thought to myself if something happened to me my mother would take care of me so how can I not do the same for her. I got up and started packing as much stuff as I could get into my car and drove from Los Angeles to Philly in 43 hours. I told my sister that I would take care of our mother and for her to get back to her life. I took care of my mother for two years then it was too much for me to do by myself. I found a great nursing home for her and she stayed there for five years until she passed away. That was such an amazing time getting to spend two years with my mother taking care of her. I realized so much about her that I didn't know like how funny she really was and how hard she worked to take care of her family.
After my mother passed away I've just continued to stay busy working, taking care of my family and enjoying life. I've stopped thinking about life in years. As in I have a lot of years left to live. I look at things in birthdays, summers, Thanksgivings. As in I have 30 birthdays left, I have 30 summers left, I have 30 Thanksgivings left. When you look at life that way it really puts things into perspective and makes things clear and more real. I'm not going to waste time during the summer doing things that aren't going to make me happy. I make it a point to reach out to my friends. I don't care if they never call me. I'd rather call them and talk instead of waiting for them to call me and we never talk. I love to help people if I can and I don't look for anything in return just like Joe did for me. I believe if you spread those good vibes and love around it'll come back to you. I have a few families. I have my family, my Survivor family, my BostonMan family. I'm a better person because of them and I hope they are better people because of me. Remember that broke friends saying? My life has been crazy, hard and not fair at times. Did I tell you about the time I lived in a house with no heat, electricity or water for two years? I'll save that story for another time. I have also done a lot in my life, but I feel as though I'm just getting started. I've set some new goals, made some new friends and still have people to help. I'm just trying to do my part to make the world a better place. Can I get nine friends to join me?
**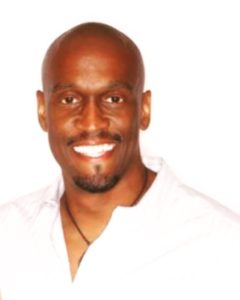 Gervase Peterson has made history as the first African-American male in the #1 all-time reality series Survivor. Hollywood is no stranger to Gervase as well after appearing and co-hosting with several national television programs.