Springtime in Boston is upon us! And with that the city starts to wake up from winter. All throughout New England both the BostonMan and BostonWoman begin emerging from their caves after being cooped up in January and February.
This means increased dating begins to happen. Both first dates and date nights with your significant others tend to occur more often in Spring. Hey, BostonMan, I guess love blooms like the flowers do.
Before writing this column, I surveyed, questioned, and discussed this topic in depth with a variety of people. I was inundated with amazing information, as well as comic relief, that it was actually difficult to narrow it all down into one article!
But here it is… I decided to break down the content into two sections: 1) first dates and 2) dates with your "person", because these two categories vary significantly.
First Dates:  The majority of people I spoke with believe that first dates are awkward and tricky. There is pressure to be engaging, find the perfect outfit, and make a good first impression. It can be difficult to choose a spot for the "perfect first date" because you may not really know your date's likes and dislikes. My suggestions:
Do not assume all girls want to go to an outside sporting event. I know that all the BostonMen are excited for the start of the Red Sox season, but do not imitate the guy from the movie Fever Pitch and take all your dates Fenway! The weather could be a disaster, she may hate baseball, and baseball games can be too long at times. Actually, planning anything outdoors can be a tricky first date because poor weather can ruin it. If you have an amazing first date planned outside, just make sure you have an amazing back up plan in case it downpours. One woman said that the worst first date she ever went on was a hike that was supposed to be beautiful, but it downpoured while they were on a mountain, and by the time they got back down, they were soaking wet and freezing and neither wanted to do anything but go home, shower, and get warm.
If you are going out to eat, double check with your date beforehand to see if she has certain food preferences, aversions, or allergies and make sure the restaurant you choose can accommodate these needs. Many people said loud, local bar rooms and the movie theater do not make great first date spots because it is hard to converse in those places.
So what does make a great first date spot in the city?
A restaurant that has both indoor and outdoor seating and a menu with a variety of food and drinks that near the water with a view, one of the coffee shops in the North End (if it is nice out you can walk the neighborhood after), or a gorgeous hotel, such as the Four Seasons, that you may not go to with the guys or the girls to have a drink and an appetizer.
The most humorous suggestion I received was this: "If you aren't good with names, maybe you should take her to Starbucks."
Dates with Your Love:BostonMan, always remember that date night with your partner is essential. It is a chance to reconnect after a hectic week, helps you to continue to build a positive relationship, and allows you and your love to give each other time and attention. Many of the suggestions I heard from people in relationships were similar to the suggestions I got about first dates.
Bostonians love eating outside in Spring and walking around the city. Many love sitting on a roof deck bar that overlooks the city. Some love having a picnic on a beach because they feel that their crazy schedules do not allow for them to have alone time. Others prefer to escape the city and take a ride to a coastal town about an hour away in Maine or New Hampshire, and a few people stated they have a bucket list every Spring and Summer and they try to go places that are new for the both of them.
BostonMan, as Carrie Bradshaw says, "Life gives you lots of chances to screw up, which means you have just as many chances to get it right." So get out there. Meet new people that spark your interest or enjoy quality time with the person you care for. Spring time in Boson is a time to renew your spirit and get excited for the amazing summers Boston has to offer.
**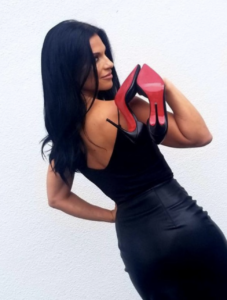 Tiffany Giannato is a mother, fashionista, stylist, and shopping addict! Her blogs, pictorials, and fashion tips are aimed towards empowering both women and men to look and feel their best regardless of age. Her "you can be as trendy at 61 as you were at 21" mantra has taken Boston by storm! A true Italian, Tiffany believes family, love, food, and style are always the keys to happiness!