Life hasn't always been easy for Tom Reilly and Mike Goedicke. The duo have been through the ups and downs together, both in business and in life. But using lessons learned in the past these business partners are now making big waves in Boston, both with their enterprises and in the community.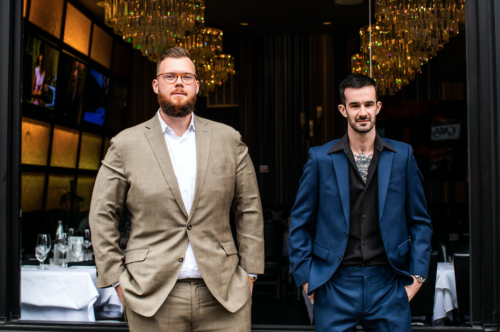 What happens when sheer drive and total determination to achieve your wildest goals are more powerful than your fear of staying still and staying safe?
Thomas Rielly and Michael Goedicke, two Boston natives with challenging pasts, were once seen as long shots who would never "make it" in the business world, but in fact, have exceeded expectations in some of the most competitive spaces that very world has to offer.
After years of working in the restaurant business and then evolving into entrepreneurs, Rielly and Goedicke have now founded a non-profit in 2014 that is still operating, started their own healthcare company on the South Shore in 2017, and one of their more notable business endeavors, is their real estate business, The Reality Concierge founded in 2011.
Rielly, who grew up south of the city in Kingston, says he had a "pretty normal, middle class" upbringing. He went to Boston College High School where he played football but, once he reached his junior and senior years, he no longer qualified to play sports due to a steady decline in his grades.
After making it through his high school years, he continued his education at Wentworth Institute of Technology in Boston for about a year and a half where he studied business management until transferring to Johnson and Wales University in Providence to study culinary business management.
Rielly would work in the restaurant industry for over ten years. Even prior to college, he ran a popular bistro and bakery on Beacon Hill as a junior in high school for a number of years, in addition to several other restaurants in Boston.
Although Rielly was always excellent at running restaurants, he wasn't entirely sure that running restaurants was truly his life's calling.
"I was always wanting to not have to work for somebody else," says Rielly. "I didn't necessarily know what I was going to do but my ambition was always leaning towards doing what I knew which was running restaurants."
Rielly says that while his goal at one point in time was to own his own restaurants, once he stepped a bit closer into the business, his goals shifted, and he decided to change gears.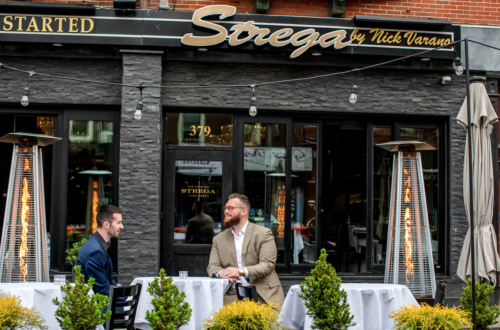 "I think what it boils down to for Mike and me is that we felt like we weren't doing anything overly important," says Rielly. "The monotony of going to work in a restaurant every day and not feeling like we were making much of an impact started to weigh heavy on us." While Rielly and Goedicke knew they were doing fairly well for their age, they simply were not feeling completely fulfilled and wanted to make a larger impact on the people in their community.
Both Rielly and Goedicke only have one mission in mind when taking off on any business venture: change peoples' lives for the better so as to have a positive impact on their community.
"As far as real estate goes it's straightforward," says Rielly. "We want to give real estate agents a fair shot at being successful and we want to give homeowners or home buyers a fair shot at getting the property that they want. It may not seem as important as other things we've done in the past but it's still very impactful."
As self-starters, Rielly and Goedicke have taught themselves much of what they need to know in order to run their businesses as efficiently as possible.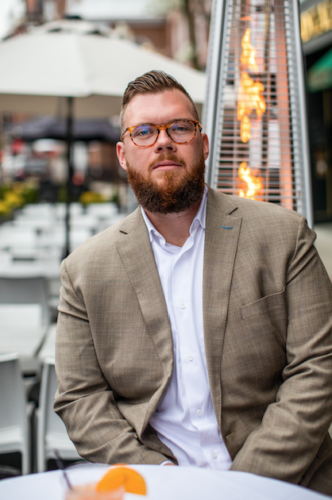 And the city of Boston is taking notice. "Tom Rielly and Mike Goedicke are pillars in the community," BostonMan Magazine Publisher Matt Ribaudo states. "They are among the new breed of leadership in Boston. Individuals that can run and grow a successful grass-roots business while giving back and providing opportunity to a wide range of people."
Currently, Rielly is on the board for the non-profit as well as the CEO of the healthcare business. "I do pretty much all of the managings of employees, I manage payroll, the accountants, and the bookkeeper," he says. "Mike and I will do all of the budgeting for marketing and ad spends. We do all of our own web development including SEO in-house. Mike is an SEO wizard. We're also self-taught as far as Google Analytics goes. Just thousands of hours of Reddit and YouTube videos trying to figure out how to maximize our budgets."
In regard to real estate, "It's just a very old industry," says Rielly, "and a lot of people that are in it, we think, kind of do a disservice to real estate agents, new real estate agents, or people that aren't uber-successful, and they make it hard to just get your foot in the door. For us, seeing what we could do with digital marketing and SEO and web development we thought if we could apply that with some money that we made in other spaces for regeneration like were willing to take the risk on these new agents that some others are just not willing to do."
Plus, Rielly and Goedicke will acknowledge that they do work well together and that their success is a testament to their teamwork. "We have the ability to compartmentalize and execute," says Rielly, "so, when we came up with an idea of something it was like OK what's stopping us? I think that was the turning point of us just being together and seeing that there really isn't anything stopping us from doing whatever we want to do. We just stopped listening to the noise."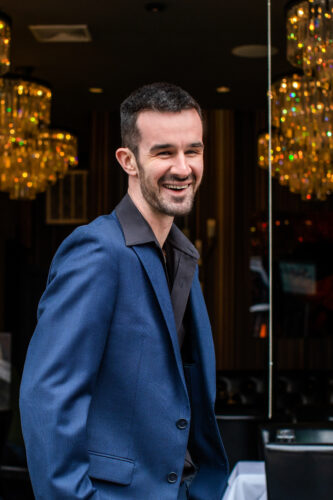 The Reality Concierge has grown about 70% in the last 6 months and the goal is to keep growing at that rate with aspirations of being one of the larger groups in Boston, Massachusetts, and beyond. They have agents that are indeed licensed in other states but, business is business, and the numbers always have to make sense when it comes to talks of expansion.
"I think it comes down to an ambition thing at the end of the day. There's risk. For us, when we started our first company, we put everything into it. We borrowed money from people, family members. It was kind of crazy that they would even lend us money to do anything. We were just a couple of guys that didn't have good credit scores, that didn't have any business experience, and, I think because of that, we made it work because it wasn't like an option."
And as far as overcoming the obstacles and demons that present challenges in both business and life?
"Determination by nature is just not giving up. At some point, though, you do have to surrender in order to regain control, right?" Reilly reflects. "When I stopped fighting the world, per se, is when I got my power (back). All my anxiety went away when I stopped caring about the outcome of situations. Most peoples' anxiety is around things that they can't control so acknowledging that and being able to change yourself around that to make peace is key."
So, what happens when sheer drive and determination to achieve your wildest goals are more powerful than your fear of staying still and staying safe? You achieve them.
Just ask Tom Rielly and Mike Goedicke.