Cooler temperatures are here but there is no reason to leave your style out in the cold. Whether you are commuting to work, or on your way to Gillette Stadium, choosing the right jacket for each occasion and outing can be tricky.
Men have a myriad of choices, from bombers, biker jackets, denim, topcoats, and more to keep you looking sharp as the temperatures dip but being in New England, I will focus on puffer jackets and parkas as they are designed for cold weather. The style is typically stuffed with down or synthetic fiber and often features a fur-lined hood. Thanks to their warm designs and casual aesthetics, parkas are perfect for informal winter outings, but nowadays everything goes if done with confidence.
From Moncler to Canada Goose, Moose Knuckle to Mackage among few, established brands offers high-quality products that often combine style and functionality. When doing your homework, always consider the following: Size, weight, filling, shell material, pockets, warmth, compressibility, water resistance, hood, and fit. Ask questions!
My job today is to highlight the importance of two other factors- Color and design. Thankfully, a picture is worth a thousand words.
A pop of color —and that includes metallics and patterns —is a welcome respite from winter's sea of blacks and grays and beiges. If you don't typically wear a lot of bright hues, a vibrant coat is an easy way to try out a more chromatic look without committing to color all day. Just toss a splash of color over your usual "basics" and muted neutrals, that way you can remove it once you get where you're going and return to your color-free comfort zone.
Accessories like scarfs, headwear, and footwear should always be the perfect complement. Don't fall trap to the sea of sameness. Get yourself a statement jacket that's as unique as you are. Make sure you and your outerwear are on point every time you walk out the door.
**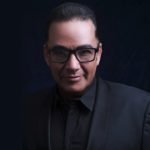 After a quarter century with the Boston Herald, Gustavo Leon left the publication as managing editor/creative for print and web, where he spearheaded a broad array of design initiatives across the paper's print and on-line platforms. A graduate of the New England School of Art and Design at Suffolk University, he had worked at the newspaper since 1994. In addition to overseeing redesigns at the Herald, JobFind, and Women's Business Journal, Gustavo also created the look for the Herald's Hot Shots, GoodLife Magazine, Champions special sports publications and the innovative Herald Radio.