WHAT ARE YOU WEARING? COMMON FASHION BLUNDERS MEN MAKE
Men have been committing crimes against fashion humanity for eons. And it seems that we invent new ones every year. Although I would love to nitpick by citing a long list of offenses, I'm going to highlight just a few basic, and more importantly, easily avoidable, mistakes that are commonly made. The good news, once you are aware of some do's and don'ts, is that your style gaffes will be history.
Some men play it off like they don't care about what they wear. Sadly, the ones that do openly care are most often the repeat offenders. Perhaps it's because they are risk takers, constantly putting themselves out there on the "fashion" stage.
If we were to poll men on what not to wear, we might get answers like don't display designer logos, or don't wear un-tucked shirts or sport loud colors. These I personally find very subjective, and, to tell you the truth, I believe I have successfully done all three. Not everyone can pull off certain trends. In this case, one size DOES NOT fit all. My mission today: to give you hard and fast solutions to hard and fast fashion fails.
Nowadays, when fashion has become so important, a faux-pas can have lasting impact.
So, let's tackle some of these issues, shall we?
IT'S ALL ABOUT THE FIT
It is imperative that our clothes fit us well. Make the tailor your best friend. Sometimes we spend money on a designer suit and forget to adjust it to the perfect fit for our body. The sales associate will not always point it out, especially if you are helping yourself. You can actually save money on a suit, but do not scrimp on alterations. Otherwise, you will look like one of those groomsmen in a wedding photo who obviously rented his tux. If you are wearing a hand-me down, nobody needs to know because now you own it, so make it yours by adjusting it to your frame. The right alterations will make you look like a million bucks. An expensive suit or designer label won't necessarily guarantee that. Your shirt cuff should be able to peek out of your suit sleeve. And unless you have a rap gig coming up, your trousers should not gather at your ankles. There should be no bunching of fabric. It looks messy, you look shorter and it gives the impression you are wearing a suit for the first time.
Tight clothes? Don't EVER believe they will suck everything in. You are in denial.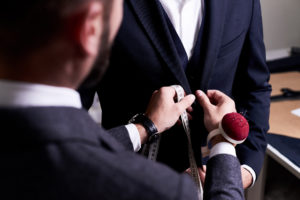 PUTTING THE RIGHT FOOT FORWARD
You must stop wearing worn down and worn out shoes. If you follow the rule above, you can instantly ruin your whole ensemble by not following this one. Unfortunately, this is such a common mistake among men. Fellows, people see the overall look. Just because it's your feet doesn't mean it goes unnoticed. In the age of social media, where images get often posted without our consent, it is very easy to spot that dirty pair of shoes you thought you got away with. I don't care if they are comfortable, make sure the whole look is put together. And unless you are Bob Kraft, or famous enough to have a "signature look," don't wear your running shoes with your 3-piece suit. Wear the appropriate footwear for the occasion. Dress from head to toe at all times and invest in shoe trees. They improve the life of your shoes dramatically. They will hold their proper shape and will keep the leather from cracking by wicking away moisture.
I know they are still making their way to store shelves around the nation, but ditch the square toe dress shoes and stick to a classic rounded toe, or a moderately-pointed one. No need to go back to the '80s.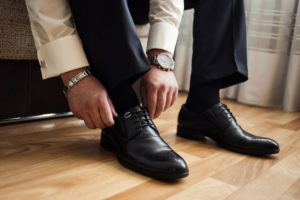 DRESS CODES ARE NOT A SUGGESTION, THEY ARE A REQUIREMENT
Dress for the situation at hand. I understand that we have blurred the lines with business casual, and casual Fridays, but extremes were never a good thing. If you feel out of place at a social event — that is if they let you in at all — chances are you are either underdressed or overdressed. Both are equally bad. Dressing up doesn't mean dressing better. A tux at an after-work dinner party might get you mistaken for the Maítre d. Wearing shorts while testifying in court might not get you held in contempt, but it is rude and disrespectful, and your credibility might suffer. Just use common sense. Keep putting your own twist on your look; as a stylist I actually encourage that. Nowadays "black tie" doesn't mean to literally wear a black tie. When in doubt, just ask ahead of time.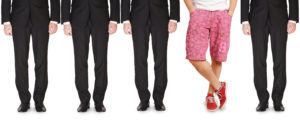 MATCHY-MATCHY
The days of matching your shoes to your belt, or your shirt to your socks, or your tie to your pocket square are long gone. It looks contrived and overdone. Like you are trying too hard. Just because your tie and pocket square came as a set, don't feel obliged to wear them together. It is a paint-by-number approach, and the art of dressing should be more organic. Buy the set if you like the fabric, but be adventurous and mix and match.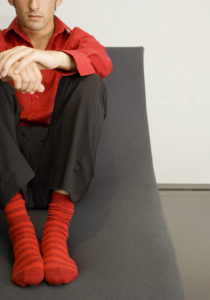 WHAT'S THAT SMELL?
Unfortunately, some people don't have a good sense of smell, they like too much of a good thing, or they have become desensitized to the fragrance they wear every day. Whichever is the case, if you are wearing too much cologne, STOP IT right now. Some people feel like wearing cologne in excess amounts can be as bad as having BO. I'm talking to you, the guy that squirts 14 times. Stop at 4. This is a case of less is more. And not only you should wear lighter scents in the morning than in the evening, but the fragrance chosen should be seasonally appropriate as well. If you smell like you just walked through the fragrance floor at Bloomingdales in NYC, you probably exceeded your quota. I should know, I was a promotional fragrance model and we "attacked" without warning. Wearing too much cologne could be a romantic-deal-breaker too; after all, your date should be able to breathe.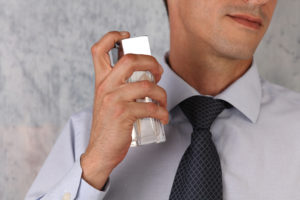 -Too many buttons of your shirt undone (don't, unless you are "Rico Suave")
-Buttoning both buttons of your single-breasted suit blazer. It should be just the top one (if your blazer has 3 or more, go shopping)
-Visible undershirt (yes we now know you wear an undershirt, nobody cares)
-Over accessorizing (must you wear it all today?)
-White athletic socks with a suit (one of the most heinous of all style crimes, period!)
– Socks with sandals (at least get a Hawaiian shirt and a camera to go with it)
-Tie too long or too short, It should rest on the top of your belt buckle (did someone else tie the knot for you?)
-Wrinkled and dirty clothes. Improper grooming (just stating the obvious here)
**
Sure, every rule can be broken, but you need to know and master the rules before attempting to break them. More importantly, dress your age, and always dress according to your frame and lifestyle. Be stylish, but don't be a fashion victim.
Stay On Point my friends!
**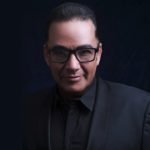 After a quarter century with the Boston Herald, Gustavo Leon left the publication as managing editor/creative for print and web, where he spearheaded a broad array of design initiatives across the paper's print and on-line platforms. A graduate of the New England School of Art and Design at Suffolk University, he had worked at the newspaper since 1994. In addition to overseeing redesigns at the Herald, JobFind, and Women's Business Journal, Gustavo also created the look for the Herald's Hot Shots, GoodLife Magazine, Champions special sports publications and the innovative Herald Radio.