With everything going on the last couple months, (although it seems like April was three years long), I was reminiscing about many of the great whisk(e)y dinners I've had the privilege of attending. Before the shutdown Whisk(e)y pairing dinners were gaining in popularity and I hope that that trend will continue after this is all over. However, as I was reflecting not all whisk(e)y dinners were created equal. I've been to some that were ok, others good, but one in particular stood out as outstanding! You see, the best whisk(e)y dinners have several key factors.
One, the pairings must be thought out so there is a certain harmony or even contrasting elements between the whisky and the food. Two, the food must be good.  I don't care if the food is salmon or potato chips, it just better be the best of what it represents. Finally, it goes without saying that the whisky must be great, but it's even better if the dinner includes expressions that are not readily available or an extremely rare offering,  The dinner that I attended with about twenty whisk(e)y enthusiasts had all these factors in spades! How could it not be a great dinner, the whisky was from Balvenie and the food was provided by arguably one of the best steak houses in America, The Capital Grille Boston.
The evening started out with being picked up by a Luxury Coach and to set the pace for the evening our first whisky was Balvenie Rose, a 16 year old single malt only available at the distillery in Scotland! This whisky was created from a marriage of four refilled American oak casks which were then allowed to mature further in a first filled port pipe (barrel). This fantastic very limited expression has only ever been produced twice and then available exclusively at the distillery! This particular bottle was not technically part of the dinner, but it was donated by a Balvenie enthusiast so who am I to argue. The whisky gave off aromas of orange blossom, fresh garden roses and a hint of lavender. The taste was followed up with stone fruit (apricot and peach), and a slightly sweet oakwood. This was a great beginning!
As we arrived at the Capital Grille we were ushered to a private room and met our host for the evening Balvenie Brand Ambassador, David Laird. David greeted us as any proper host would, with a glass of whisky! In this case, some of the blended malt whisky called Monkey Shoulder.  This whisky is a blend of three different Single Malts, Glenfiddich, Balvenie and Kininvie, and is great to mix in cocktails or just on its own.
Next, We all tucked in for a fabulous meal while listening to David regal us with the craftsmanship that goes into every bottle of Balvenie Single Malt Scotch whisky. The pairings were very good and the food was amazing. I will make one comment on my main dish of Bone-in Kona Crusted Dry Aged Sirloin Steak, "I may now die a happy man".The line up of whisky was so impressive that I must at least list all, if only to render any whisky lover jealous of my night out. I've already told you of the Rose and Monkey Shoulder, but now gaze upon the dizzying array of offerings for the rest of the evening!
First up Balvenie Doulblewood 12 year old, this is my "go to" whisky. Aged in both American Oak and the European Sherry oak casks this whisky has a nose of sherry, honey and a whiff of vanilla.  It is very smooth and a melodious combination of nutty sweetness, spice of cinnamon and delicate layers of sherry. The second whisky is the 14 year old Caribbean Cask which is aged for 14 years in American casks and finished in ex-West Indian rum barrels. Now I must be honest with you, I'm not the biggest fan of rum finished single malt scotch. But I must say that Malt Master David Stewart may have changed my mind with this expression! The combination of traditional American oak cask's honey/vanilla notes with the Rum cask imparting tones of fruit and rich toffee creates a truly unique and enjoyable whisky. Third up was the 15 year old single barrel single malt aged exclusively in sherry casks. Since this whisky is drawn from single barrels each bottling from cask to cask will differ. Each barrel. although it produces no more than 650 bottles, will emit aromas of rich dried fruits with a subtle nuttiness and taste of oak and spice, finishing with sherry goodness for days! Fourth in the lineup was another Doublewood, but this time a 17 year old expression. This whisky is very much the big brother of it's 12 year sibling with deeper vanilla, dark honey, toasted nuts and even some green apple notes. The fifth whisky of the evening, (yes the whisky just kept coming), was a port lovers dream and that took the form of the Balvenie Portwood 21 year old.  The Portwood is a blending of old and rare Balvenie single malts that are then married together in port pipes until the perfect amount of port characteristics are imparted on the whisky.  The port influence adds fruity, ripe raisin notes while retaining the original characteristics of honey and spice flavors of the original whisky. There is one word to describe this whisky: beautiful. The final whisky of the evening was Balvenie Tun 1509.  The true vision of this whisky is to highlight the craftsmanship of the blending of single malts. Malt Master David Stewart hand selected 42 of the best casks, 35 traditional casks and 7 European oak sherry butts, using a lifetime of knowledge and skill. Then he married all of these barrels in a large vessel, Tun 1509. This creates a whisky that is greater than the sum of its barrels! The smells of peels of oranges and flowers lead to flavors that are very smooth with citrus, spice and raw honey. This whisky is the first in a series and is worth starting with number one.
Ok I told a little lie, Tun 1509 was not the last whisky of the night. The real last whisky of the night was a very special Balvenie single barrel 15 year old! This whisky was named "Singularity" by the Loch & K(e)y Society since it was the first and last barrel ever chosen by private individuals. Now I'm not going to tell you much about this whisky because it is no longer available anywhere, but I will tell you that it is highly regarded and even scored 91 points by Malt Advocate (now, known as Whisky Advocate) magazine. However, the addition of this whisky insured that this was a whisky dinner for the record books!
The dinner was truly a dream come true for any whisky devotee and what really came across with the expressions of these fine whiskies was the conscious effort to maintain the commitment to the craft of whisky making by the Balvenie Distillery. Everything about this dinner was "well done", except my steak (I'm a medium rare guy)!
**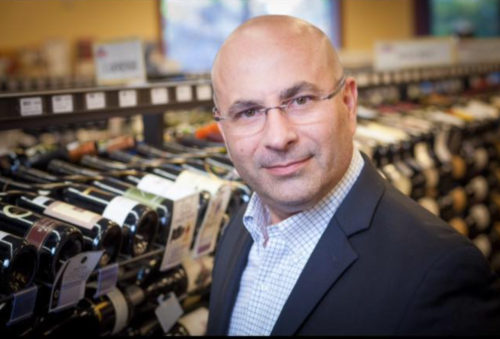 Ryan Maloney is the owner/operator of Julio's Liquors, his family's business since 1974. Ryan is one of only a handful of individuals in North America to have achieved membership with the The Keepers of the Quaich. The Keepers of the Quaich is an exclusive and international society that recognizes those that have shown outstanding commitment to the Scotch Whisky industry, and is widely regarded as the highest honor received in the industry.