The magic of October is here! 
The month where we are firmly in Fall when everything is pumpkin and Halloween is the new Christmas. With autumn in full swing, that means cooler temps, especially here in New England, but who doesn't love to cozy up with a good book by the fire or don a  sweater for a leaf-peeping walk in the woods? It's time for layering rich fabrics and textures – no wonder Libras look so good. 
Shopping for a new season's wardrobe can be tricky – we've been wearing a cooler color palette in different textiles for several months. And yes, we all want to keep up with what's new, BUT, following fashion and becoming a slave to fads can be one trend away from tragic. A high-end brand isn't a golden ticket to a great look for you. So before checking out the top five fall trends in men's fashion for fall, remember this: When buying a new article of clothing, make sure it suits your age, body, and lifestyle. Follow this rule and you can't go wrong. Take it from a fashionisto: Master the art of adapting trends to your age, body, and lifestyle, you will always look On Point.  
I know not everyone can afford a stylist, and most salespersons work on commission or need to meet a sales quota so they don't always have your best interest in mind. I know there are many good salespeople out there, I was one centuries ago, so no hate mail, please. In general, keep these three factors in mind when dressing: Where you are going, comfort and the weather.  Invest in good alterations. And above all, be stylish; don't be a fashion victim. 
FIVE STYLES/PIECES FOR THE SEASON
PLAID 
Plaid shirts, often being associated with "the hipster," are nothing new. It is a timeless print that has been in everyone's wardrobe. From accessories, to the classic flannel jacket, to a suit, to a black watch dinner tux, plaid packs a bold statement. The type and size of the plaid should match your personality. Turn up the volume if confident is an adjective used to describe you.  Consider color as well. For this time of year, warmer hues work best. Keep everything else simple and solid. You don't want to be mistaken for someone who ride shares in a clown car. A flannel shirt should be a versatile and durable way to introduce color and print in your wardrobe. Best paired with a solid t-shirt and chinos. For those more daring, the plaid suit will be sure to make you stand out in a crowd. 
From low to high markets, brands to look for: Urban Outfitters, J.Crew, Hugo Boss, Brooks Brothers, Ralph Lauren. All-American brands. 
VELVET 
A beautiful soft to the touch material that has decorated palaces and opera houses since the middle ages, this fashion forward fabric is the perfect way to welcome the holidays, by way of a dinner jacket. Rich and luxurious velvet is a timeless textile that will stay in your wardrobe for many years if you go for a classic cut. A wide variety of colors is available at every department store to get you party ready, and they can be worn with turtlenecks (yes, they are still in style) with or without a tie. You can even pair them with your favorite jeans for a touch of casual chic. Traditionally made of silk, velvet is now manufactured in cotton and synthetics so you are more likely to find items that fit your budget. Velvet is durable and easy to clean, so do yourself a favor and add a perfectly tailored version to your season's fashion repertoire. 
 From low to high markets, brands to look for: Pretty much everywhere. 
SHEARLING 
Every New Englander needs a shearling jacket when the temperature drops to single digits. Soft, comfortable and extra warm, this throwback to the 70s garment can get a bit pricey when made of sheepskin, however it is also available in synthetic fibers. The price usually starts around $300. The good news is it will last you a lifetime. Available in a range of colors and styles, from winter white to the deepest rich brown, from a bomber style jacket to a three-quarter length coat, you are bound to find a shearling jacket that fits your frame and pocket. Make the investment, and be the talk of the town when going home for Thanksgiving. 
Brands to look for: Overland Sheepskin Co., Bostonian, Shearling, Allen Edmonds, department stores. 
LAYERING  
With significant drops in temperature, layering shouldn't be a problem right? Well, piling clothes on properly should keep you warm and comfortable – but not give the impression that the heat's out in your apartment and you're wearing everything you own. The magic number for layering is 3. Mixing textures and prints is allowed, and, in fact, encouraged. It gives you a sophisticated look. For many, the favorite part of the cold season is getting creative with the art of layering. Using light knits and winter fabrics will help you achieve that desired polish while being able to show it off indoors without running out of oxygen. If you start getting warm as you adjust to the temperature, take a layer off. No biggie, but each layer should be able to stand on its own. Accessories, head wear, vests and cardigans are smart additions. 
BEANIES 
Traditionally worn to support your favorite sports team – I'm thinking Patriots – or to protect you from the cold, beanie caps have now become the perfect finishing touch for your suit or weekend look, giving you that cool Hollywood vibe. This versatile accessory can be worn in many different ways to match your personality. From the traditional way, covering most of your head to the "I'm not really cold, I'm just cool" look, pushing it back as much as you can, and letting it gather in the back while showing your hair on the front, the beanie made an appearance on most fashion runways for the fall-winter collections of 2018-19.
**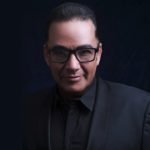 After a quarter century with the Boston Herald, Gustavo Leon left the publication as managing editor/creative for print and web, where he spearheaded a broad array of design initiatives across the paper's print and on-line platforms. A graduate of the New England School of Art and Design at Suffolk University, he had worked at the newspaper since 1994. In addition to overseeing redesigns at the Herald, JobFind, and Women's Business Journal, Gustavo also created the look for the Herald's Hot Shots, GoodLife Magazine, Champions special sports publications and the innovative Herald Radio.