Fellows, what to wear … while networking under the sun
First, let's keep in mind that clothes are all about expressing your inner self, so let's not stray from who we are. Networking events are a bit more important as it gives us a chance to flaunt our personalities AND what we do. However, there is an implied dress code for every place we go, whether is stated or not. And we must always adapt. Like someone once said, dressing well is a sign of good manners.
Summer is here, and temperatures are rising, but one can beat the heat and look good while doing it. A summer suit paired with or without a tie will give you an open invitation to most places during the season.
Having said that …
Just because is hot and you have been spending time at the gym, it is NOT necessary to flaunt your muscles by way of a sleeveless shirt. Save that for the pool party. Wearing a light, relaxed blazer (with a pocket square for the pros) on top of a tee will do the trick and get you in the casual chic category … if that's your thing.
Long pants are strongly recommended. Only the fashionistas can get away with the blazer/shorts combo and make it look effortless, with a Nantucket dinner vibe.
Dress shirts sans a blazer are perfectly accepted for summer gatherings, even worn with a nice pair of khaki pants as they are nice for every occasion. The right pair of jeans, as they are not all created equal, will do as well, assuming you have the appropriate footwear.
Sneakers, boat shoes, and even espadrilles (bold move) will always work if paired with a summer jacket.  Sandals and flip flops will make you stand out … in a bad way. Avoid!
Don't forget your favorite shades when attending a party under the sun, to give you that oh so cool vibe. However, take them off when its time to make that critical connection. (wink, wink).
A trilby hat or fedora for some will be the cherry on top.
Cheers to Summer!!!
**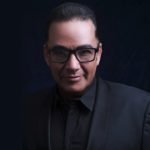 After a quarter century with the Boston Herald, Gustavo Leon left the publication as managing editor/creative for print and web, where he spearheaded a broad array of design initiatives across the paper's print and on-line platforms. A graduate of the New England School of Art and Design at Suffolk University, he had worked at the newspaper since 1994. In addition to overseeing redesigns at the Herald, JobFind, and Women's Business Journal, Gustavo also created the look for the Herald's Hot Shots, GoodLife Magazine, Champions special sports publications and the innovative Herald Radio.