In This Corner… 
 On Friday, November 16th at the Showboat Hotel in Atlantic City, NJ, BostonMan Magazine sponsored fighter Thomas "CornFlake" LaManna captured his second championship belt by defeating former world title challenger "Mighty" Mike Arnaoutis in a Unanimous Decision for the New Jersey State Welterweight Championship. 
 LaManna, who improved his record to 27-2-1, used his slick boxing style combined with powerful two-, three-, and even four-punch combinations to batter Arnaoutis over the eight-round contest.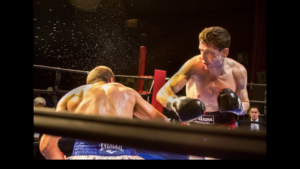 The judges officially scored the bout 80-72, 80-72, and 78-74, all for LaManna. The BostonMan Magazine official scorecard also had it 80-72 for LaManna. Ringside expert Anthony Faucera tallied the fight 80-72 LaManna as well.
 "It was a good fight," said LaManna. "I had him hurt a few times, and I thought I was going to get the knockout. He's a tough veteran and a good fighter though, (so) credit to him for staying in there and taking some of those shots."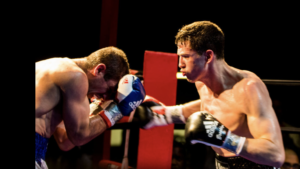 ** 
BostonMan Magazine also secured Gigi Gustin, Season Two winner of John Cena's competition show on Fox, American Grit, as the celebrity ring-card girl for the evening. 
Gustin, a New Jersey native and current Hollywood actress and model, was making her debut as a ring girl.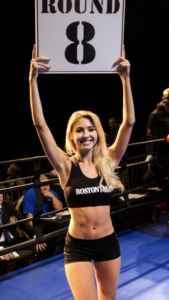 "It was amazing!" Gustin said when asked about the experience. "I've had a certain admiration for ring-card women for as long as I can remember, and tonight (Nov 16), I finally had my opportunity to do this! It was such an exhilarating feeling to be out there and to be part of this!" 
 Ringside observers and people in attendance all unanimously agreed that Gustin did very well in the role. 
 "She's a natural!" said event coordinator, Rising Star Promotions President Debbie LaManna. "Gigi did a tremendous job and we loved having her as part of the promotion."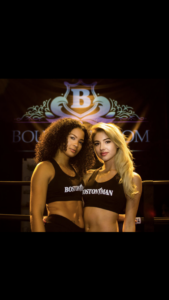 Gustin is hoping to use the experience to propel herself to greater opportunities in the fight game.  
 "I would love to one day be a UFC Octagon girl!" Gustin said with a contagious ear-to-ear smile. "This was so much fun and I want to take it to the highest level. I am going to put my all into this, so Dana White (UFC President) if you're reading this, please give me a look!"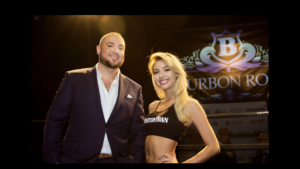 ** 
For Thomas "CornFlake" LaManna, there is no break, with the next fight right around the corner. 
On Wednesday, December 5th, at the BostonMan Magazine Legacy Club event, LaManna and BostonMan Magazine Publisher, Matt Ribaudo announced that BostonMan and Rising Star Promotions will be partnering with Murphy's Boxing, Ken Casey and the Dropkick Murphys to bring a "CornFlake" fight to Boston.  
The event will be co-promoted by Murphy's Boxing and Rising Star Promotions with a venue, date, and opponent to be set later in 2019.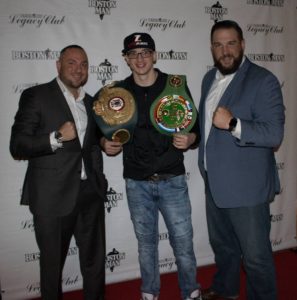 With its rich and storied history in boxing, Boston gives LaManna the opportunity to showcase his skillset in one of the best fight towns in the country, while giving Boston fans a chance to see one of the top boxers in the world compete in person.
LaManna must first take care of business Feb 9th in Norfolk, Virginia in his debut fight at Junior Middleweight (154 lbs) -where he is already ranked 12th in the world by the WBO- against rugged veteran Dennis Knifechief.
 "It's my time now," said LaManna. "I've remained silent and low key for for too long now. It's time to fight for real. I fought my way up for $0. I want big fights at 154 (Junior Middleweight division), I know for a fact I'm a top player in the division, I just need my opportunity."
That opportunity may very well end up being in Boston later in 2019. Stay tuned.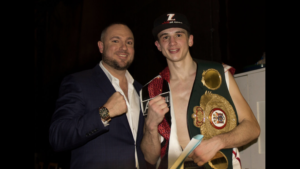 ***
BostonMan, JerseyMan, and PhillyMan Magazine Legacy Club members will have exclusive access to sponsorship, ticket, and meet-and-greet opportunities with LaManna that will not be available to the general public. 
Please contact Matt Ribaudo at: matt@bostonmanmagazine.com for more information.